We swear the aroma of fresh roasted coffee at Old Village Roastery will lure you in from a mile away while walking the sidewalks of Peddler's Village in Lahaska!
Once you enter the bright orange building, you are now transported to medieval times with blacksmith background music, Renaissance attire and an outdoor market feel. This "new world" will leave you with a unique coffee experience like no other in Bucks County.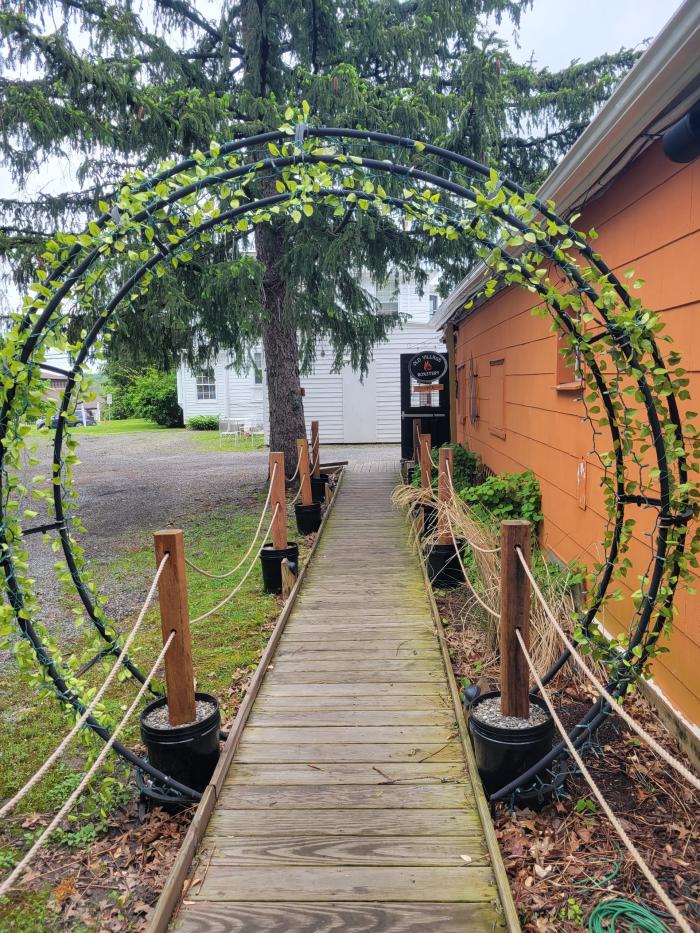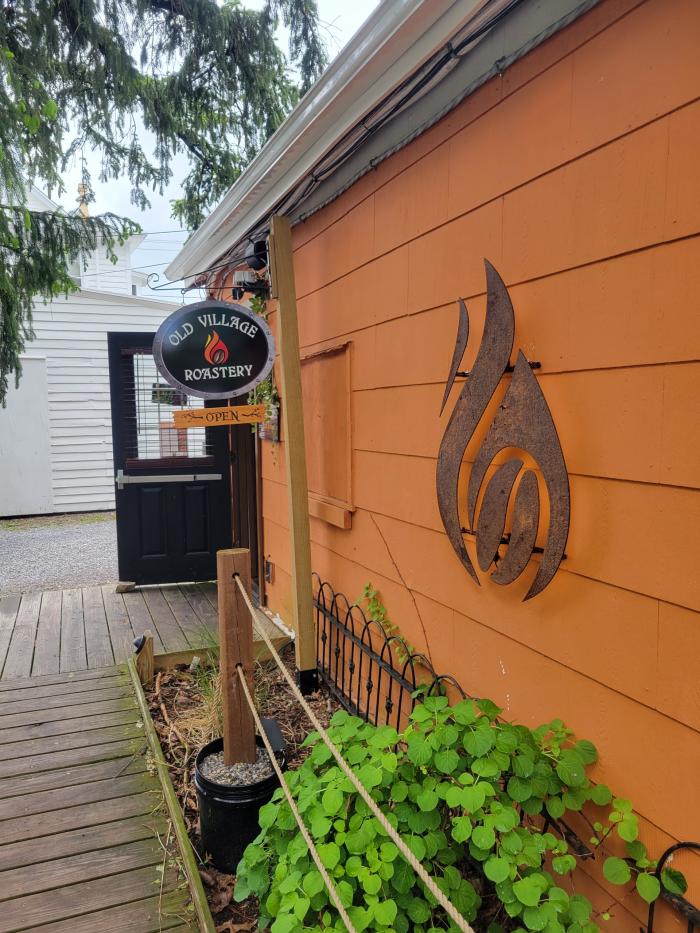 It all started when owner and "roastmeister", Roger Birkbeck, had a vision ten years ago. His backyard became a meeting spot for family and friends for holidays, traditions, and social gatherings. The main focus of these get-togethers was making wood oven pizza using his outdoor pizza oven.
The feeling of warmth from the food and fond memories that Roger was creating with his loved ones allowed him to brainstorm ideas for other items he could roast to gain a sense of comfort. He instantly thought of coffee. Thus, Forge Roasting coffee was born – and is done in a wood fire oven.
My husband Justin and I recently had the opportunity to go to Old Village Roastery. When we first entered the shop, our eyes were automatically drawn to the familiar smell and look of fire. Roger designed this atmosphere for his customers so they could see the same vision as him.
We were immediately welcomed with open arms by Roger, his wife, Cheryl, and their daughter, Nikki. This is a true family-owned business because you can instantly tell the dedication, hard work, passion, and attention to detail in everything they do.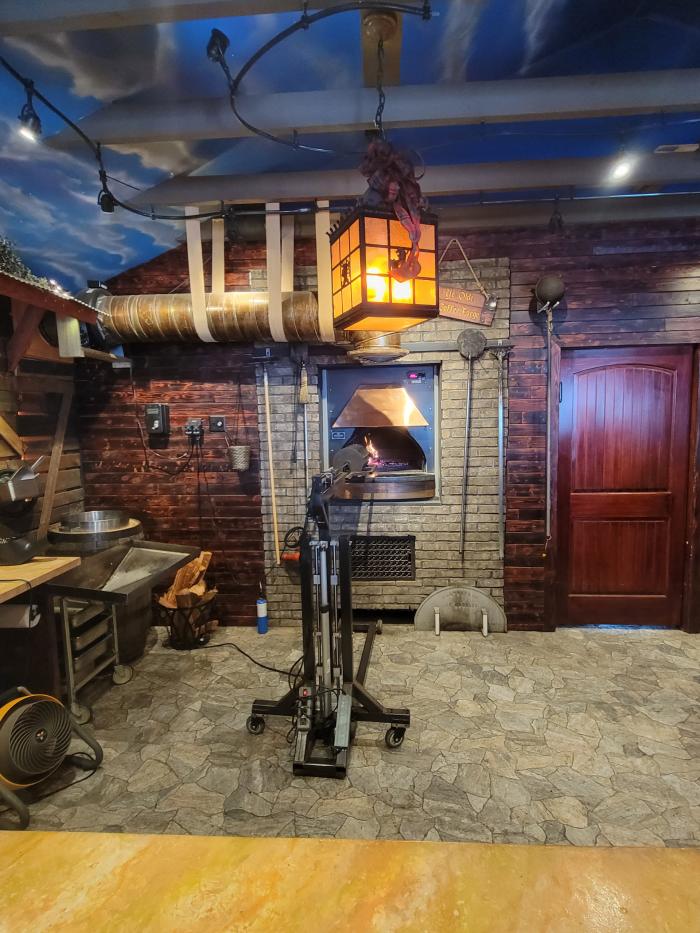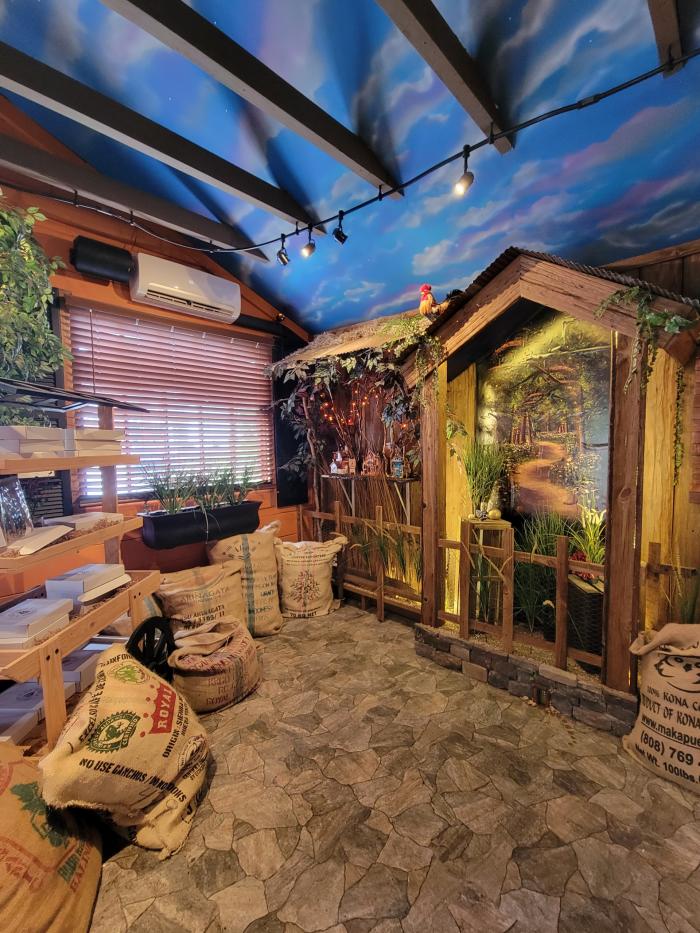 Cheryl first gave us a coffee tasting so we could experience the flavor notes of the coffees right away. There are three regions that are featured at the shop, going from light to dark roasts:
Americas: Costa Rica - light and fruity

Africa: Tanzania - medium-dark roast 

Asia: Bali Blue Mountain - bold and dark
(Our favorite was the Africa blend, especially served over ice as a cold brew!)
Visitors can order a "coffee excursion" tasting and try higher blends of coffee featuring Kona, Jamaican Blue Mountain and Nepali. 
After learning about the three blends and being hyped on caffeine (literally), we were excited for Roger to demonstrate his roasting process using tools that he engineered himself. He explained how modern companies are roasting their coffees with natural or propane gas. Using his technique with a wood fire oven, known as Forge Roasting, allows the beans to roast without compromising the quality and flavor of the coffee. After tasting it and seeing how it was made, we could really taste the difference!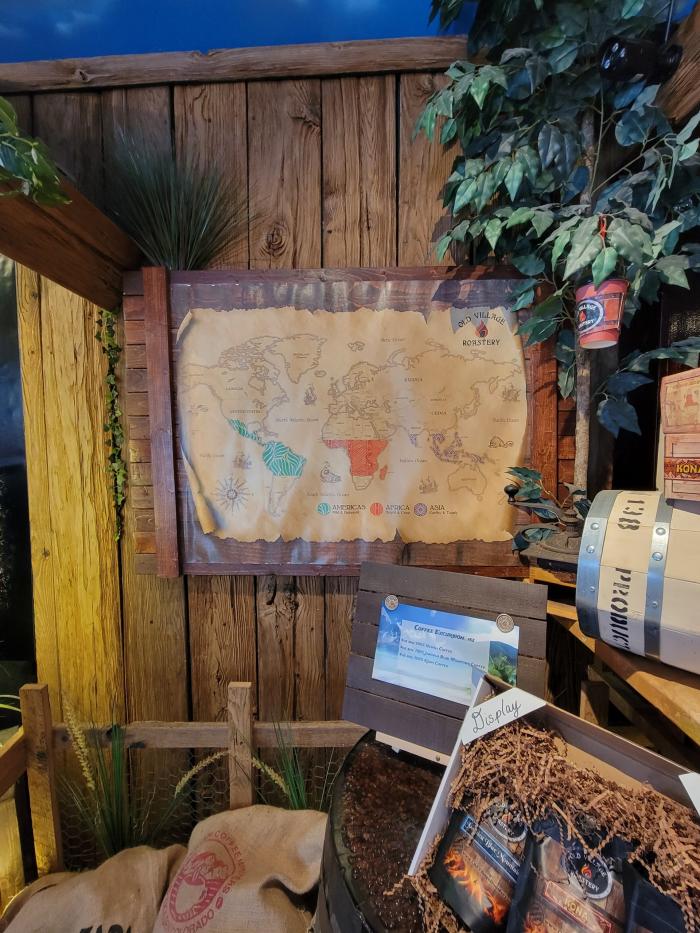 Old Village Roastery has only been open since 2019. During that time, the family has settled in, learned their customer and product, and designed a beautiful space. For the future, they would like to expand their business model by collaborating with local bakeries and restaurants to pair sweet treats with their coffee.
Next time you are in the area or need a break from the modern world, I recommend visiting Old Village Roastery. The coffee is exceptional, the staff is very knowledgeable and friendly, and the atmosphere is beyond comparable.