This spring, I took my mother and my three young children to the 4th annual PEEPS in the Village Festival.  If your kids like the sugary PEEPS treats or if you're looking for a way to get creative this Easter season then this festival is a must-do! Each year it is hosted in the Red Barn, also known as the Visitor's Center. The PEEPS will be on display from now until April 23!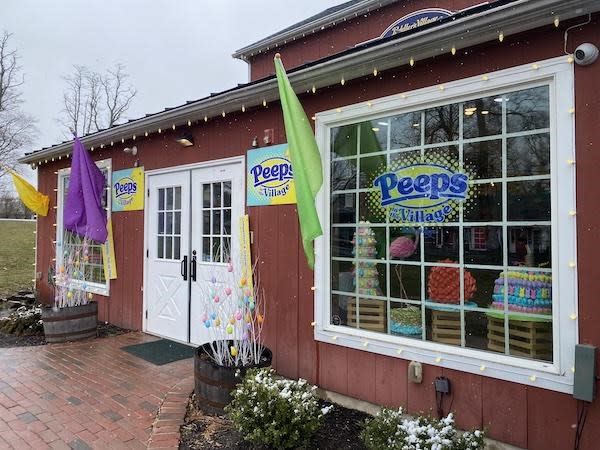 Being our first time to this particular festival, we were excited for what was in store! My two oldest kids, aged 4 and almost 3, were captivated with all the intricate dioramas, wall art and sculptures; all created with PEEPS candy! They were able to identify many of the different figures, like giant chicks, Winnie the Pooh, birds, flowers and a scene featuring their favorite store; Home Depot!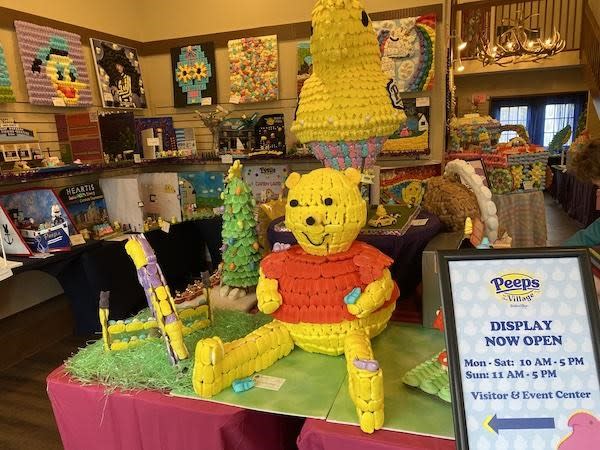 Many of the PEEPS displays made me relive my childhood with some of my favorite shows such as "Gilmore Girls" and "Friends". Modern shows were also represented with "Wednesday" and "Outer Banks". There truly was a display for every age!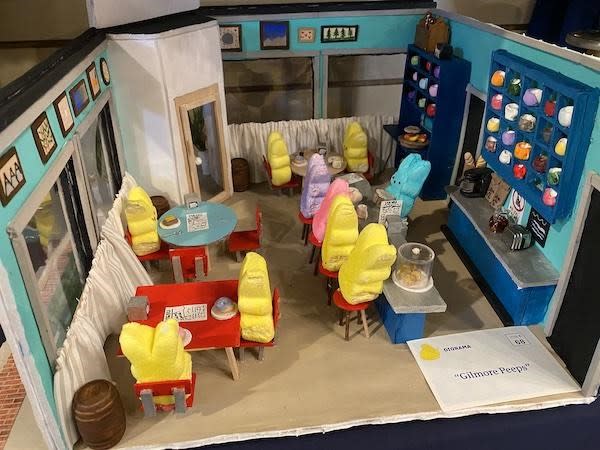 There were over a hundred different displays for us to look at. The PEEPS have been cut, colored, decorated and glued to paper, cardboard, sticks and frames. It was truly amazing to see the amount of detailed work that was put into each display.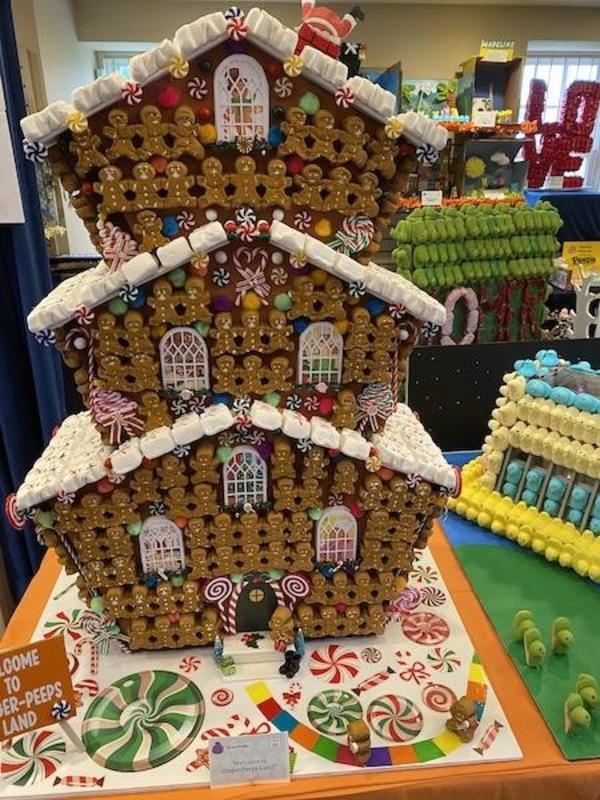 After wandering through the different displays, we had to make the difficult decision of choosing our favorite, as the festivals also doubles as a competition. First prize takes home $200 so we had be super selective when picking the winner!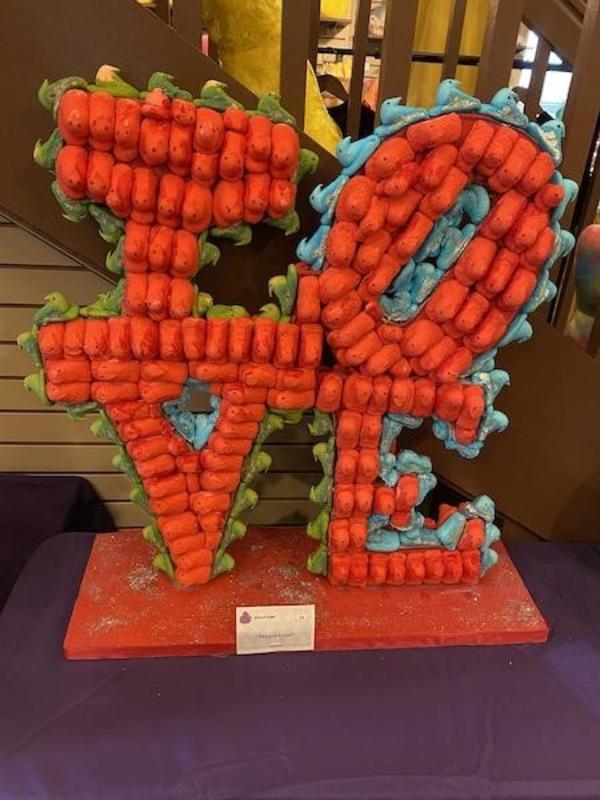 Of course, with all of the candy on display my kids naturally started to crave the delicious sweet marshmallow treats! Luckily there were candy PEEPS sold at the counter as well as different large size stuffed animals to choose from. My kids loved the tie dye PEEP so much it was hard prying it out of their hands! 
Once done oohing and ahhing at the amazing artistic abilities on display you will want to explore some of the other activities for families in Peddlers Village!
Giggleberry Fair is perfect place if you have kids on the younger side. It is an indoor fair with several different main features; a carousel, a very large climbing mountain with slides and ball launches, a toddler area and arcade.
My boys absolutely love Giggleberry Fair. They can spend endless hours in the obstacle course, named "the Mountain", climbing and sliding!
Right around the corner from Giggleberry Fair is JaZams Toy Store. This is another hit for my kids. This toy store is packed with toys suitable for all ages. You can find puzzles, board games, music toys, Lego kits, books and much more.
The Cloak and Wand is a fantasy store and potion bar featuring items from Harry Potter, Stranger Things, The Lord of the Rings and much more! At the potion bar, you can choose from over 64 different mixtures to create the perfect potion (or sodas, as non-magical beings call them).
Besides the potion bar, you will find loads of fan memorabilia from your favorite fantasy shows and movies. Big fans of Harry Potter? You can enter the wand section and find the perfect wand to cast your spells!
I have a soft spot for good old local bookshops. The Lahaska Bookshop, also located near Giggleberry Fair, is a great shop to visit. You will find books about Bucks County and a large children's section. The staff is great too!
Right down the street from the JaZams Toy Store and the Lahaska Bookshop is Mama Hawks Kitchen and Cafe. This spot is great for families! The cafe is large, with a very open front room with large tables and a fire fireplace.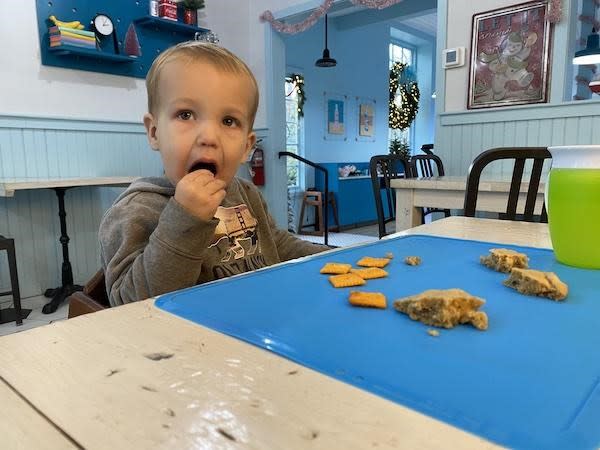 The back of the shop hosts the coffee and food bar as well as more seating options. I like to go here with my kids to get a cup of coffee while they select a yummy dessert. Food is also available so this could be a great spot for an easy lunch.
If you are looking for the perfect ice cream and waffle combo, look no further. Nina's Waffles is the perfect spot for kids (and adults too)!  Their flavors change all the time and you are welcome to sample before selecting your pick.
My typical order is a waffle with two scoops of ice cream. This normally feeds myself and my two boys. The ice cream portions are large, and we are always full after eating!