In this three-part blog, Bucks County native Shirley (Lee) Corsey recalls life growing up in Yardley Borough as an African American. Her information is based on historic landmarks, newspaper articles, online archives, documented family photos, and first-person oratory.See Shirley speak on "Women History Makers of Bucks County and Beyond" at the Bucks County Visitor Center on March 9, 2019 from 7-9 p.m. as part of a Speaker Series hosted by the African American Museum of Bucks County.
Around 1954, my parents, Mr. and Mrs. Horace and Jean Lee, moved in with my maternal grandmother, Mrs. Sarah (Johns) Coney, on 192 South Canal Street in Yardley. At that time, we were a family of five and I was the baby (the Lee family eventually grew to a total of 11 children!). Two years later, my parents purchased our family home directly across the street. My father was a Navy veteran and was hired at the Philadelphia Naval base, where he diligently worked for more than 35 years until his retirement. He always worked the 2nd shift, so most of our family time during the week was directed by Mom.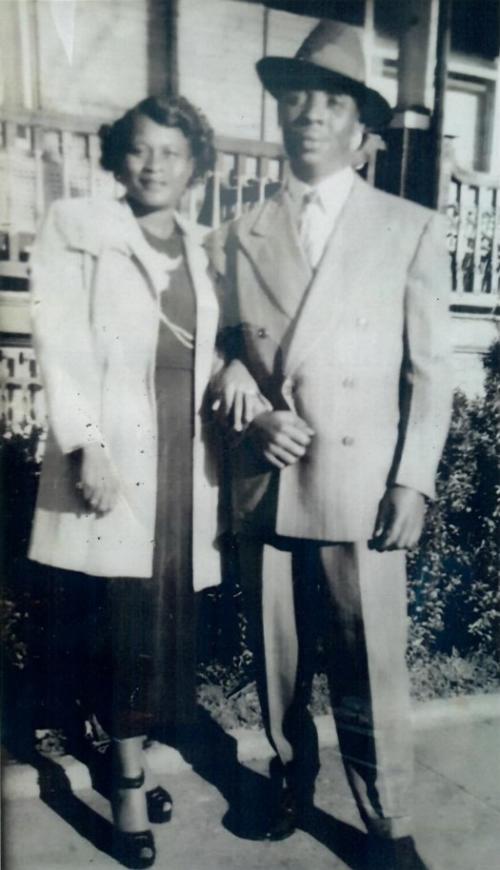 My parents, Mr. & Mrs. Horace & Jean Lee
My mother was a typical housewife, a sweet, smart, but tough lady. She ran a strict but very loving household and raised all of us kids with a strong philosophy that we were one family unit. Everyone had chores, like nightly dishwashing and hanging clothes n the backyard "old-school" style on a clothesline with those little wooden pins. By the time we each turned twelve, we earned money by working outside the house at little part-time jobs; girls - babysitting, boys – raking leaves, shoveling snow, golf course caddies, paper routes, etc. I remember Mom saying, "a loaf of bread or a gallon of milk." We were expected to buy either of these for the good of the household, and with our earnings we did just that! Of course, we still had time for lots of creative indoors and outdoors fun all year round. Remember, there were no computers, cell phones, video games, and only one television located in the living room.
We all attended Yardley Elementary and graduated from Pennsbury High School in Fairless Hills. I remember the Memorial Day parade down Yardley's Main Street.  This was always memorable. Us kids would join in at the end and follow the parade all the way to its final stop at the American Legion Post 317 on South Main Street, where we would receive cookies and orange drinks in those little square plastic-coated cartons.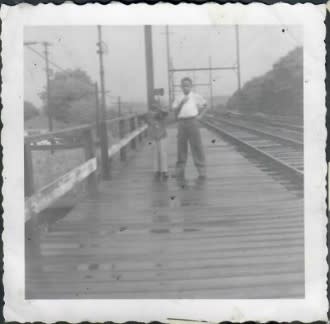 My cousins at the old Yardley Train Station on South Main Street (circa 1960)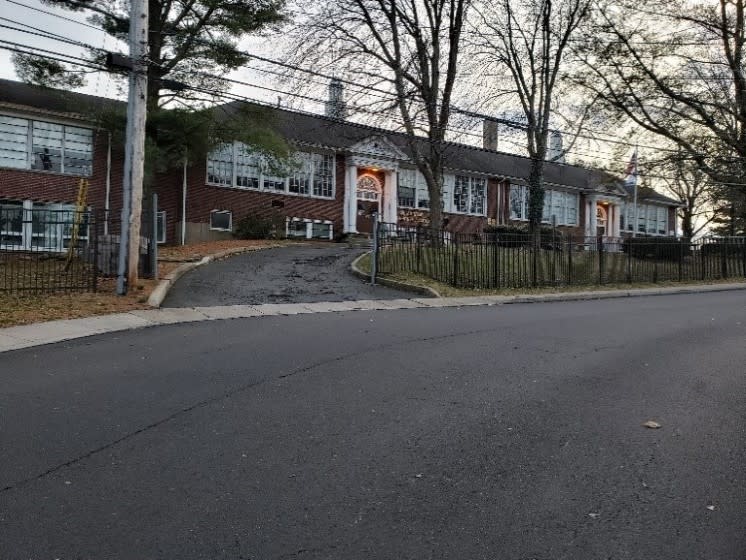 Modern day site of the old Yardley Elementary School (now The Abrams Hebrew Academy)
In the summertime we played jump rope, hop scotch, jacks, tag, softball, "stop light," "theatre" of our made-up plays, and would catch lightning bugs along the Delaware Canal at night, placing them in our washed-out mayonnaise jars, running around with our "blinking night lights."
Fall meant back to school, walking up Main Street and then up the hill on West College Avenue to Yardley Elementary. I remember when I began sewing and making original costumes for myself and my siblings for Halloween (no such thing as "store bought costumes" back then). We used to hold all of the candy in doubled-up brown paper grocery bags, trekking all over Yardley Borough for our treats!
Wintertime was for ice skating down on the Delaware Canal and as we got older, Mom allowed us to venture "uptown" to Lake Afton for ice skating as well. We went sledding and tobogganing down the hills of the Yardley Country Club. Christmas was so special. For the Lee family, it was all about baking cookies, pies, and cakes from scratch. We also had so much fun making our own homemade decorations I remember us making these beautiful Christmas window stencils for our house windows. With the help of the Yardley Jaycees and those Christmas gift shopping trips they sponsored, we experienced being just as excited about giving and/or making gifts to each other, as well as what Santa would bring us. We would sing Christmas Carols, and participate on trips to the Yardley Florist for visits with Santa Claus as we sat on his lap and told him what we desired.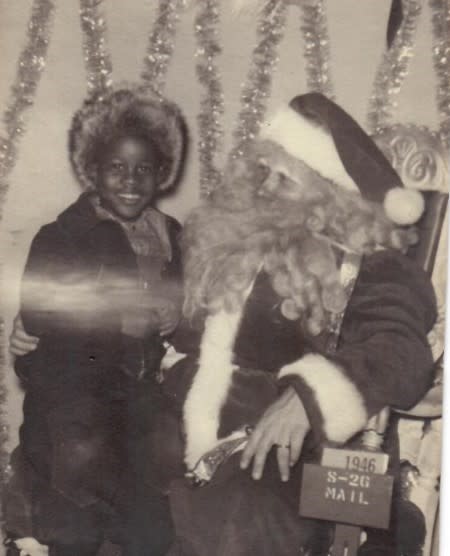 My oldest brother, Bobby, with Santa at The Yardley Florist (1946)
From the 1980s to the early 2000s, Grand Mom Coney and several of my aunts and uncles had passed away or moved on to live in Philadelphia and Southern New Jersey. Unfortunately, the Coney house was no longer in the family. The Lee Family home was now the family's Yardley gathering place. Mom's driving force to get a job outside of the home was buying a clothes dryer. She proudly worked for the Pennsbury School district as a housekeeper until her retirement. And when her youngest went off to college, Mom began a new chapter of volunteering a couple days per week at St. Mary's Hospital in Langhorne for ten years.

One by one we moved on with our adult lives, but we always traveled back to good ol' Yardley where our hearts were (and always will be) for ongoing family gatherings of Sunday dinners, holidays, birthdays, backyard BBQs… or for just sitting on the front porch!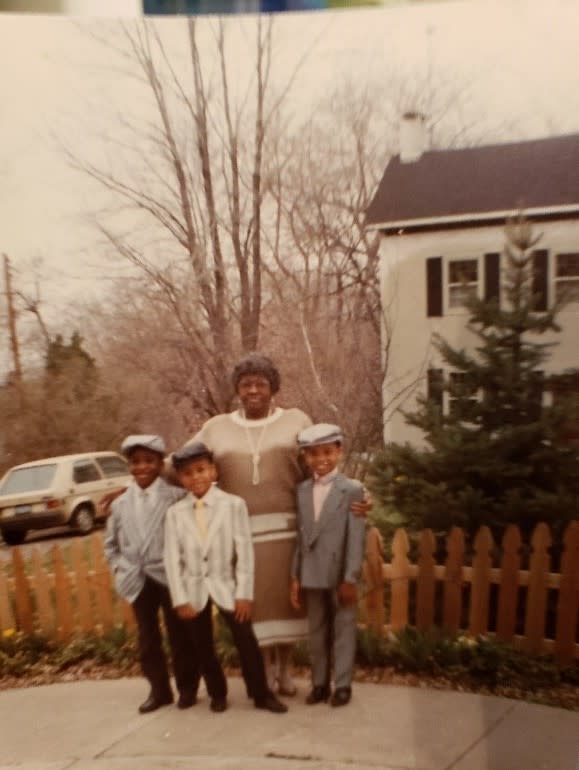 My mother with my nephews South Canal Street, Yardley (1989)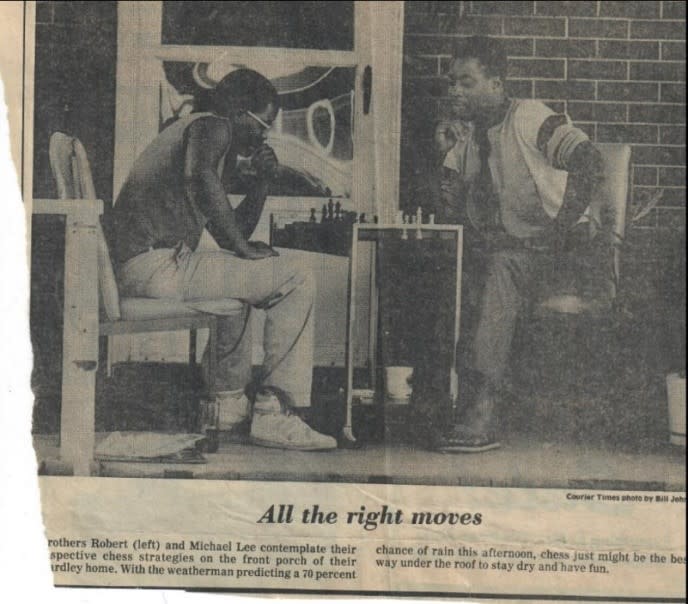 My brothers, Robert and Michael, house porch on Letchworth Ave., Yardley in the Bucks County Courier Times 
Around 1968 my sister began working at the Old Library by Lake Afton. We were most likely the first African Americans to work there. Thinking back to that time in Yardley, we never gave this a second thought. In 1970, I received my first "real job" when I turned sixteen. My working papers allowed me to work there part-time hours; after school, weekends, and during the summertime. Early on, my siblings and I were raised by a father who went to work every day to provide for the family and a mother who ran our household like a loving but "well-oiled machine."
I can honestly state, I never experienced any type of blatant racism growing up in Yardley. The majority of my early childhood schoolmates did not look like me and my siblings, and of course we were aware of our differences, coming from our small African American community, but my childhood was overall a happy experience.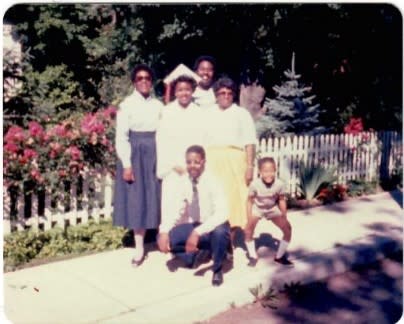 My youngest sister's graduation, South Canal Street, Yardley (1987)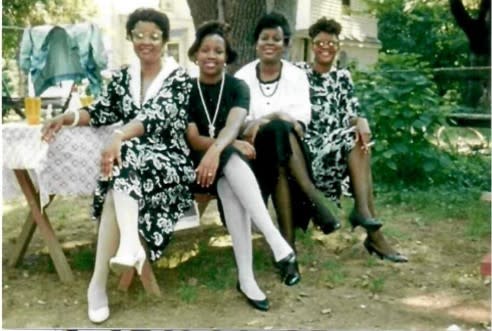 Mother's day, my sisters in the backyard of the South Canal Street house (1990)
The most common inquiry for the Lees back then was, "So how many brothers and sisters do you have?"  I always responded with a strong sense of pride, "FIVE brothers and FIVE sisters!"
And yes, we still own the Lee Family home on 195 South Canal Street. I am currently restoring it.
Stay tuned for Part 3 in February!