Family-Friendly Breweries & Wineries
Find tea-infused ales for mom and dad and non-alcoholic drinks for the kiddos. Come see regular performances, participate in game nights, and sample dishes from a food truck or order in from a Bensalem area take-out place.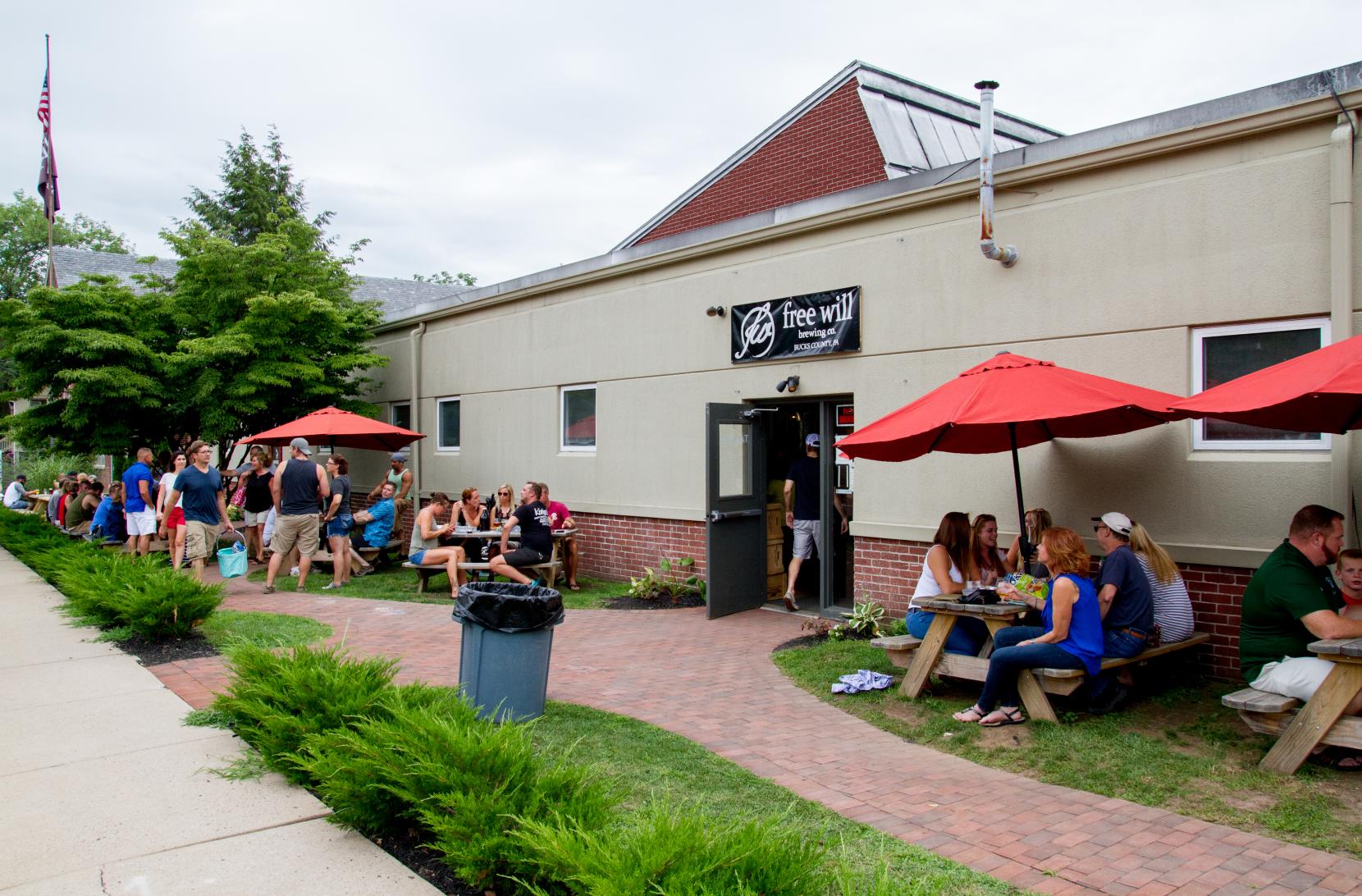 Outdoor seating at Free Will Brewing
BREWERIES
Fun for the whole family with non-alcoholic drinks offered as well and space to change your baby's diaper! Regular weekend food trucks keep everyone full and fed, and they encourage you to bring outside food, but offer light snacks just in case you forget.
Check out the scenic outdoor area that includes a close-up view of the Delaware River after exploring New Hope for a bit and hang with the kids for live music or special events.
After a long day at Sesame Place® Philadelphia, bring out the whole family for dinner and live music. Their pizzas and kids' menu are sure to keep everyone happy.
If the food (or beer) wasn't enough, live piano entertainment will keep your gang entertained while you sip your ale, wine or cocktail.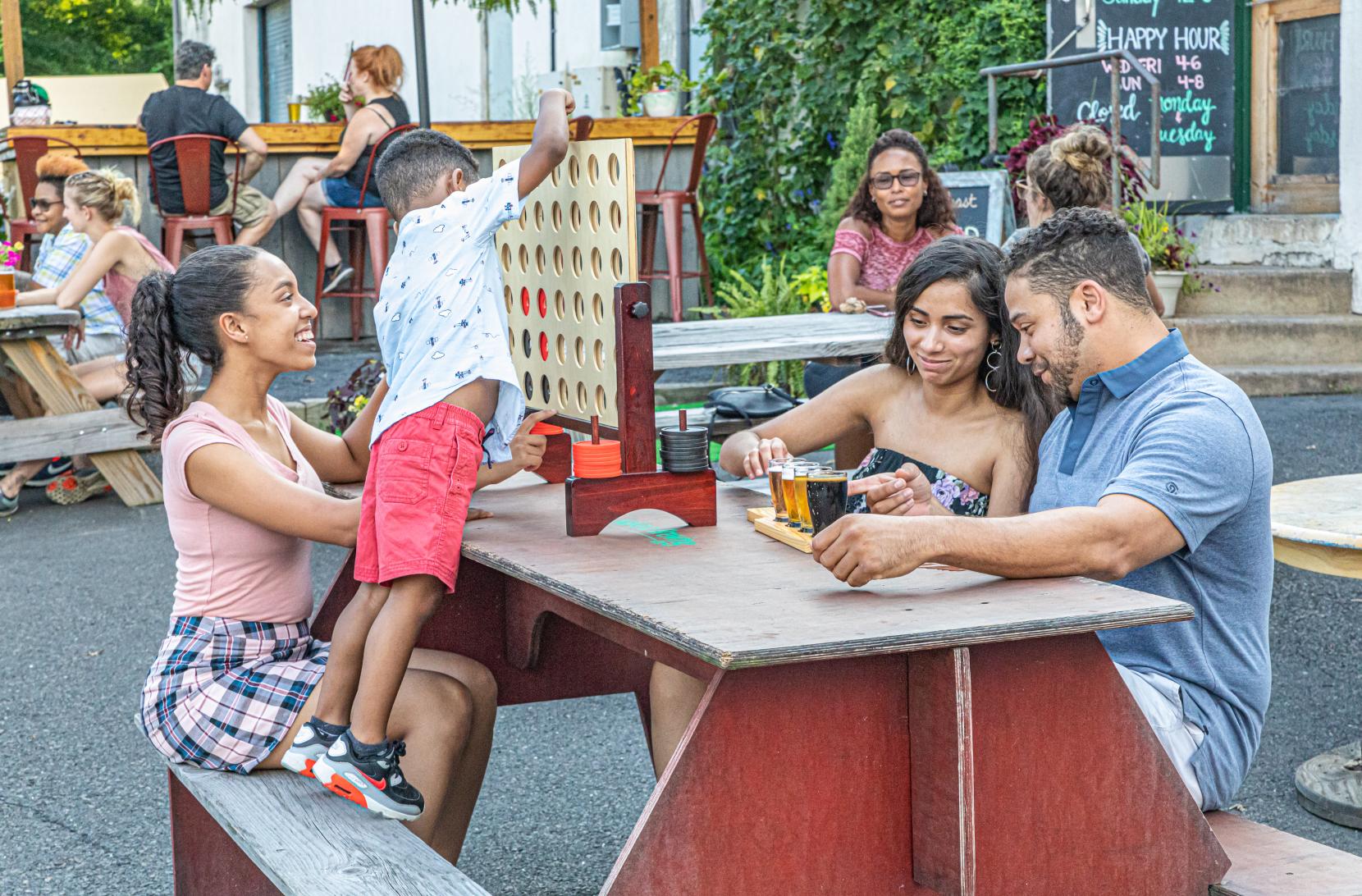 Kids will love choosing from soda and juice boxes, sitting around the table playing board games or trivia. Movies nights are for all ages!
Don't let the name fool you! The walls are covered in chalkboard paint and games are provided. Kids are able to sip juice boxes and sodas.
Sit inside or out at a picnic table and sample from one of the great food trucks on site. Get competitive and play arcade games or air hockey, or just relax with the family dog.
With movie nights on most Thursdays, this place is certainly welcoming to children. Some showings are rated PG-13, so it's recommended doing some research before heading over with younger kids. 
Trivia nights, live performances, food trucks and a family friendly staff in a cool, modern atmosphere nestled in historic Bristol.
The Proper Brewing Company is a local, family-run restaurant and brewery located in the historic Palace Theater in downtown Quakertown. Trivia, music and delicious bites encourage fun for the whole family.
TV's and kid-safe dart boards hang upon the walls of this modern yet warm brewery. Luckily, they're next-door neighbors with Pina's Pizzeria!
Find food and specials (like $2.50 chicken taco Thursday!) for the whole family. Stop by for dinner and drinks after a hike at nearby Peace Valley Park.
Indoors there's a pool table, a stage for live entertainment and food for the whole family. The outdoor patio offers views of the New Hope Railroad, where you can take the kids for a tour before or after your drinks.
Pub Games and live music to entertain the kiddos, and take home "Crowlers" for the adults. Specials like Yum Yum Donut Happy Hour (includes a free donut), won't let anyone down at this Quakertown taproom! 
Booster seats, high chairs and coloring pages for little ones, plus a great selection of craft drafts and cocktails for the bigger ones. You can't go wrong with this Yardley staple.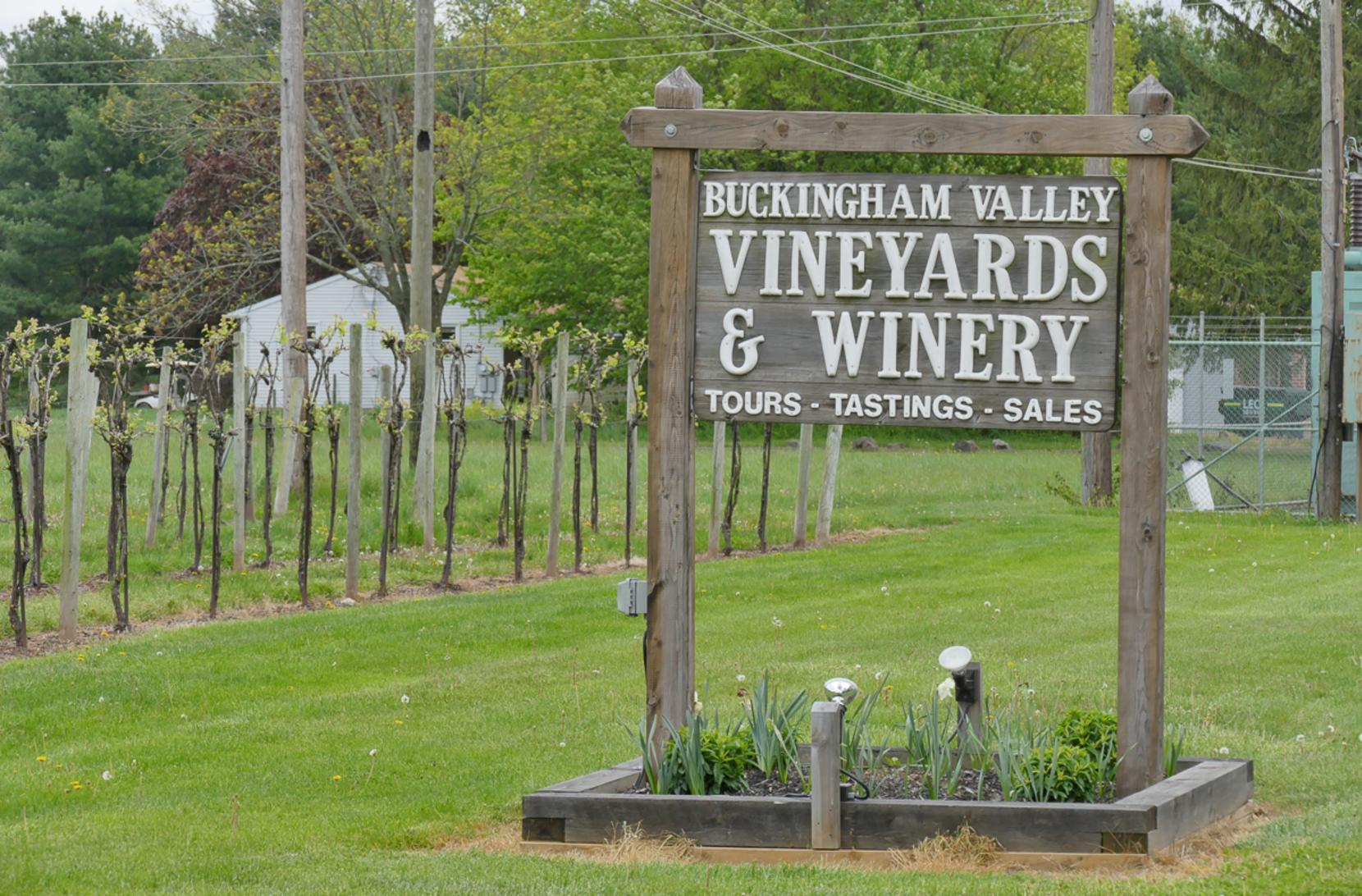 Buckingham Valley Vineyards
WINERIES
Get outdoors and hang at the lovely picnic area. See the grapes and sample their wine while the younger ones enjoy the sunshine and fresh air.
With plenty of kids' activities nearby like Kids Castle or the Sky Zone Trampoline Park in Chalfont, make time for mom and dad and fit in this picturesque winery. Stop in the store and pick up a gift basket or bottle for a friend.
The tasting room at Peddler's Village has adult friendly flights for you to enjoy after a trip to nearby Giggleberry Fair with the tykes.
The family run estate vineyard contains outdoor firepits and guests can even help pick the grapes and get a look at the wine making process during harvest.