Despite only being about a year and a half old, Warwick Farm Brewing is quickly becoming one of the most popular craft beer spots in the area. Their creative approach to the fan-favorite hazy IPA, steady flow of experimental specialty beer, and downright delicious brews have cultivated a fan following that typically takes years to achieve. They're building quite the beer empire, and to learn about how it all came together, I sat down with Ryan Seiz, Co-Founder and Brew Master at Warwick Farm Brewing, for the latest episode of the From the Locals podcast.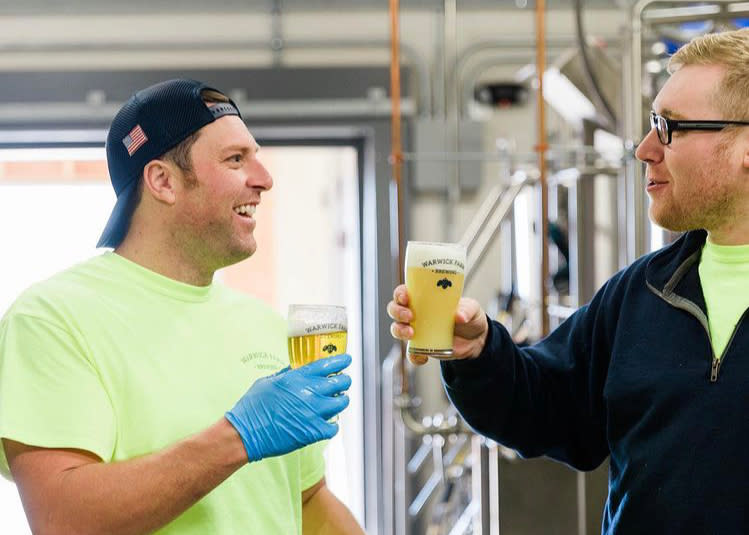 In 2015, Ryan – who is originally from Perkasie, PA – returned to Bucks County following his professional baseball career with the Los Angeles Angels. His wife asked what he wanted to do next and his first thought was to brew beer. He did his research, purchased a home brew system, and only a short time later, was enjoying his own beer made from scratch. 
After a few successful batches, and hearty approval from friends and family, he teamed up with long-time friend Tim Taber to start planning a business. In 2018, they purchased a 22-acre farm in Jamison where their brewery sits today. They spent the next year going from home brew system to large-scale brewery and perfecting their signature beers. 
In November of 2019, they officially opened their doors, offering crowlers (growlers in 32oz cans for those who aren't beer aficionados). They immediately were so busy, they switched to 4-packs of 16oz cans which is what you can buy on their site today for contact-free pickup Thursdays through Saturdays. (Make sure you check out their site every Wednesday at 5 p.m. to order – Ryan said their beer sells fast!)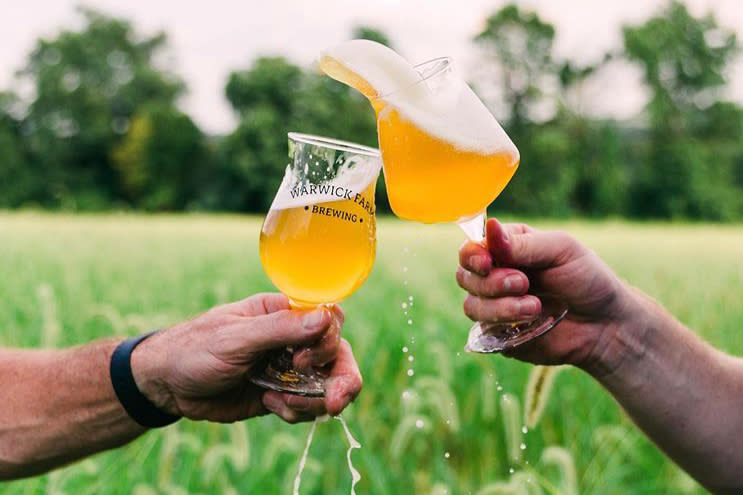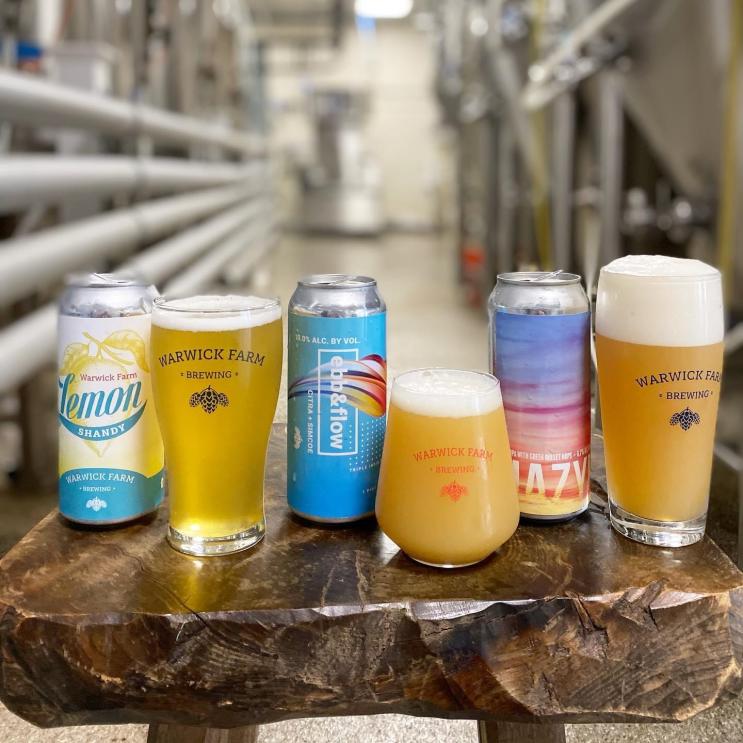 Ryan also told me about some exciting plans Warwick Farm Brewing has in the works. Currently, they're constructing a 2,000 square foot tasting room which will have 15-20 beers on tap. They will also create a beer garden where people can enjoy the view from one of the highest elevations in the area – you can even see Philadelphia on a clear day – while sipping a craft brew under the hop poles. Looking ahead, they have plans for a small fruit tree orchard, berry patches, herb gardens, a space for honey production, and an underground sour cellar. Ryan also shared they're hoping to celebrate Oktoberfest on the farm this year – count me in!
It was so much fun talking to Ryan and hearing about the amazing success of Warwick Farm Brewing! Subscribe to From the Locals and hear the full Warwick Farm Brewing episode here on Apple Podcasts, or on Spotify, Google Podcasts, iHeart Radio, Stitcher, and visitbuckscounty.com.
For more information on Warwick Farm Brewing or to place an order with them, follow @warwickfarmbrewing and visit warwickfarmbrewing.com.