Right before Halloween this year, a friend joked that, "we're going to blink, and tomorrow it'll be winter break." And I don't know what it was about this year, but wow was she right! All of a sudden, the menorah by the New Hope Visitors Center is halfway lit, towns all around Bucks County have held dozens of tree lightings and parades, and it's almost time for Washington to cross the Delaware on Christmas Day. There's so much going on, it's hard to feel like there's enough time left in the year for every holiday tradition.
Luckily, one of our family's favorites is an easy one to sneak into the middle of a busy week. For the fourth year in a row, we planned out a residential holiday lights driving tour of Bucks County. We decided to visit all new stops this year, working in a loop from the Richboro area to Langhorne, Bensalem, Levittown, Yardley, and back around to Newtown. It's a simple route that incorporates lots of nicely decorated general areas (like many homes on Second Street Pike and downtown Yardley among others) as well as pull-over-worthy standout houses. But if you're as busy as we are, you can always pick a few stops from this route, follow one of our previous years' routes (listed at the end of this post), or select other spots from the Google Map below.
As always, creating a multi-stop route in Google Maps before heading out is heavily recommended. Hot chocolate in thermoses is basically mandatory.
Let's hit the road!
Stop 1: Yule on Yale, 15 Yale Drive, Richboro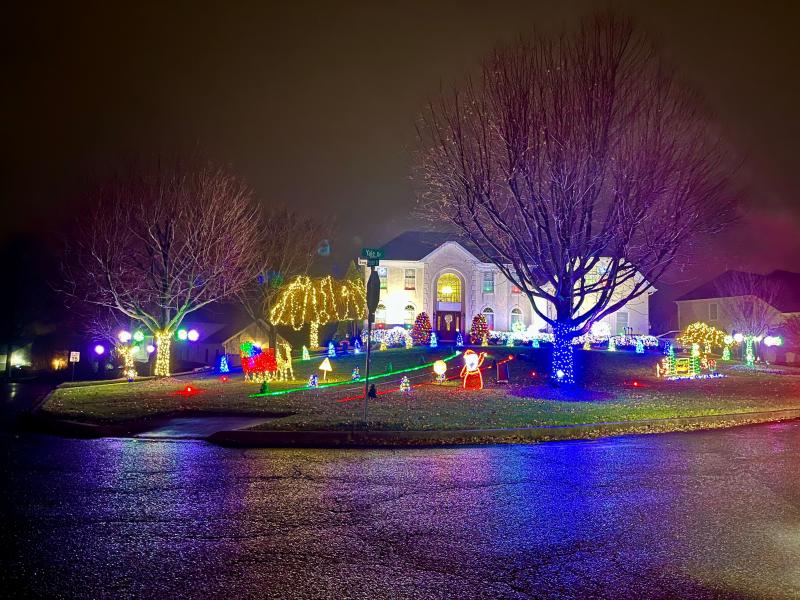 The family that puts together Yule on Yale includes so many of our six-year-old son Howie's favorite light display elements. There are light up trees, plenty of characters throughout the yard, lots of color, and the whole thing is set to music on a radio station you can tune to in the car. A landing strip for Santa bisects the colorful landscaping, and decorations easily visible from inside the house, like a large tree in the vibrantly lit foyer, make the stop an especially well-thought-out presentation. Once we took it all in, we got ready to go…and then the Eagles' fight song came on the radio and my husband slammed on the brakes so we could watch the lights flash in coordinated green and white. A total blast!
Stop 2: Autumn Drive, Langhorne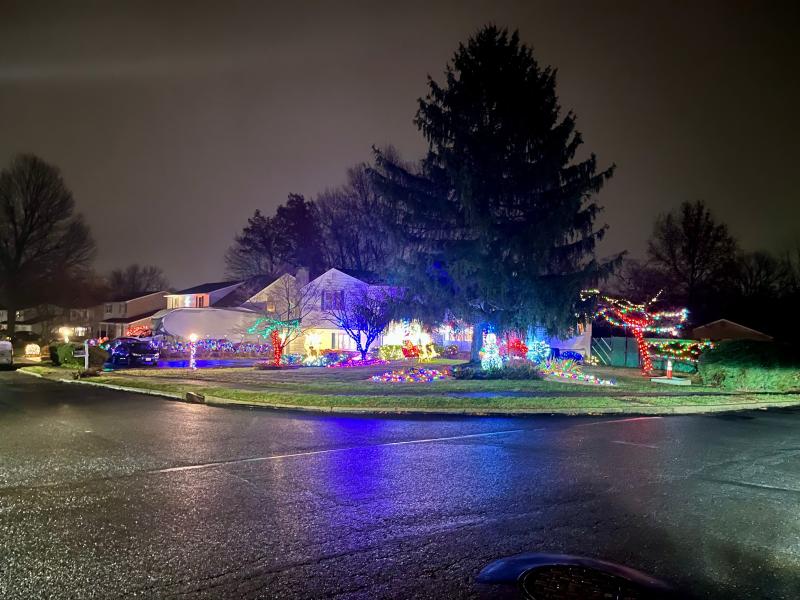 A couple years ago, I got a tip from a reader that we should check out this neighborhood in Langhorne for classic decorations. Worth a drive around the neighborhood (we looped from Autumn Drive to Skyview Avenue and then back onto Woodlyn Drive), the lights around here are incredibly sweet. Ideal for those more interested in traditional holiday charm than lots of flashy displays, we had a fun time putting on some quieter holiday music while we took in the lights.
Stop 3: Lights on Lumpoc, 2512 Lumpoc Court, Bensalem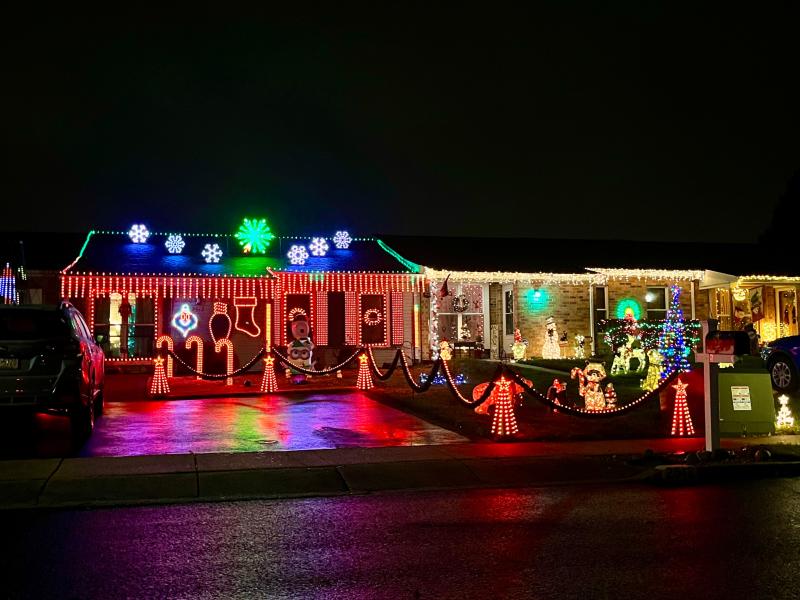 Set right between several neighborhoods that take their holiday displays seriously, Lights on Lumpoc was easily one of our favorites this year. The house and its yard are probably the smallest of all the stops on the 2022 route but do they ever make the most of every available inch! The roof, shutters, siding, and driveway are covered with lights, while a tall Christmas tree made entirely of colorful strands blinks in time with coordinated music and illuminated creatures (including a raccoon, polar bear, and several Minions) decorate the yard. We were especially excited about the singing ornaments mounted on the side of the house and HOWIE made us wait until we saw each one join in.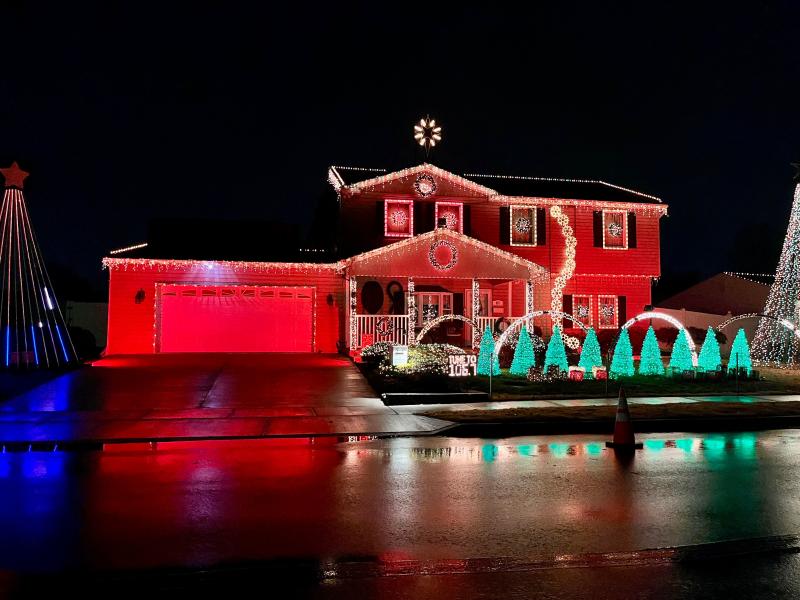 Every year, as we drive around, there is a point in between houses where things get dark. We begin to wonder if the next address is right, or if we've taken a wrong turn. But then, in Levittown, as we rounded a corner, we could see The Warrell's Elderberry Lights through the trees, off in the distance – and we got pretty excited. A big display, with music, singing trees, moving images sent across strands of lights, and swoopy arches. It attracted a fair number of visitors even on the rainy night we drove around. Absolutely worth the wait in line, we were so glad we had a turn to watch this one shine.
BONUS: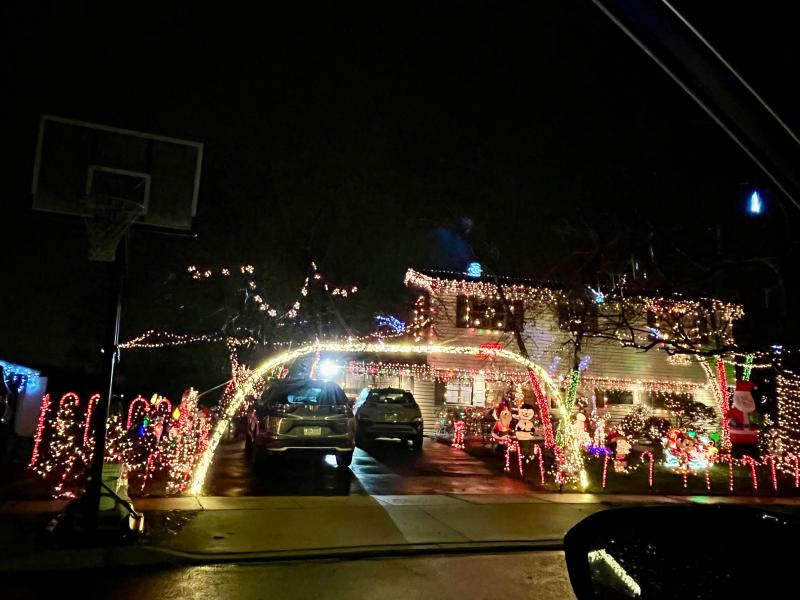 Right around the corner, we stumbled across an amazing house on Evergreen Lane. Tons of lights, characters, candy canes, ornaments, and arches over the driveway, it's a stunner. Don't miss it on your way out of the neighborhood!
Stop 5: 15 Raab Drive, Yardley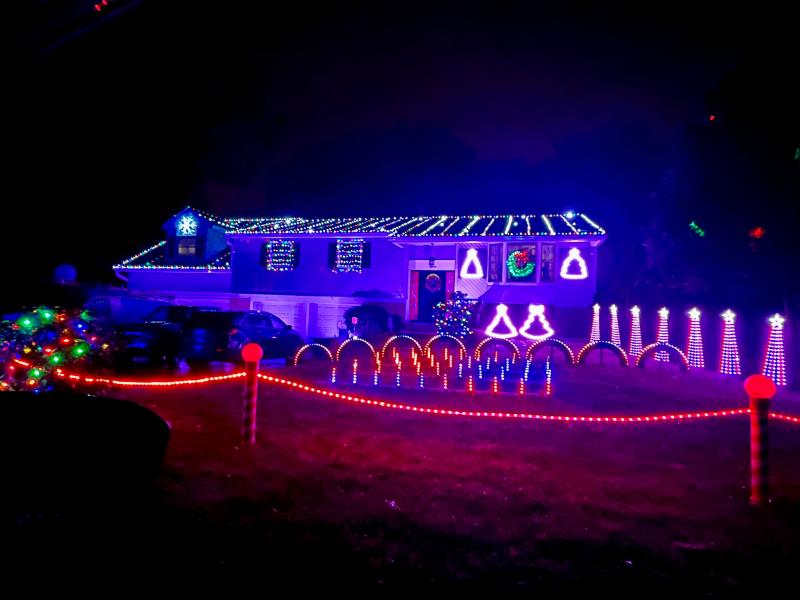 Another house with a lot of fans, we lined up behind several cars to take in the show on Raab Drive. Howie was very happy to see more swooping arches as we pulled in and then thrilled when he spotted another set of singing trees. The wide yard is striped with rows of lights while the house behind is similarly colored, going so far as to cover the windows with multicolored squares and flashing wreaths. Their music selections were also really fun and we're so glad we stopped.
Stop 6: 301 Matthews Lane, Newtown

Our last stop took us through a beautifully decorated neighborhood in Newtown. Plenty of yards were tastefully decorated, and many houses' outlines traced out in clear and multicolored lights. But when we turned onto Matthews Lane, this last house really was something special. Trees all around the corner lot were lit up, covering trunks and canopies in seasonal colors, while details on the house like windows, rooflines, and garden beds were carefully highlighted. It looks, in the best way, like the neighborhood in Home Alone, and we wrapped up our tour listening to the movie's score on our way back to our house in New Hope. 
While I could hear our 8-month-old baby snoring in her car seat, Howie chatted with us most of the way home. He finished his hot chocolate and told us why he likes colorful lights more than clear, that the swooping arches and singing ornaments were his favorite pieces this year, and wondered how some houses got their music on the radio. Then, as we pulled into our driveway, he got quiet. I turned around to tell him we were home but – just as he's done every year we've taken this tour – he was fast asleep.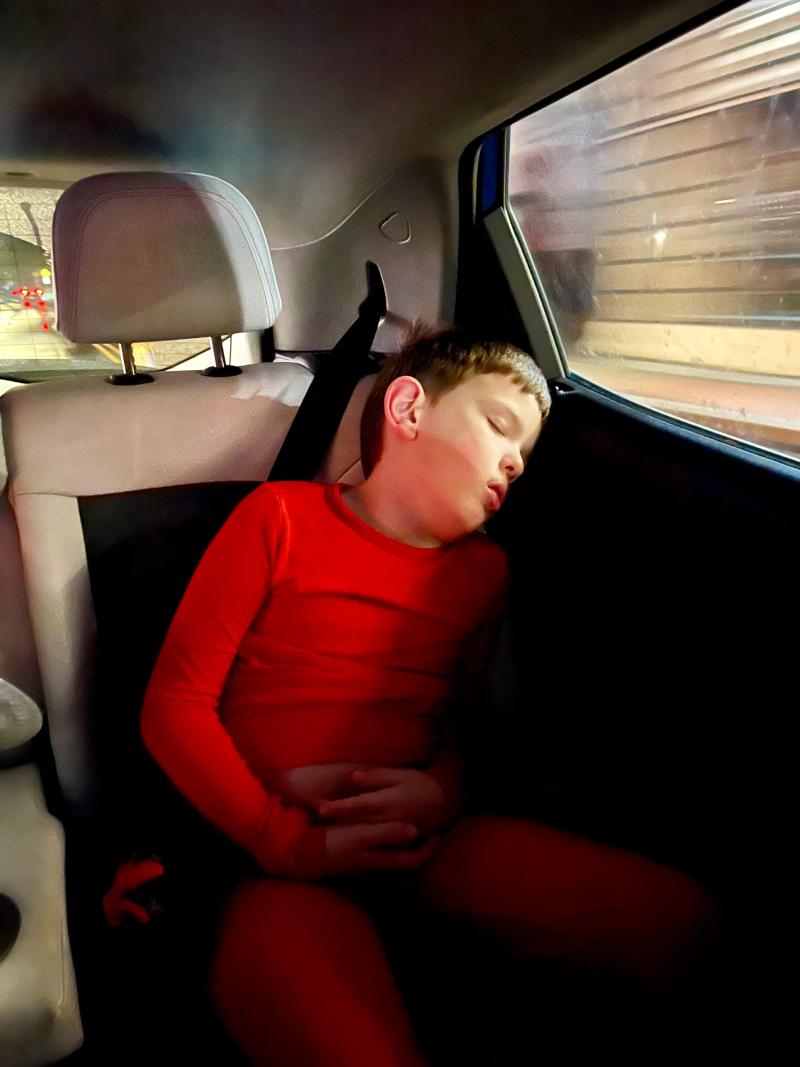 I'm so glad that we made time for this fun tradition. At this point, Howie doesn't remember a holiday season without a drive around Bucks County looking at lights and I hope his little sister will soon say the same. 
Here's wishing you all a safe trip, bright lights, and a healthy New Year!
Looking for more holiday lights in Bucks County? Find other popular houses on the map below. 
2022 Driving Tour Route:
Stop 1: Yule on Yale, 15 Yale Drive, Richboro
Stop 2: Autumn Drive, Langhorne
Stop 3: Lights on Lumpoc, 2512 Lumpoc Court, Bensalem
Stop 4: The Warrells' Elderberry Lights, 257 Elderberry Road, Levittown
Stop 5: 15 Raab Drive, Yardley
Stop 6: 301 Matthews Lane, Newtown
2021 Driving Tour Route:
Stop 1: 1445 Bartlett Ct, Yardley
Stop 2: The Blinking House, 9 Franklin St, Levittown
Stop 3: Stonybrook Lights, 56 Stonybrook Dr, Levittown
Stop 4: Colonial Drive Lights, 155 Colonial Dr, Langhorne
Stop 5: MaloneyLights, 644 Cypress Rd, Warminster
Stop 6: 901 Catalpa Rd, Warminster
Stop 7: Keystone Drive between Church Road and Fairhill Road, Sellersville
Stop 8: 227 Beech Ln, Perkasie
BONUS Stop 9: Peddler's Village, 100 Peddlers Village, Lahaska
Stop 10: Misfit Meadows, Aquetong Rd & Stoney Hill Rd, Solebury Township
2020 Driving Tour Route:
Stop 1: Green Heather Lights, Green Heather Court, Buckingham
Stop 2: 12 Boulder Drive, Sellersville
Stop 3: 308 North 5th Street, Perkasie
Stop 4: 764 North Limekiln Pike, Chalfont
Stop 5: 1215 Grenoble Road, Warminster
Stop 6: 1220 Carolyn Drive, Southampton
BONUS Stop 7: Shady Brook Farm, Yardley
2019 Driving Tour Route:
Stop 1: Stoney Hill & Aquetong Road, New Hope
Stop 2: 4318 Route 202, Buckingham
Stop 3: 212 Stags Leap Circle, Doylestown
Stop 4: 61 Cherokee Road, Doylestown
Stop 5: 502 Timber Court, Perkasie aka 'Tis the Simpsons
Stop 6: 37 East Ridge Avenue, Sellersville