There are so many things I look forward to when it comes to the holidays in Bucks County: decorated shop windows, frosty mornings on the Delaware River, hot chocolate at the Christmas Tree farms. It's a pretty special place to be this time of year! But I have to say, it's the strong sense of community that makes me especially proud to be a local. Lately, there isn't a day that goes by where I'm not grateful for my neighbors and the countless ways we look out for each other.
So, when it comes to holiday decorations, I'm particularly fond of the lights families across the county put up at home. Sure, they're fun for the people who live in each of these houses, but the colorful displays aren't really for them. The lights are for those who live nearby, walk or drive by to enjoy in the dark. It's a beautiful way to connect in this coldest season – and I love celebrating these displays with a driving tour each year.
This year's route was our biggest one yet – so as always, feel free to tailor to suit your own needs. The below stops are laid out to start in Yardley and work your way around in a giant circle, ending in Solebury. There is also a giant Google Map at the bottom of this post that includes all official locations for residential holiday lights across Bucks County!
Time to buckle up, pour some hot chocolate in your thermos, and cue up that multi-stop set of directions! Let's hit the road.
Stop 1: 1445 Bartlett Ct, Yardley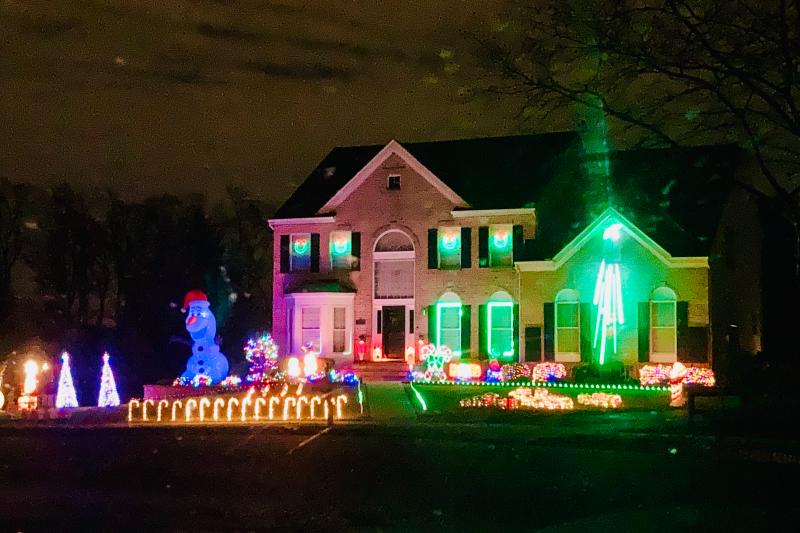 This first stop in Yardley was the perfect kick-off to our driving tour. Situated at the end of a quiet cul-de-sac, the house was easy to spot thanks to its rhythmic, coordinated display. Come for the two-story light up tree, stay for the yard full of twinkling presents!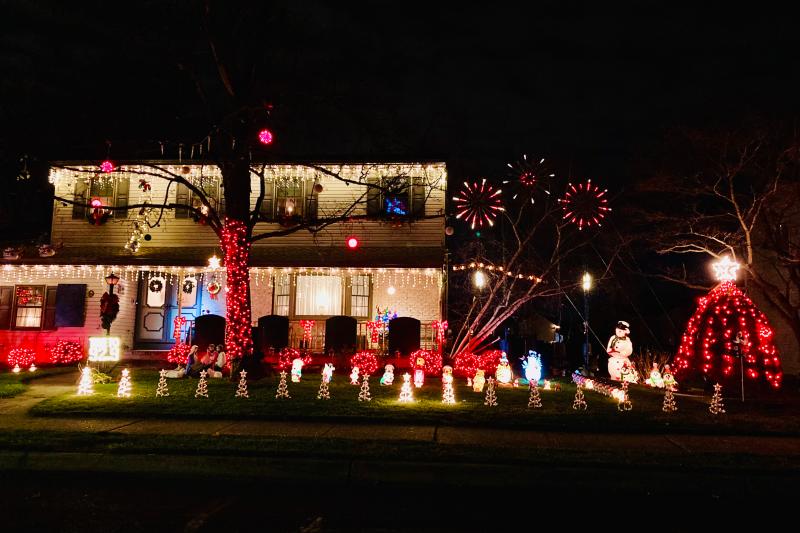 I can't count the number of times this stop has been recommended to me over the past three years, so it was a treat to finally pay a visit. And WOW did it ever live up to the hype! Illuminated fireworks, a synchronized routine set to music, and singing light up The Muppets? The Blinking House is super original and not to be missed.
Stop 3: Stonybrook Lights, 56 Stonybrook Dr, Levittown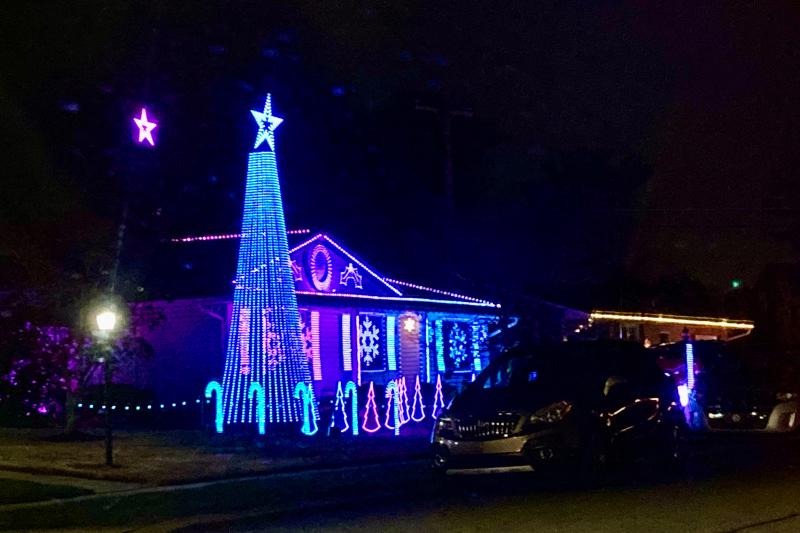 I cannot overstate how serious this neighborhood is when it comes to lights. Our five-year-old, Howie, had us pull the car over three times to point at Grinches, flashing lawns, and tons of inflatables! I'm so glad we (and about a dozen other cars!) stopped at Stonybrook Lights for their spectacular show. Set to music on the radio, this was easily the "sparkliest" display we saw on this year's drive.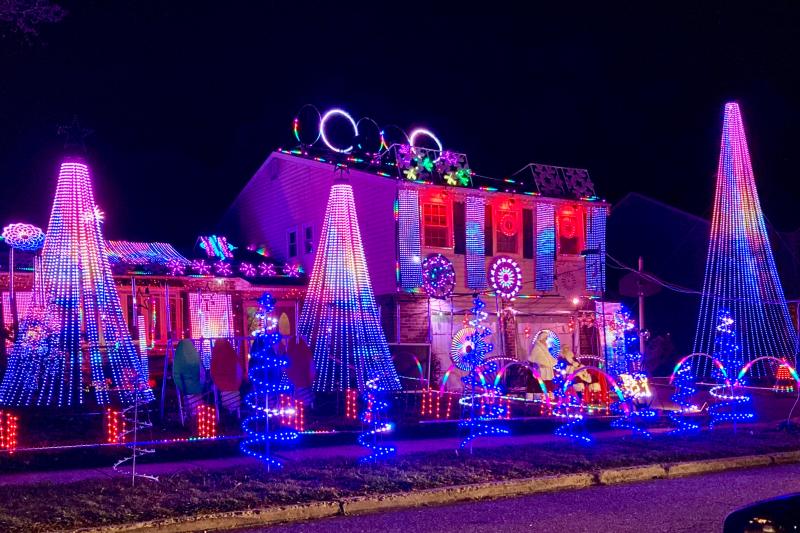 When I plan out this route every year, I'm always a little worried we may miss a stop. What if the address is wrong? Did we take a wrong turn? Maybe the family isn't putting up a display this year?
But when we saw searchlights scanning the sky over Colonial Drive Lights, all of those fears disappeared. The house is covered from yard to roof with colorful trees, arches, snowflakes, hex signs and what we thought were a pair of mannequins. But on closer inspection, we couldn't believe it – there were Mr. and Mrs. Claus, seated right in the middle of everything, waving at cars and talking to kids! It sounds like this was the Clauses' only visit this year (it's their busy season, after all), so we felt extra lucky to catch them.
Stop 5: MaloneyLights, 644 Cypress Rd, Warminster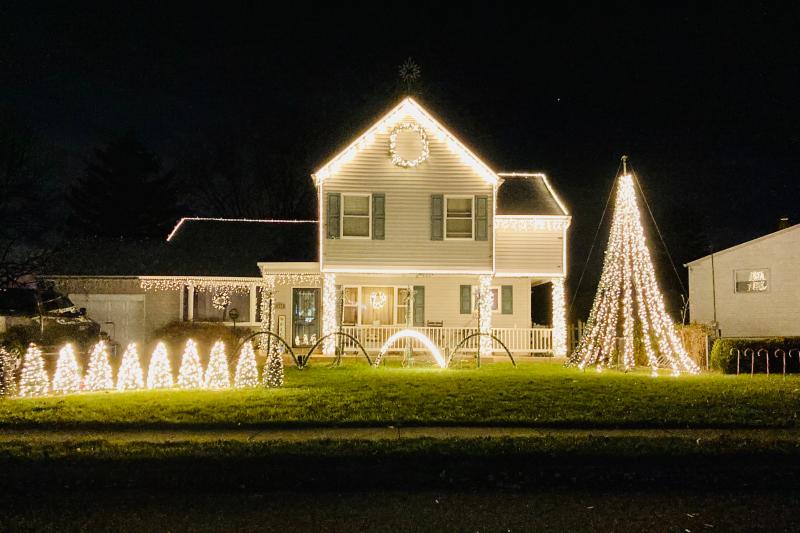 Another musical presentation, I loved this home's monochromatic looks. Subtly moving from white to red, blue, and green, MaloneyLights was definitely one of this year's most calming displays. The arches in front were especially elegant!
Stop 6: 901 Catalpa Rd, Warminster

Right around the corner from stop 5, we joined the long line of cars to tune into our next display. Set on a corner, this house has a lot of space to fill – and do they ever! Trees, presents, singing cut-outs, and more dotted the yard. There was also a collection box for local charities, which I thought was a nice touch.
Stop 7: Keystone Drive between Church Road and Fairhill Road, Sellersville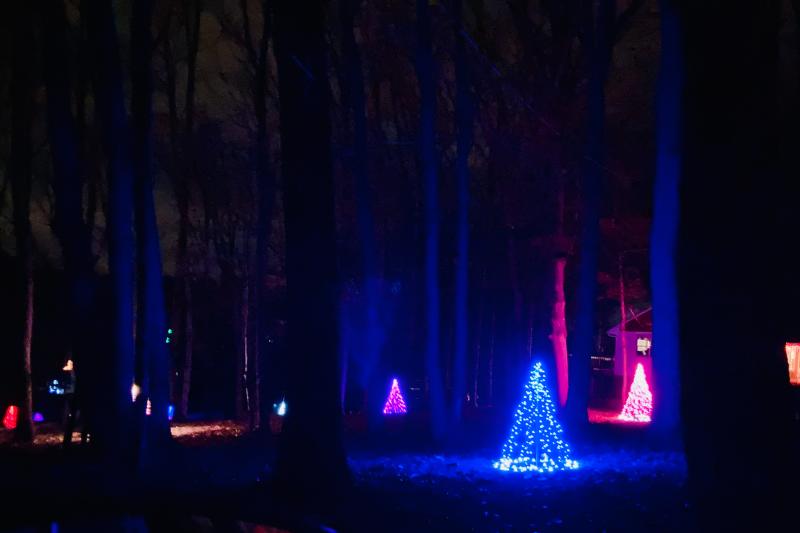 A year ago, I got a tip to visit this one road in Sellersville because, "they do something special with their trees." Not knowing what to expect, we drove slowly through the wooded neighborhood and spotted a couple light up trees. My heart sank – was that it? Then we saw a few more. And more. And then, we got to the top of a hill and there were light up trees as far we could see! With no one behind us, we pulled over, cut the headlights and stared: it was stunning. Difficult to photograph, you must drive up and experience this neighborhood effort for yourself.
Stop 8: 227 Beech Ln, Perkasie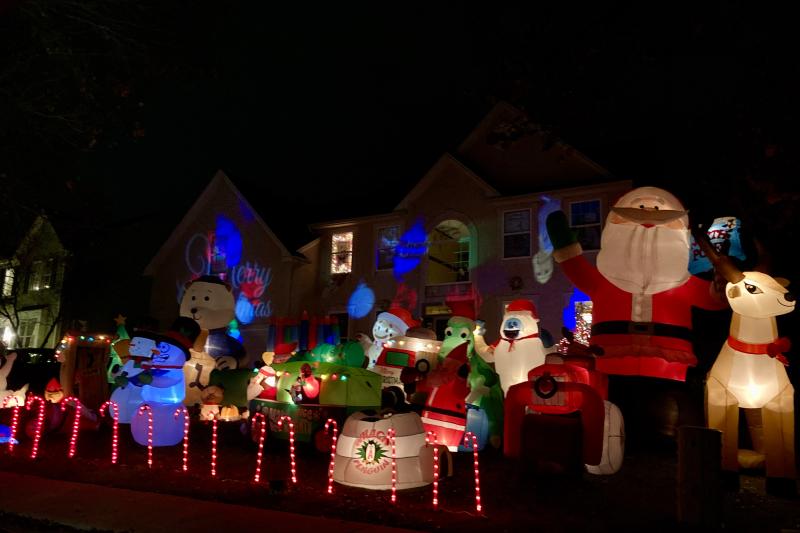 One of the fullest yards of the evening, our eighth stop really packed in the inflatables this year. We spotted several Santa's, snowmen, polar bears, a dinosaur and plenty of other seasonal creatures. A super fun house in a very well decorated neighborhood!
BONUS Stop 9: Peddler's Village, 100 Peddlers Village, Lahaska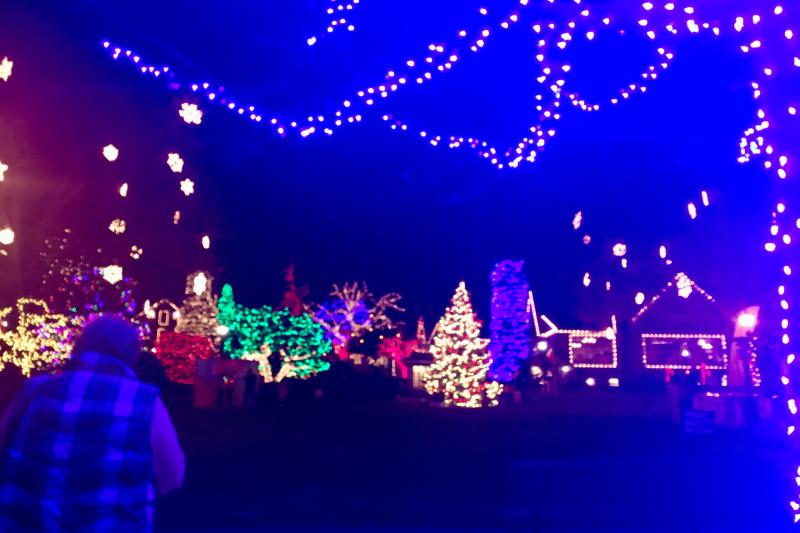 While, yes, I know – Peddler's Village is not technically a house, it was on the way to our final stop, so of course we had to pause. We've been taking Howie to see these very special lights since he was a baby, and he's still excited about the light up arch now that he's a kindergartner – plus, a chance to stretch our legs mid-route is always welcome!
Stop 10: Misfit Meadows, Aquetong Rd & Stoney Hill Rd, Solebury Township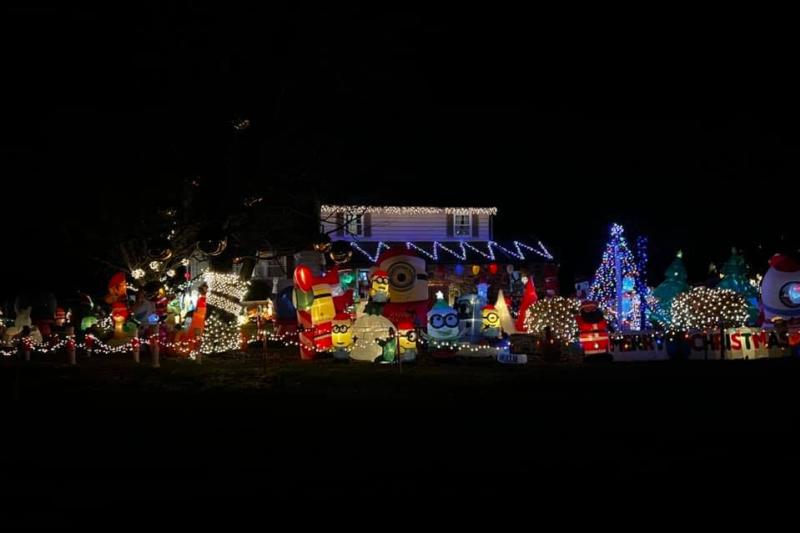 Repeat readers may remember, we visited Misfit Meadows back in 2019 – but Howie added it to our list for 2021! "I saw this house on the school bus," he told us as we got in the car. "They go really hard!" So, we drove home down Aquetong Road, and as we pulled up, I turned around to see his reaction to the yard full of lights, inflatables, and a walking path but – just as he's done on our route every year – by the time we reached our final stop he was fast asleep.
Here's wishing you all a safe trip, bright lights, and a healthy New Year!
Looking for more holiday lights in Bucks County? Find other popular houses on the map below. 
2021 Driving Tour Route:
Stop 1: 1445 Bartlett Ct, Yardley
Stop 2: The Blinking House, 9 Franklin St, Levittown
Stop 3: Stonybrook Lights, 56 Stonybrook Dr, Levittown
Stop 4: Colonial Drive Lights, 155 Colonial Dr, Langhorne
Stop 5: MaloneyLights, 644 Cypress Rd, Warminster
Stop 6: 901 Catalpa Rd, Warminster
Stop 7: Keystone Drive between Church Road and Fairhill Road, Sellersville
Stop 8: 227 Beech Ln, Perkasie
BONUS Stop 9: Peddler's Village, 100 Peddlers Village, Lahaska
Stop 10: Misfit Meadows, Aquetong Rd & Stoney Hill Rd, Solebury Township
2020 Driving Tour Route:
Stop 1: Green Heather Lights, Green Heather Court, Buckingham
Stop 2: 12 Boulder Drive, Sellersville
Stop 3: 308 North 5th Street, Perkasie
Stop 4: 764 North Limekiln Pike, Chalfont
Stop 5: 106 Dolly Lane, Chalfont
Stop 6: 1215 Grenoble Road, Warminster
Stop 7: 1220 Carolyn Drive, Southampton
BONUS Stop 8: Shady Brook Farm, Yardley
2019 Driving Tour Route:
Stop 1: Stoney Hill & Aquetong Road, New Hope
Stop 2: 4318 Route 202, Buckingham
Stop 3: 212 Stags Leap Circle, Doylestown
Stop 4: 61 Cherokee Road, Doylestown
Stop 5: 502 Timber Court, Perkasie aka 'Tis the Simpsons
Stop 6: 37 East Ridge Avenue, Sellersville