Having just opened its doors in early July of this year in Peddler's Village, Cloak and Wand is everything and more for those looking for mystical adventure! 
The Cloak and Wand's original and first location is in Mystic, Connecticut - a spooky town in itself! Bucks County tourists and locals alike are in for a treat with this shop. Not only is it a fantasy shop filled with all sorts of wands, cloaks, potions, enchanted plants, books, magical items, clothing, and brooms, but it also houses a very unique and whimsical potion bar!
Accompanying me on this trip was my 6th grade niece,Teagan, and two of her school friends, Gavin and Julia. What I liked about this shop is that there was something appealing for every age throughout the aisles. We kept looking around at the unique decor, such as the glow in the dark jellyfish hanging from the ceiling and the human portraits hanging on the walls that had eyes that sneakily moved every time you turned away!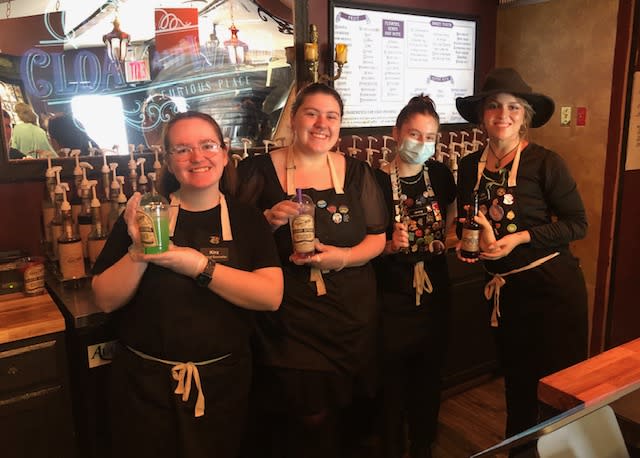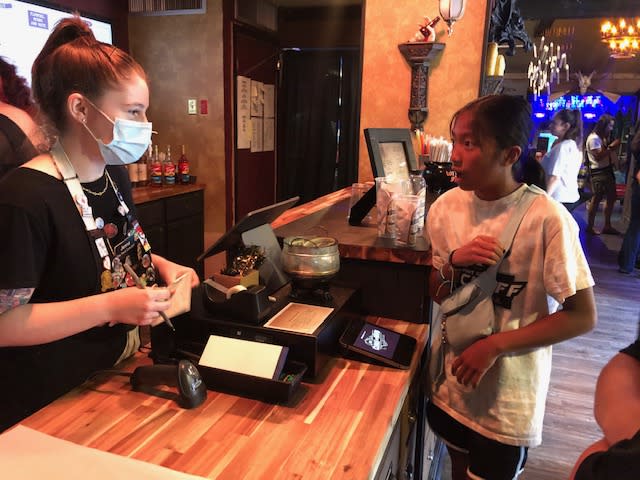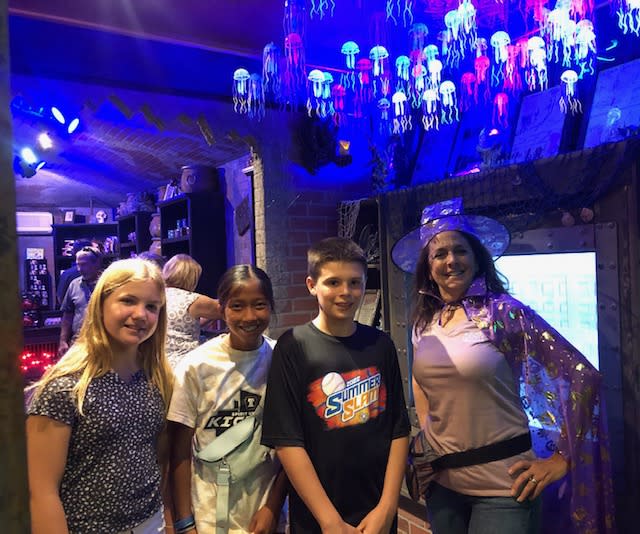 After our tour through this delightful shop, we stopped at the potion bar, greeted by four, very friendly and smiling potion masters and apprentices. We had so many beverages to choose from! One was a choice of 3 magical flavors from 64 different sodas, including blood orange, lychee, and dragon fruit, to name a few. A second choice was something from the hot chocolate bar, which included white or extra dark hot chocolate along with Basilisk Eggs (marshmallows) or Troll Teeth (chocolate pieces). 
We decided to go with the potion master's suggestion, which was to describe to her our favorite flavor, one unique characteristic about ourselves, and our first name. This resulted in a concoction which would be the perfect fit for each one of us! After a swirl of the wand and a shake of the drink, voila! We each were sworded with our very own magical potion filled with teeny little sparkles! It was delicious!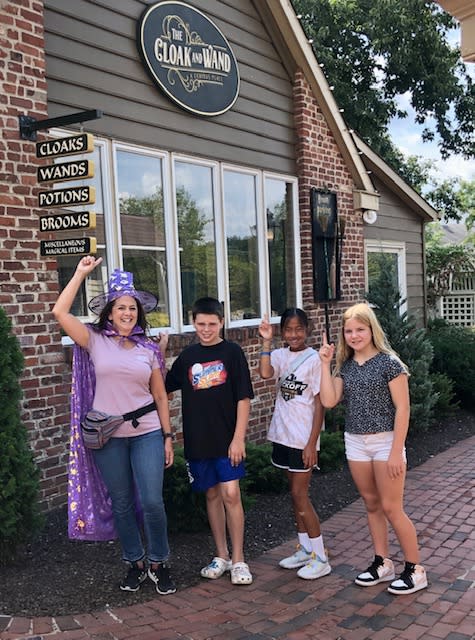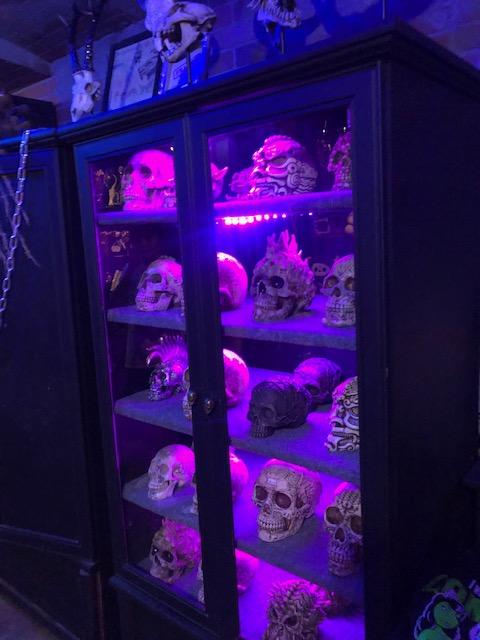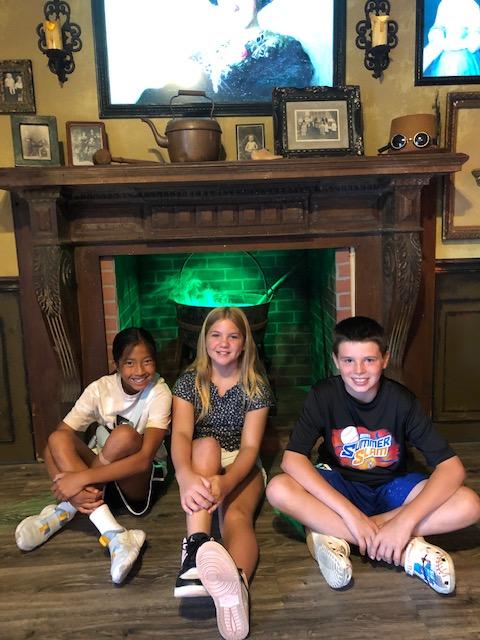 After speaking with Karen, the manager of the Cloak and Wand, we immediately became excited for our next trip to this magical place. On Friday, September 9th, many new fall flavors were introduced to the Potion Bar, along with an entire theme of Hocus Pocus throughout the months of September and October.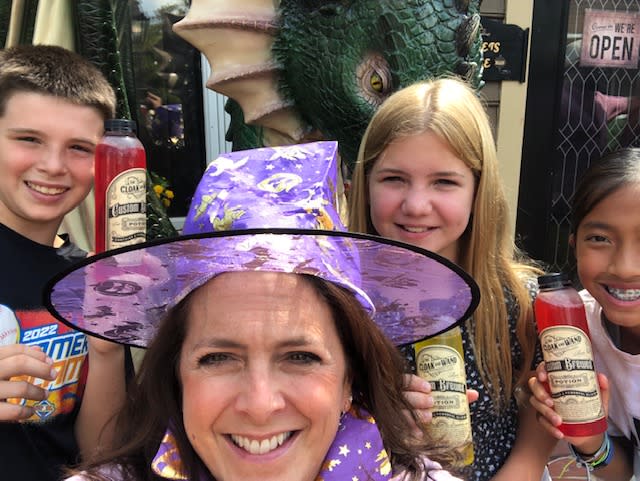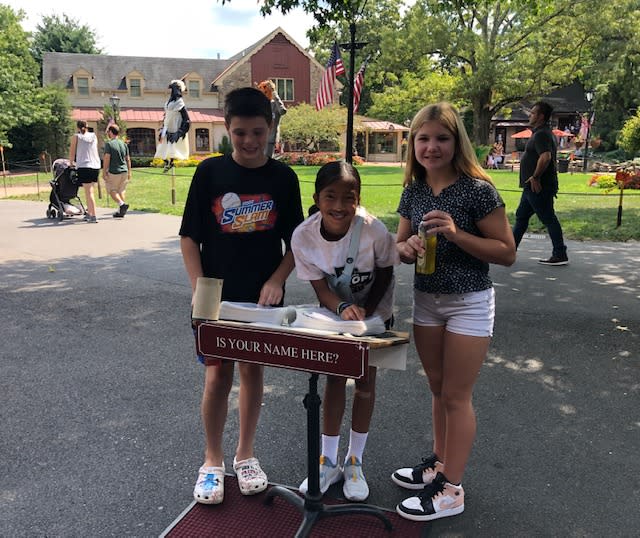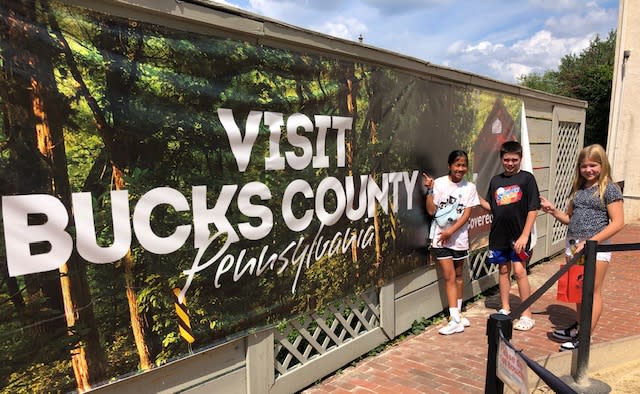 After our delightful and enchanting trip to Cloak and Wand, we stopped by the ever so popular toy store across the street, jaZams Toys. We could have stayed there for hours because they have everything from puzzles, to ukeleles, to unique puppets, to any toy you could imagine! Down the street, we took a quick peek in Inferno, a shop filled with all different kinds of hot sauces. We happened to find Mexican Hot Chocolate Cotton Candy and just couldn't resist! It was absolutely amazing! Finally, a must stop spot in the Village in all my years of visiting even when my kids were little ones, was the famous Skip's Candy Corner. Talk about being a kid in a candy store! They have homemade chocolates in the shape of guitars and other novelty items. One of my favorites is the dark chocolate covered sea salt caramels-oh my! The kids ended up with Nik-L-Nip Wax Bottles and Satellite Wafers (remember those?) What a unique selection!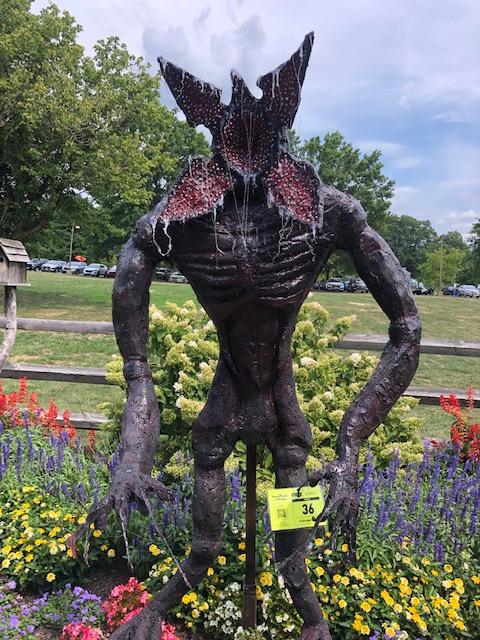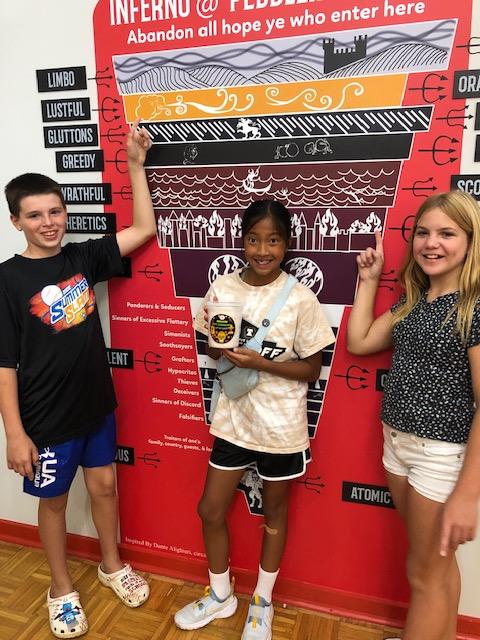 Treat your kids, grandparents, your siblings, parents, a date, friend, or YOURSELF to a trip to Cloak and Wand, right in the heart of Peddler's Village in one of Bucks County's most beautiful areas, Lahaska, Pennsylvania. And, while you are there, stop by one of its 65 incredibly unique shops. You will not be disappointed!