St. Patrick's Day in Bucks County*
You're in luck; there's a lot of blarney to go around in Bucks County this St. Patrick's Day! Whether getting active on a bike ride to New Hope for a stout or taking the kids to shamrock-it out at a local festival parade, there's something for everyone to enjoy.
*please check with partners directly on status of events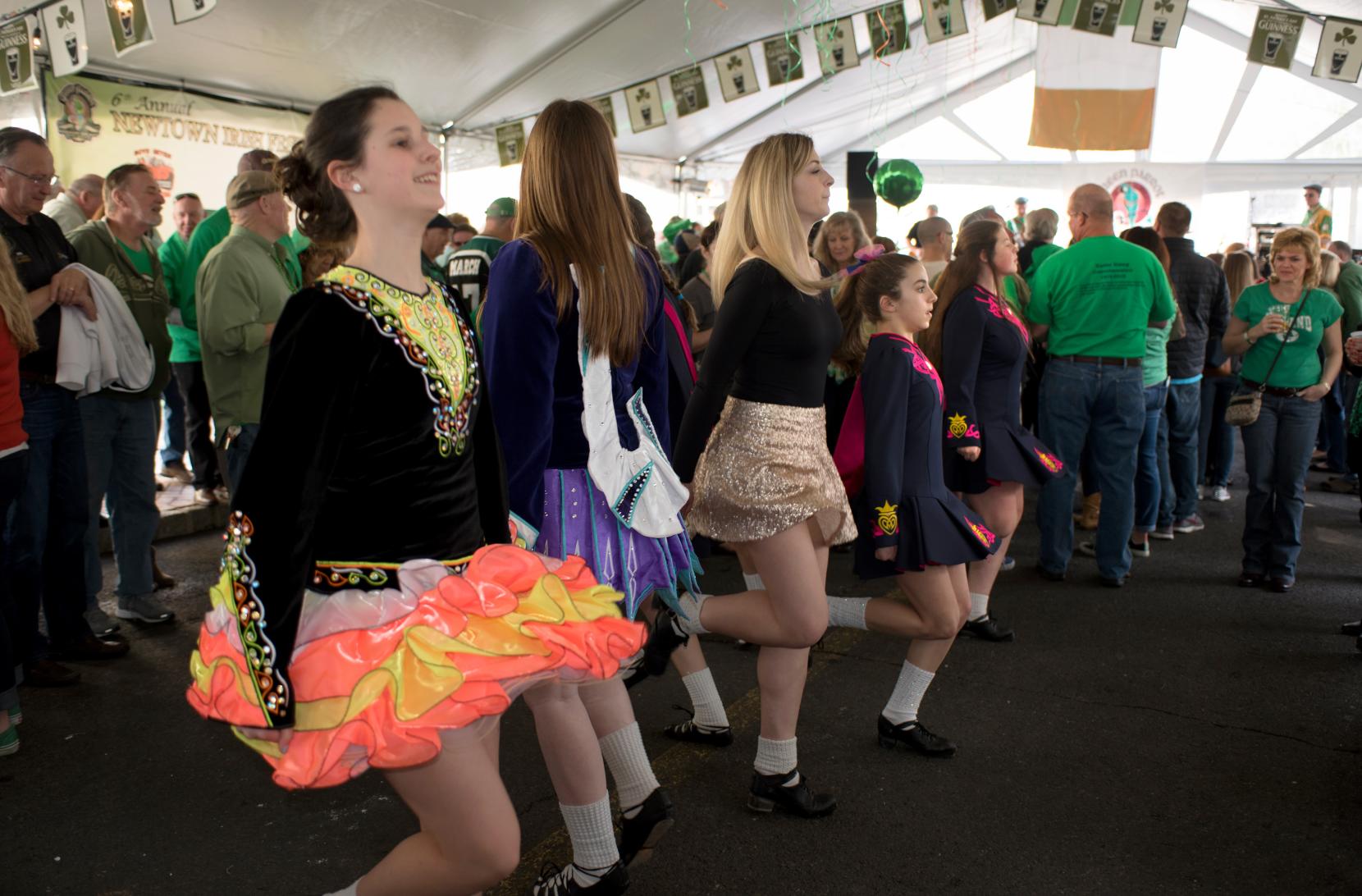 Irish Dancers at Green Parrot Newtown Irish Festival
💚There's something going on daily at the Green Parrot's 2020 Newtown Irish Festival! From March 12-17, come out to grab a pint and catch some Celtic inspired performances by Ray Coleman, Seamus & CJ, Keep The Change Band, John Byrne Band, The Natterjacks and more.
☘Top the morning off with the St. Patrick's Day Parade on New Falls Road that's been a county tradition since 1989. The trail starts on March 14 at 10:30 a.m. at Conwell-Egan Catholic High School and ends at the Levittown American baseball field until about 1 p.m.
🌈Order off the traditional Irish menu at Triumph Irish Fest 2020! There's plenty of fun for the whole family with activities like live music all weekend, face painting and balloon artistry from 1 – 4 p.m. on March 14, and more. Plus, the event is free, so you'll have more green to get your grub on.
🎩At Zlock Performing Arts Center you'll find Larry Kirwan (host of Celtic Crush on Sirius XM) performing hits during the St. Patrick's Celtic Crushing Concert. The show begins at 7:30 p.m. on March 14 with tickets ranging from $15-30.
🍺For the third year in a row, The Main Street Marketplace turns into The Irish Marketplace for St. Patrick's Day Weekend. Bring the family to enjoy live music all day (bagpipes, anyone?), Irish dancers from Ryan Kilcoyne School Dancers, and whiskey tastings. Sample food from Pennsylvania Soup and Seafood, Andre's Wine and Cheese, Spuntino & One Sweet Baking Co. and take advantage of drink specials from Hops/Scotch.
🍀Make reservations for the Sesame Place®Philadelphia's St. Patrick's Day Dine and bring out the little lads for a day of dancing and dining! Elmo and Friends jig to their favorite Sesame Street songs and leprechauns of all ages are encouraged to come dressed in their festive green attire. Enjoy a buffet lunch and dessert from 11:30 a.m. – 2 p.m. on Saturday, March 14.
🍻Pedal for a pint on the St. Pedal's Day O'Bike Tour along the D&L Canal from Virginia Forrest Recreation Area into New Hope. Feel free to bring your own bike and helmet to the trail for $20 tour, or get a loaner set for the day for $35. The approximate 5-mile ride will take about 30 minutes each way, and the group leaves at 1 p.m. Spend some green on whatever you'd like in New Hope. This one is for 21+ only and reservations are required.
More St. Patrick's Day Fun: