BUCKS COUNTY'S BEST BRUNCHES
Trade in that breakfast cereal and PB&J at lunch for a hearty brunch that will satisfy your stomach all day long. Many of Bucks County's finest restaurants offer weekend brunch specials, the best of both worlds.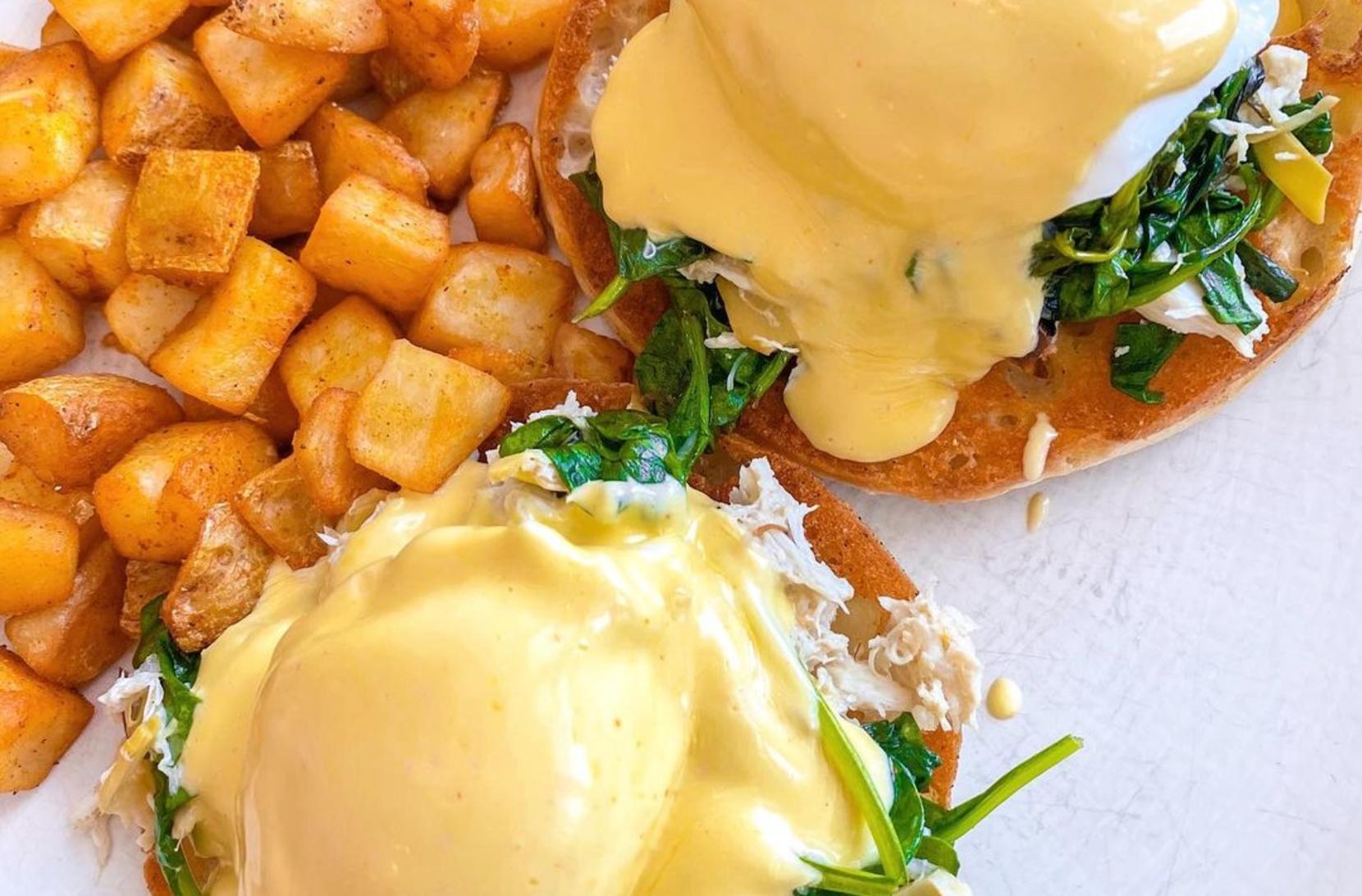 Charcoal BYOB (Instagram @PhlBrunchGal)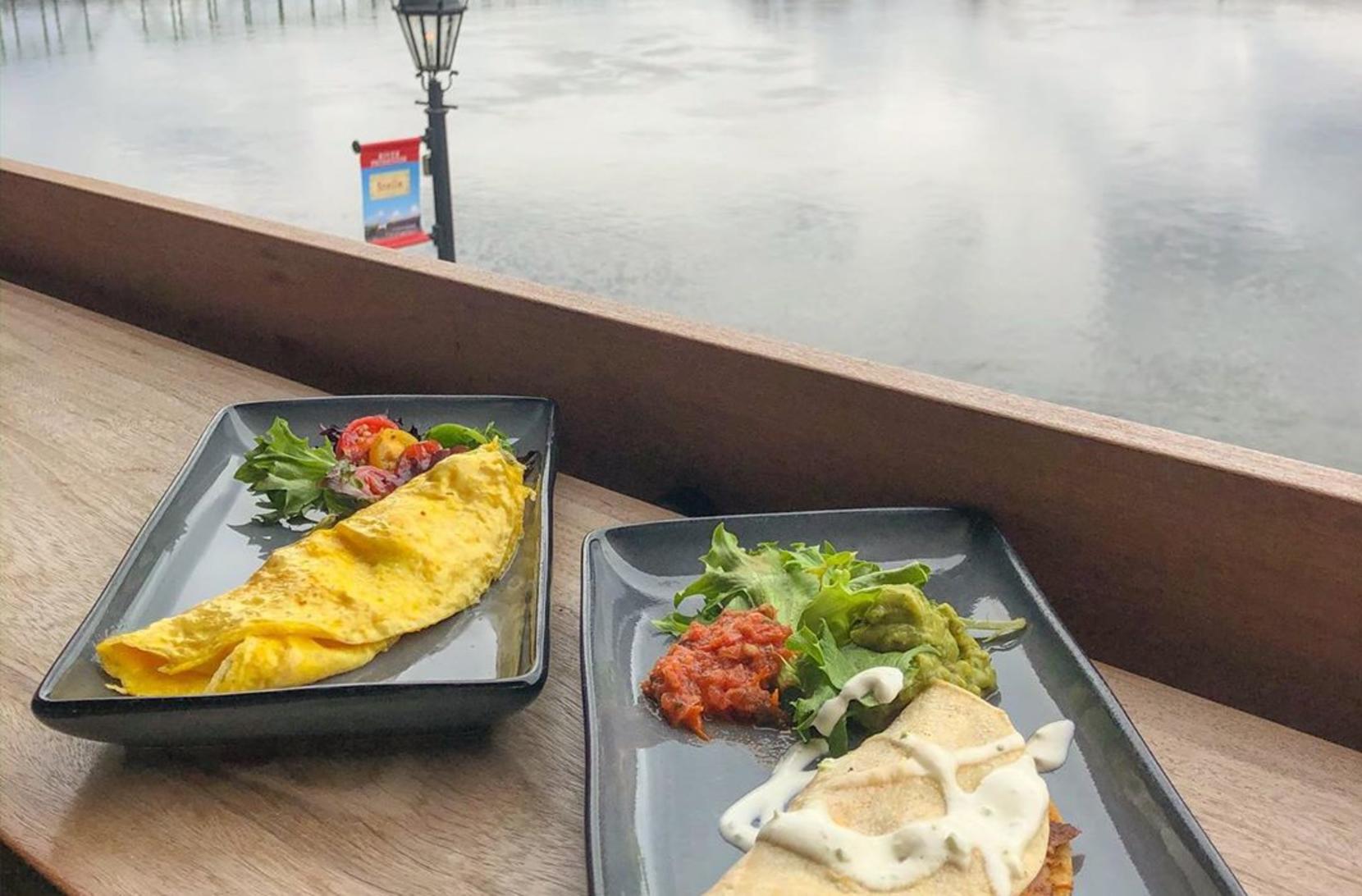 Crab Spinach Artichoke Benedict at Charcoal BYOB
A perfect blend of veggies, herbs and seafood, these breakfast version of crab cakes are even more scrumptious while looking over the Delaware River. Other hot items include Chipped Beef over toast, Blueberry Pistachio Pancakes and a traditional Irish breakfast of Smoked Trout & Eggs.
Dig in! This short stack is served with fresh berries and maple syrup. Other delicacies on their menu include a Smoked Salmon Platter, Three Egg Frittata and Local Heirloom Tomato Salad. Pair it all with a Stella Bloody Mary or The Morning After cocktail - scotch, lemon, honey and ginger!
Make brunch a special occasion and treat yourself to fine Italian dining at this Langhorne gem. Every Sunday, this grand Victorian home features a brunch buffet that incorporates breakfast favorites like Bacon and Cheese Blintzes with traditional Italian pasta and dessert.
Key West Shrimp Omelet at Turning Point Warrington
Choose from countless breakfast and lunch options at Turning Point! Their creative and delicious menu features Strawberry Cheesecake French Toast, Crossfit Kale Omelet, New Yorker Salmon Platter and Heavenly Peanut Butter Hot Chocolate.
Stop into Jake's in Newtown or Richboro for a hearty breakfast of two scrambled eggs with onion, sausage and potato scrambled in, served with a grilled corn muffin!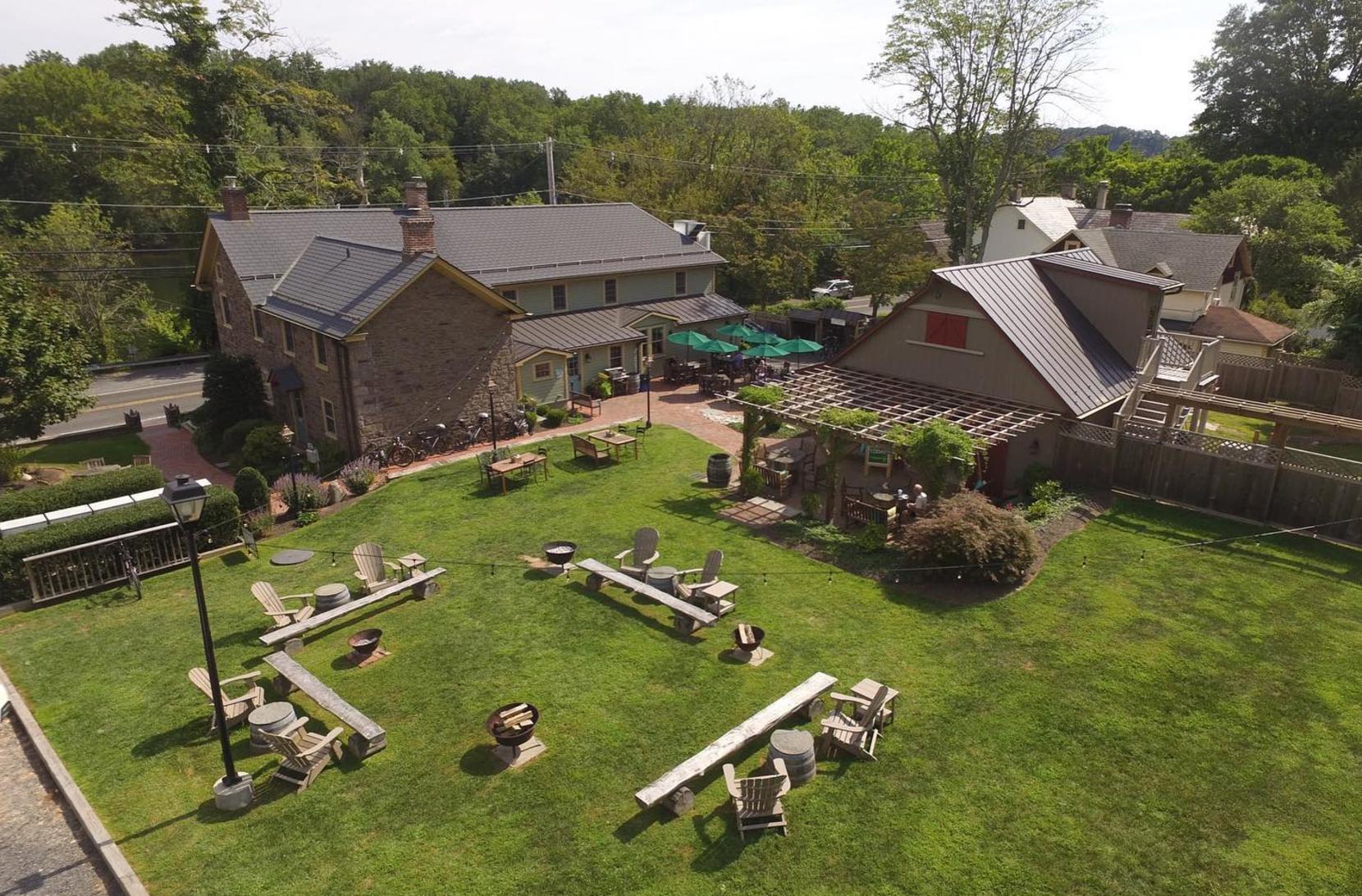 Lumberville General Store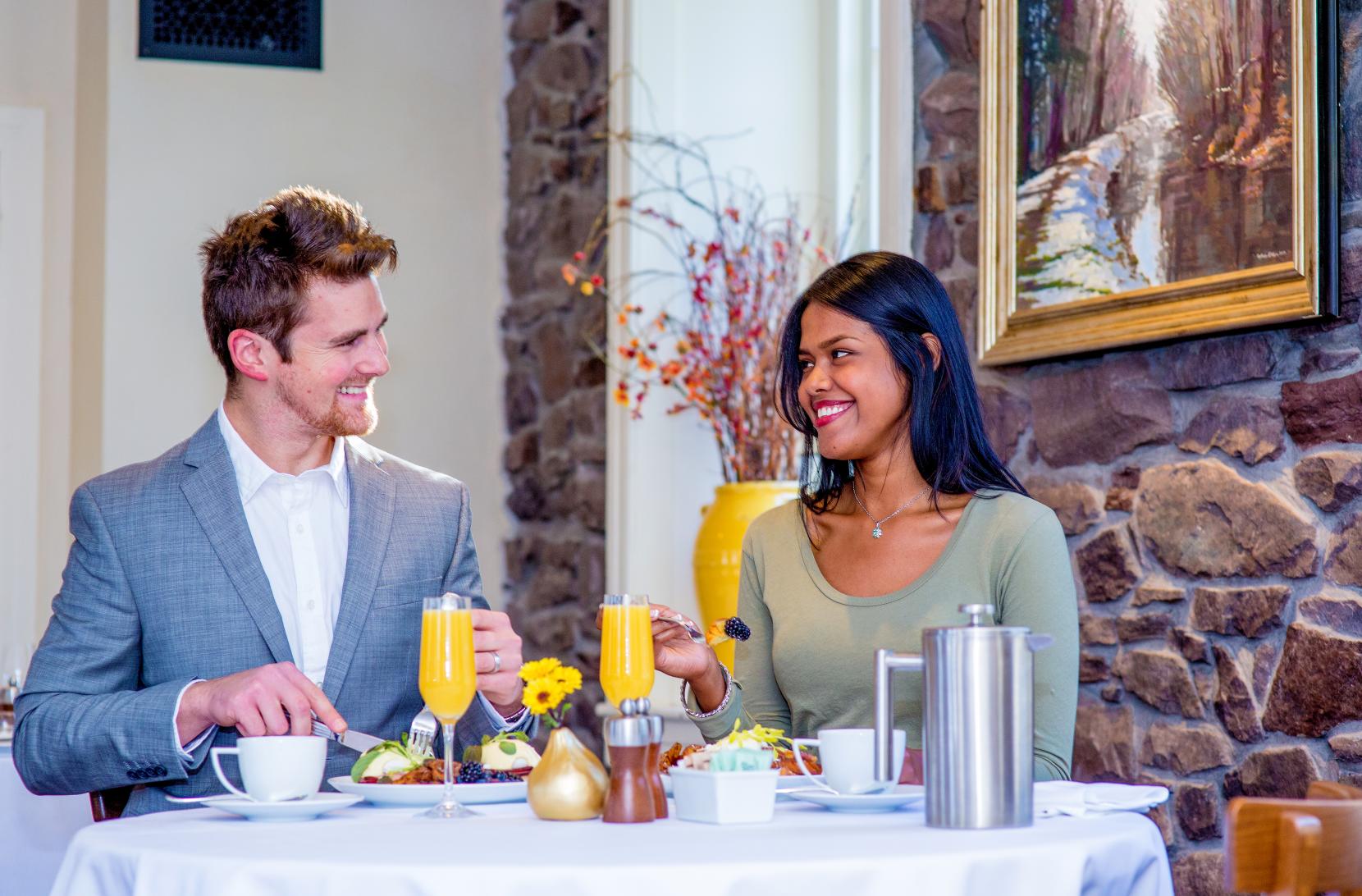 Dining at Golden Pheasant Inn
Located in the beautiful Erwinna, this B&B also hosts a luxurious, French-inspired brunch with menu items like oysters with a Chardonnay mignonette, Pain Perdu, House Gravalax and Belgian Chocolate Velvet Tarte.
Perfect if you're staying at the Black Bass Inn, Golden Pheasant Inn or Bridgeton House on the Delaware, this upper Bucks gem with a scenic outdoor space produces a hearty breakfast burrito filled with three fried eggs, sausage, ham, and bacon covered with cheese, wrapped in a flour tortilla.
This restaurant situated just outside of Peddler's Village is owned by chef Caleb Lentchner offers an extensive Sunday brunch menu. For example, the Paleo Breakfast of Champions, which includes three poached eggs, chorizo over sautéed spinach topped with fresh salsa and avocado.
The Yardley Inn is home of the "Big Mary" specialty mimosa, which is their twist on the famous brunch cocktail, the Bloody Mary. Sip away as you enjoy one of their delicious menu items such as the Johnny Cakes or brioche French toast.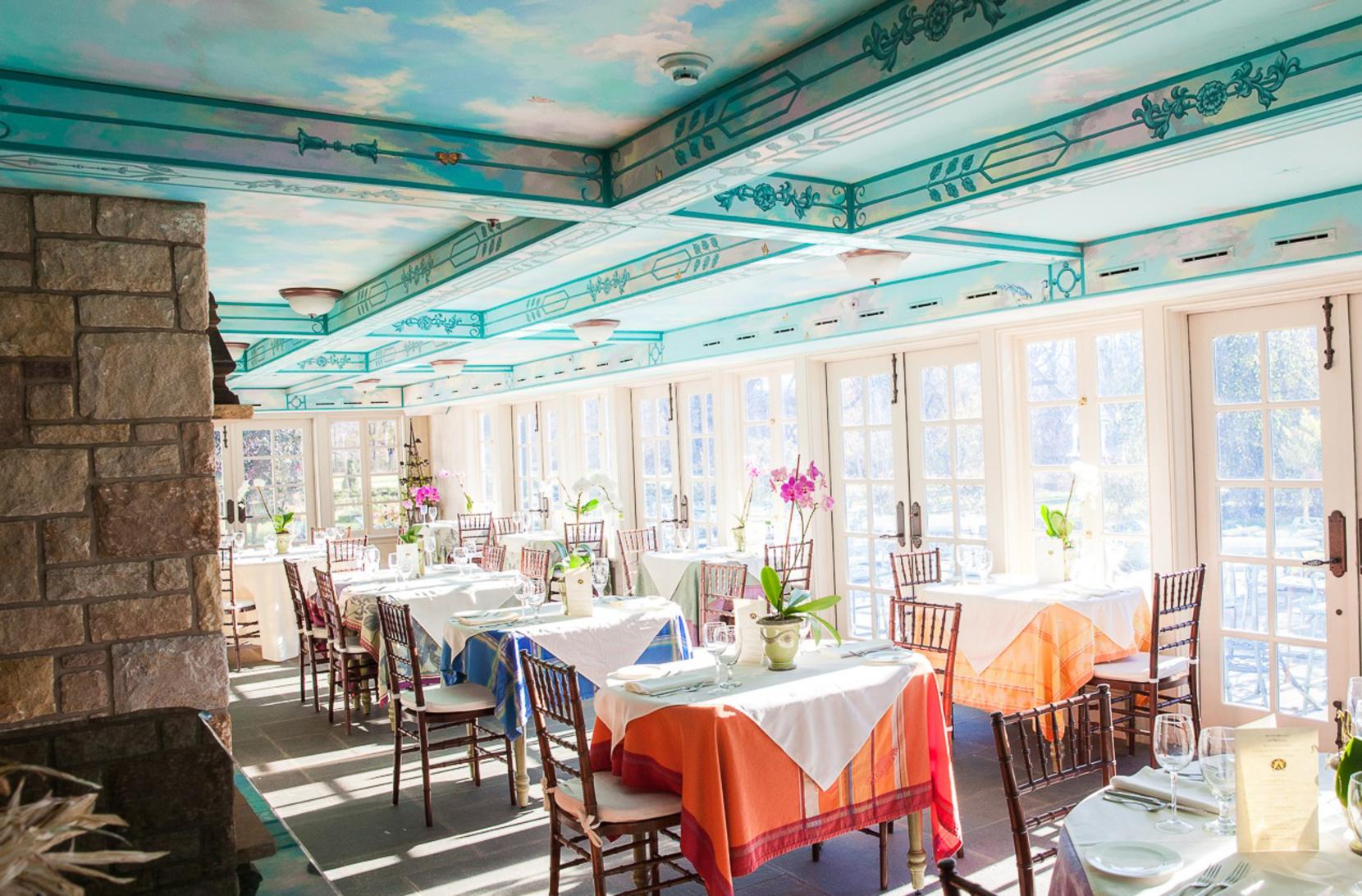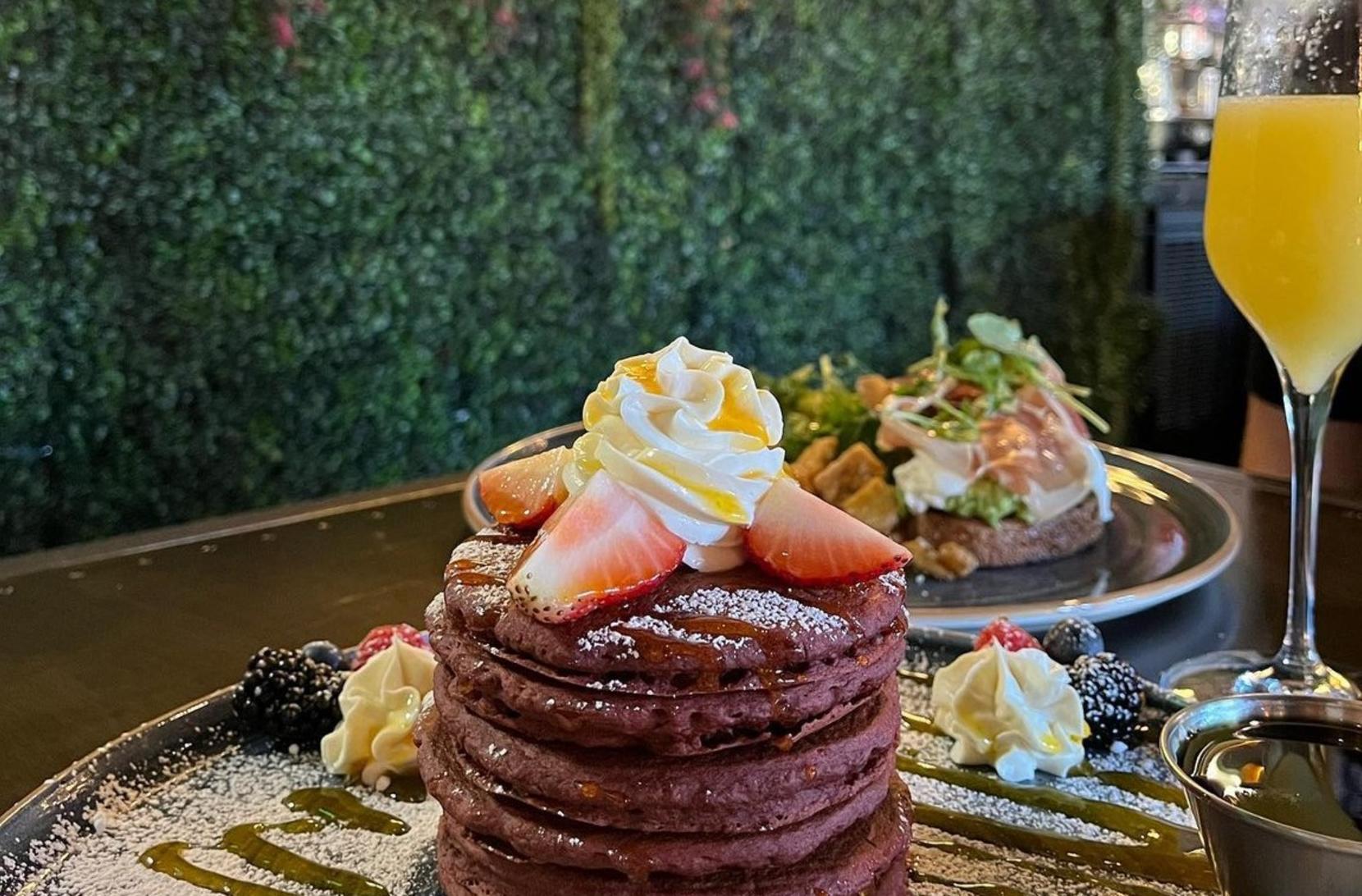 The former home of Pulitzer Prize-winning writer George S. Kaufman, is now one of the area's best bed and breakfast inns. Voted in the 'Top 100 Most Romantic Restaurants in America' by OpenTable, indulge yourself in this scrumptious French Toast. Order a side of Avocado Toast and Wild Boar Sausage to balance it out!
Known for their handcrafted flatbreads and specialty pizzas, Select Pizza | Grill serves an Instagram worthy brunch inside The Cage Cocktail Bar to boot! Satisfy your taste buds Saturday and Sunday from 10 am - 3 pm with brunch staples like fluffy Beignets, Steak and Eggs and their fan favorite Red Velvet Pancakes! Make sure order an inventive cocktail, all made with locally sourced ingredients! 
Genevieve's in Doylestown offers a weekend brunch with an Italian and Mediterranean flair. They believe in keeping the dishes pure and simple while focusing on the quality of the ingredients and the elaborate preparation. Enjoy a sweet meal of chicken and waffles, a unique cauliflower crust flatbread or a simple kale Caesar salad.
Benedict Tartine at Odette's
Sink your teeth into a grilled ciabatta with poached eggs, hollandaise, sautéed spinach with smoked salmon or bucks county ham, served with breakfast potatoes! The River House at Odette's serves brunch from 7-11 a.m. Monday through Friday and 7-10 a.m. on the weekends.
Enjoy Savory Yeasted Waffle, Gochujang Mayo, Sweet & Sour Carrot, Kimchi, Micro Leek, Lime, Crispy Fried Onion, Sesame Seed, Ginger-Soy Syrup! Pair it with their Banana Cream Pie French Toast and a Harvest Bloody Mary.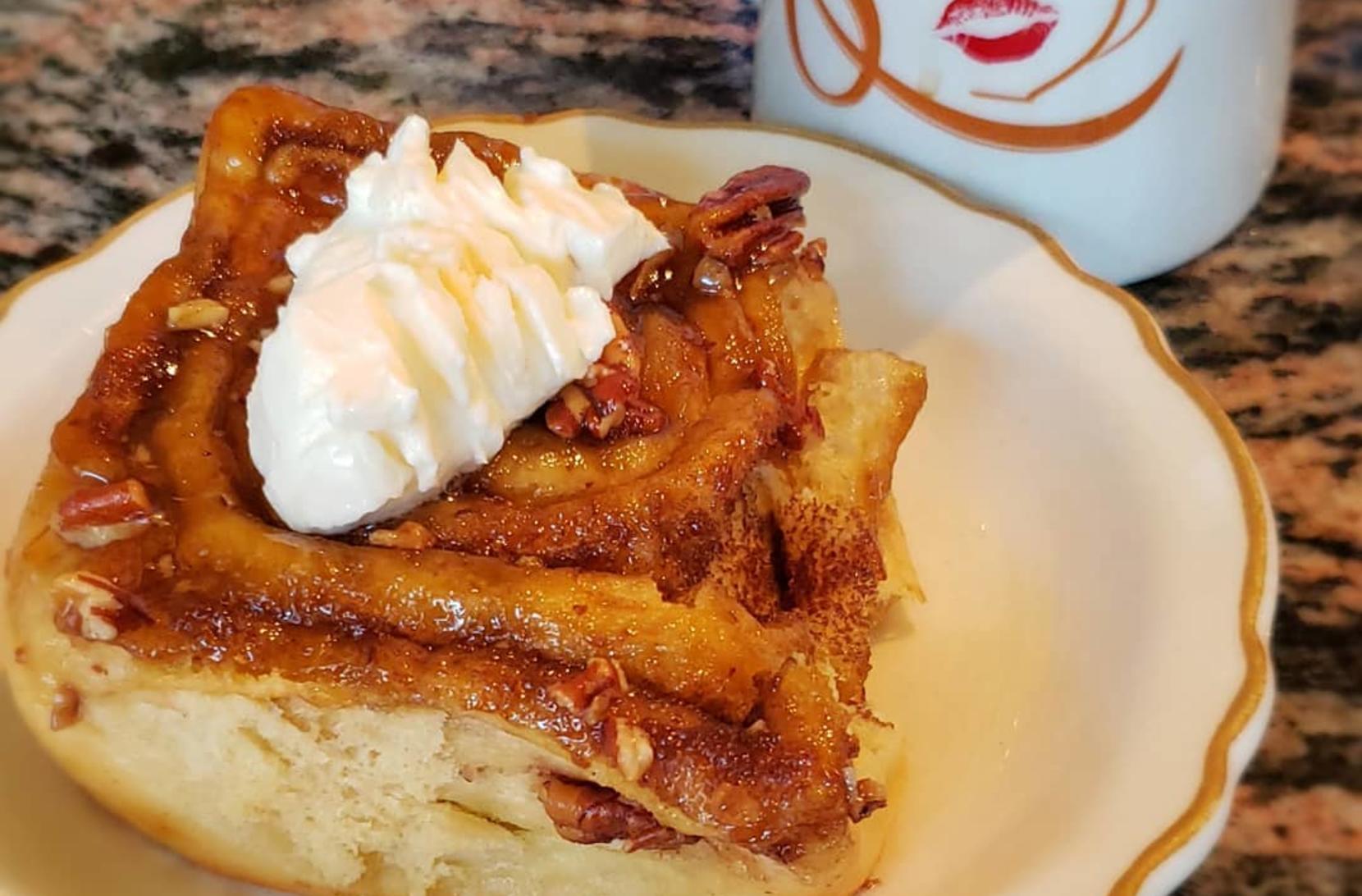 Stella's House Blend Cafe (Instagram @Bentonvories)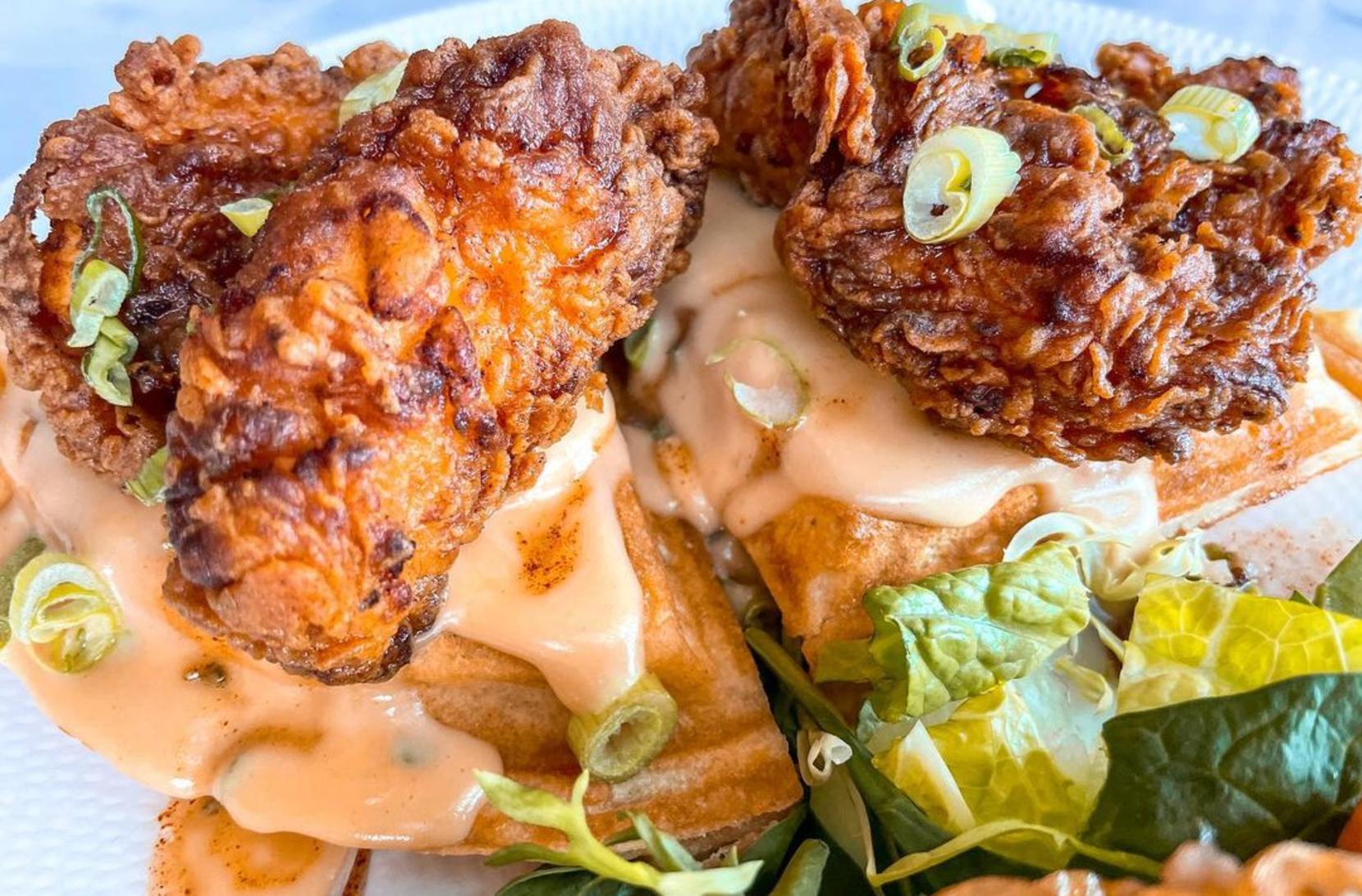 Stella New Hope (Instagram @PHLBrunchGal)
Ranked #14 in Yelp's "Top 100 Best Brunch Restaurants in America" in 2021, this dish features mouthwatering cheddar cheese and grits topped with sautéed spicy shrimp and roasted tomato cream sauce; served with seasonable vegetables. Pair it with champagne and an assortment of baked goods from this historic inn in upper Bucks.
Sample American fare with a pinch of the south at M.O.M.'s. Sip on mason jar mimosas with poached eggs, bananas foster French toast or house cured wild boar bacon at this eatery owned by two brothers in Doylestown. 
Located right on State Street on the first floor of the Doylestown Inn, The Hattery serves up a delicious brunch including Huevos Rancheros, an fried egg dish filled with black bean mole, corn tortilla, cheddar cheese, queso fresca, romaine lettuce, diced tomato and avocado.
Clef Eloy's World-Famous Spinach, Tomato & Goat Cheese Fondue Omelet at The Washington House
Whether you're looking for an a la carte or prix fixe menu, The Washington House in Sellersville offers both options for Sunday brunch. Explore their varying menu options such as saffron marinate European chicken, sweet & spicy edamame, grilled Rueben and more!