Holiday Decor Tours
Oh there's no place like home for the holidays, but these Bucks County houses are open and on display for everyone! If you are looking for something to do on one of the many cold nights ahead of us, grab your boots, coat and gloves and join any of the fantastic holiday-themed house tours that only Bucks County has to offer.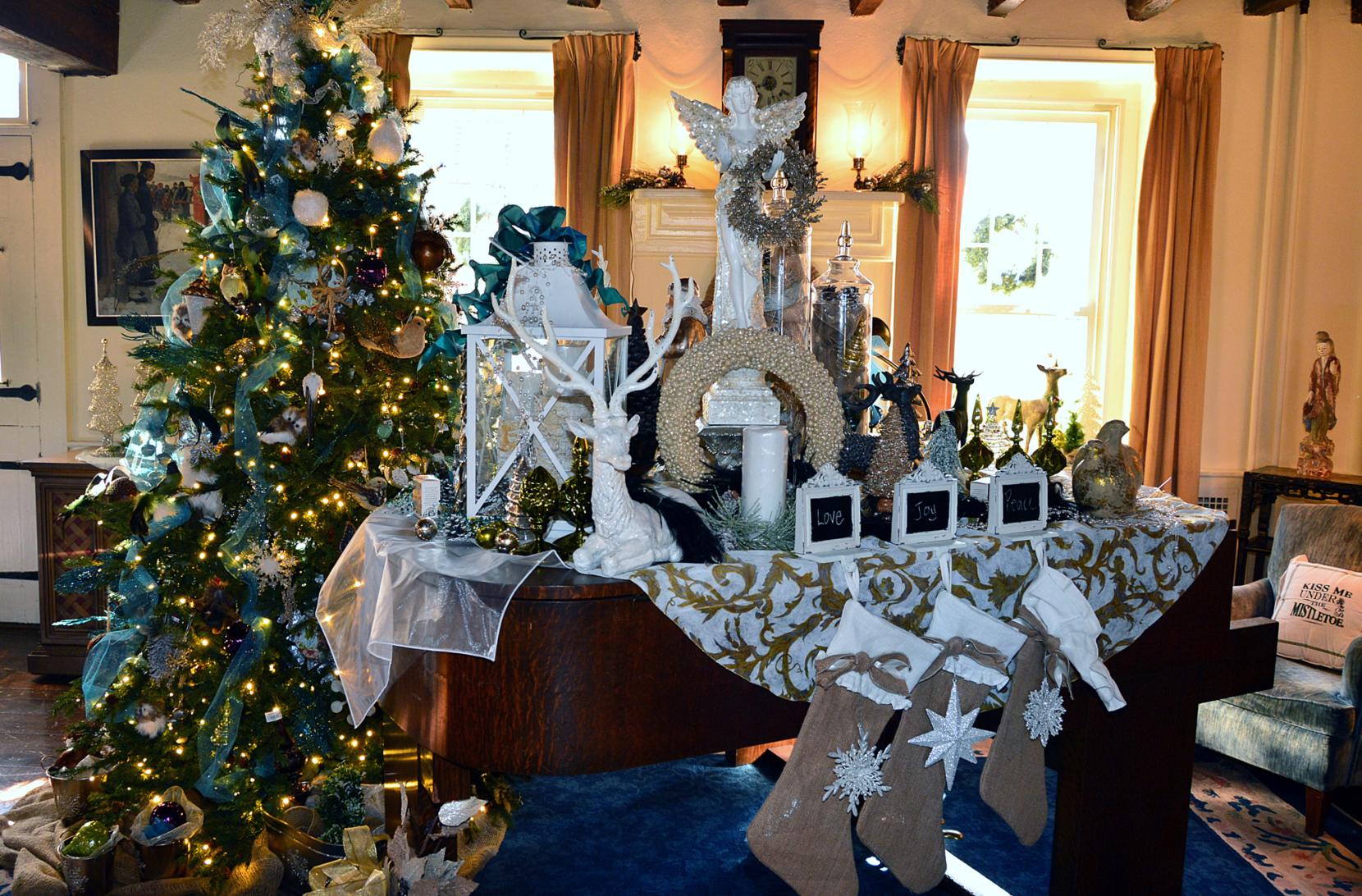 Display at Festival of Trees in Pearl Buck
The Heritage Conservancy will be hosting tours of their lavishly decorated Aldie Mansion for the holidays, just like the original Mercer family used to! Come and see part of Bucks County's unique heritage at its best. Tours are $12 a person, $10 for senior citizens, and $8 for Heritage Conservancy members. Children 12 and under are free but require adult supervision.
Spend this season at a home away from home! The historic Bolton Mansion's annual Holiday House authentically decorates each room for the holidays and has activities to be found all throughout the mansion. Featuring a decorated 9-foot tree, musical visitors, baked goods, hearth cooking, hot cider, candy, and make sure to meet Santa in the blue room. Admission is $5 for adults and $2 for children 12 and under.
If you love holiday stories and traditions, this is the tour for you. Standing by the Delaware river, this Village has held its 18th Century character as a place of Quaker living, love and heritage. Historic Fallsington "the village that time forgot" offers guided tours, by reservations Tuesday through Friday on the half hour beginning at 10:30 a.m. Christmas décor will be up beginning December 8th.
Tour the beautiful Glencairn Museum, depicting life for the famous Pitcairn Family throughout the holidays in the 1940's through the 1970's. This 45-minute tour gives a glimpse into this lifestyle and the elegant way that the Glencairn castle would have been decorated. The tour has a $12 participation fee and runs 1:30 and 2:30 p.m. on weekdays and 1:00, 1:30 and 2:30 p.m. on weekends from November 29, 2019 through January 5, 2020. View a series of 3D World Nativities on display at the end.
The Annual Open House Tour gives participants an exclusive look inside many private local homes and historic buildings decorated for the holiday season! This historic, yet enchanted walk through the town's heart includes six private houses and five public buildings, one of them being the beautifully restored 18th century building The Half Moon Inn. Once inside you will enjoy musical entertainment, hearthside colonial cooking demonstrations and refreshments of warm cider and cheese, all included in your ticket. Children under the age of 12 are free. The 55th Annual Open House Tour will be held on December 7, 2019.
Visit the home of Nobel and Pulitzer Prize winning author Pearl S. Buck. The national landmark is decked out for the holidays during the 41st Annual Festival of Trees. Hours vary during the period of November 12 through December 30. Other tours, including candlelight and decor, are by reservation only. 
Nothing says the holidays like crackling fires, cider and carolers! Experience William Penn's 17th century country estate by candlelight. Step back in time and enjoy colonial charm at one of the Holly Night events. Tickets can be purchased in advance here.