Girlfriend Getaways
The peaceful serenity of beautiful Bucks County is the perfect place to escape on a weekend getaway with your girlfriends. Whether you love being pampered, exploring the great outdoors or just want to have fun, here are itinerary ideas to take with the girls.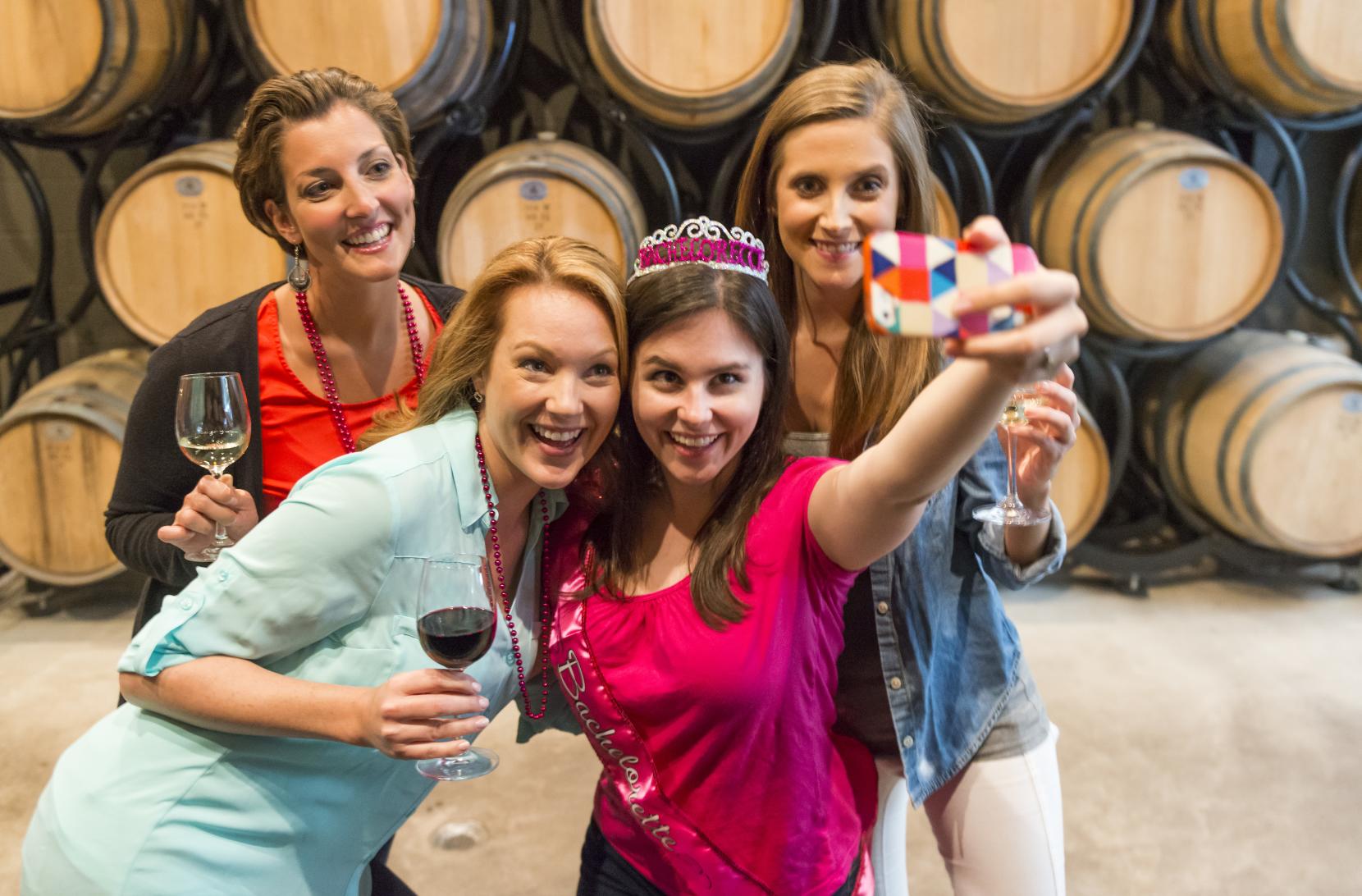 Bachelorette at Crossing Vineyards
DAY 1
MORNING
Skin 'n Tonic
A hidden gem in New Hope, Skin 'n Tonic provides a perfect escape for total relaxation. Choose from an outstanding array of therapeutic treatments, like the Deluxe Facial Treatment, with an internationally trained aesthetician and massage therapist!
Shopping at Peddler's Village
Enjoy an afternoon of retail therapy exploring Peddler's Village's more than 70 specialty stores and boutiques, like Greenology, where you can make-your-own terrarium, or Extra Virgin, a specialty olive oil shop and House of Jerky, a specialty jerky shop.
AFTERNOON
U.S. Hot Air Balloon Team
Let your dreams take flight on a thrilling ride with the U.S. Hot Air Balloon Team. Experience Bucks County from high above as you float above New Hope, Lahaska, Doylestown, Holicong and the rolling hills of Bucks County. After your flight touches down, you and your girlfriends will be treated to champagne and hors d'oeuvres.
Copper House Events
Copper House Events an ideal retreat destination with a focus on team building over food, the perfect place for a bachelorette party, alumni weekend or any type of group with lots of ladies! Chef Pam Anderson will customize any type of special event up to 50 people, including cooking demonstrations, yoga retreats, breakfast, lunch and more. Enjoy the outdoor wood fire pizza oven, inside bar, large kitchen, and indoor and outdoor gathering/meeting space right in Riegelsville.
EVENING
Murder Mystery Dinner
Dinner and a show isn't just for date night, it's also the perfect recipe a great group outing. Groups coming to catch a production at one of Bucks County's premier performance venues can also gather together around the dinner table at nearby restaurants. Whether it's an off-Broadway musical and Cajun cuisine or fine dining mixed with murder mystery, dinner is the perfect side dish for live performances!
Inn at Bowman's Hill
You and your girlfriends are guaranteed to have sweet dreams when you rest your head at the luxurious Inn at Bowman's Hill. Stay in the lavish two-bedroom Regal Tower Suite and be sure to add on a relaxing en-suite massage. The next morning, enjoy a delicious traditional English breakfast, prepared just for you with fresh local ingredients.
DAY 2
MORNING
Karla's Restaurant
Offering elegant European cuisine and fine wine and spirits, Karla's Restaurant & Bar is the place to enjoy a classy atmosphere and delicious meal in historic New Hope. Everything on the menu is homemade daily!
AFTERNOON
Bucks County River Country
Let the current be your guide on a trip down the Delaware River with Bucks County River Country or Delaware River Tubing. Tube, kayak, canoe or raft your way through the scenic countryside on a two-, three- or four-hour journey on the Delaware.
Nockamixon State Park
After a day of exciting fun, catch some z's in one of Nockamixon State Park's rustic cabins. You and the girls will love being surrounded by nature as you drift off into a good night's sleep. In the morning, enjoy a leisurely hike through the park or stop by Lake Nockamixon for some fishing or a peaceful boat ride.
EVENING
Parx Casino®
After a full day traveling through Bucks County, prepare for a night of fun at Parx Casino®, the largest gaming complex in Pennsylvania. Try your luck on one of the slot machines, or put on your poker face in the state-of-the-art poker room. With the casino's many dining options and beer garden, you and your girls can grab a bite to eat without missing out on the fun. Book tickets to a comedian or nationally known music group at the Xcite Center!
Ash Mill Farm
"Rustic meets elegance" at Ash Mill Farm in Holicong. The grounds are perfect – and filled with cute sheep – while the house has multiple rooms for overnight stay. The classic yet chic look for the farm is very inviting and welcoming!
DAY 3
MORNING
Bucks County Wine Trail
Take in the scenery as you drive along the Bucks County Wine Trail. Take a tour of the expansive vineyards and taste some of Bucks County's best wines as you learn about the rich history of each family-owned winery. Let someone else do the driving and hop on the Tasting and Tours bus for a carefree day of wine tasting.
AFTERNOON
Ooka Japanese Sushi-Hibachi
What food group do girls love more than pizza or tacos or… well, carbs? (They're all so delicious!). Sushi. Enjoy a hibachi experience or just some delectable sushi at this popular Doylestown restaurant with friends.
Stumpy's Hatchet House
Stumpy's Hatchet House in Bristol offers an alternative (and active) form of recreation. Parties come to life amidst the tall timbers of the throwing lanes. Whether your group of gals is 4 or 40, throw axes in this unique social setting that can accommodate groups of all sizes for all kinds of occasions!