PICK-YOUR-OWN FUN IN BUCKS COUNTY
How 'bout them apples? Pick your own seasonal fruits and veggies in both summer and fall all over Bucks County with our guide below to fantastic u-pick farms and farmer's markets…
🍓 🍉🍑 = Fruit Picking 🍎= Apple Picking 🌽= Corn Maze 🚜= Hayride 🎃= Pumpkin Picking 🎄= Tree Farm
Strawberries at Shady Brook Farm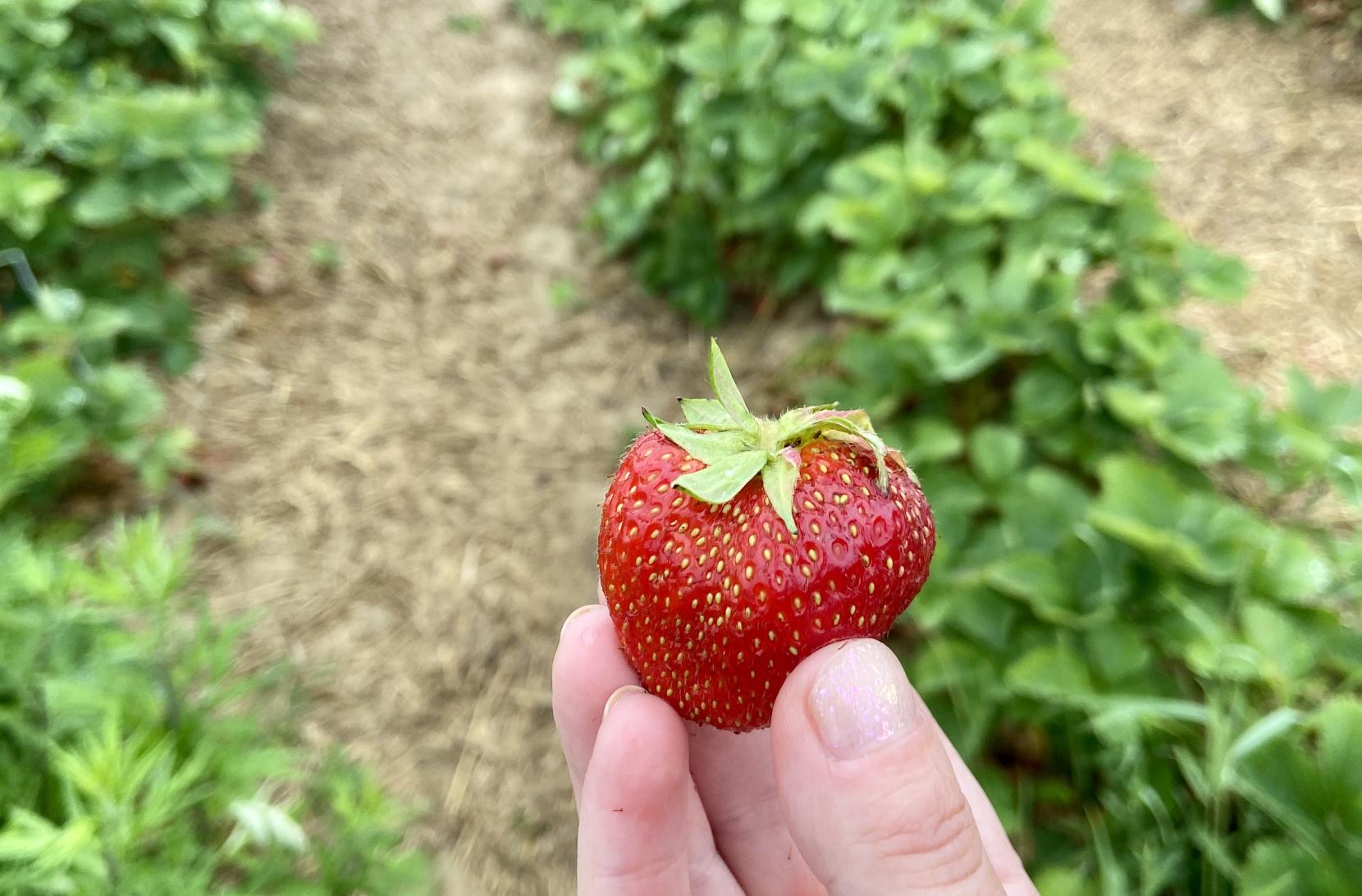 UPPER BUCKS CO.
AGA FARMS, Perkasie
🌽 🚜 🎃 🎄
Explore their one or two-acre corn maze and pick from more than 20 varieties of pumpkins and gourds in the patch. Their tractor-drawn hayride covers nearly 100 acres. As the snow starts to fall, head back to the farm to chop your family's tree, find the perfect wreath and shop holiday décor.
PENN VERMONT FRUIT FARM, Ottsville
🍉 🍑 🍓  🎃
From watermelons to peaches, Penn Vermont Fruit Farm has everything you could dream of! Stop over around late July to enjoy fruits like cantaloupes and pick-our-own blackberries.
RUSTIC VALLEY ORCHARDS & TABORA FARM AND ORCHARD, Chalfont
🍎 🍓
Stop inside the bakery for a plethora of sweet treats, like cannolis, cream puffs and cheesecakes. Pick up a pie, pecan perhaps, and place a custom-cookie order. Gluten-free? You are in luck! Tabora also has a delectable deli, wine menu, coffeehouse and spice shop. Come June, get a taste of summer and have fun while picking strawberries at Tabora's Strawberry Festival! Play games, make crafts, and listen to live music all while enjoying their delicious fruit.
TRAUGER'S FARM MARKET, Kintnersville
🍓🍑 🍐 🍈
Spread across 60 acres, this family-owned farm grows fruits and vegetables during all seasons. During the summer, their fruit list includes raspberries, strawberries, peaches, cantaloupes, melons and pears that are guaranteed to keep you refreshed.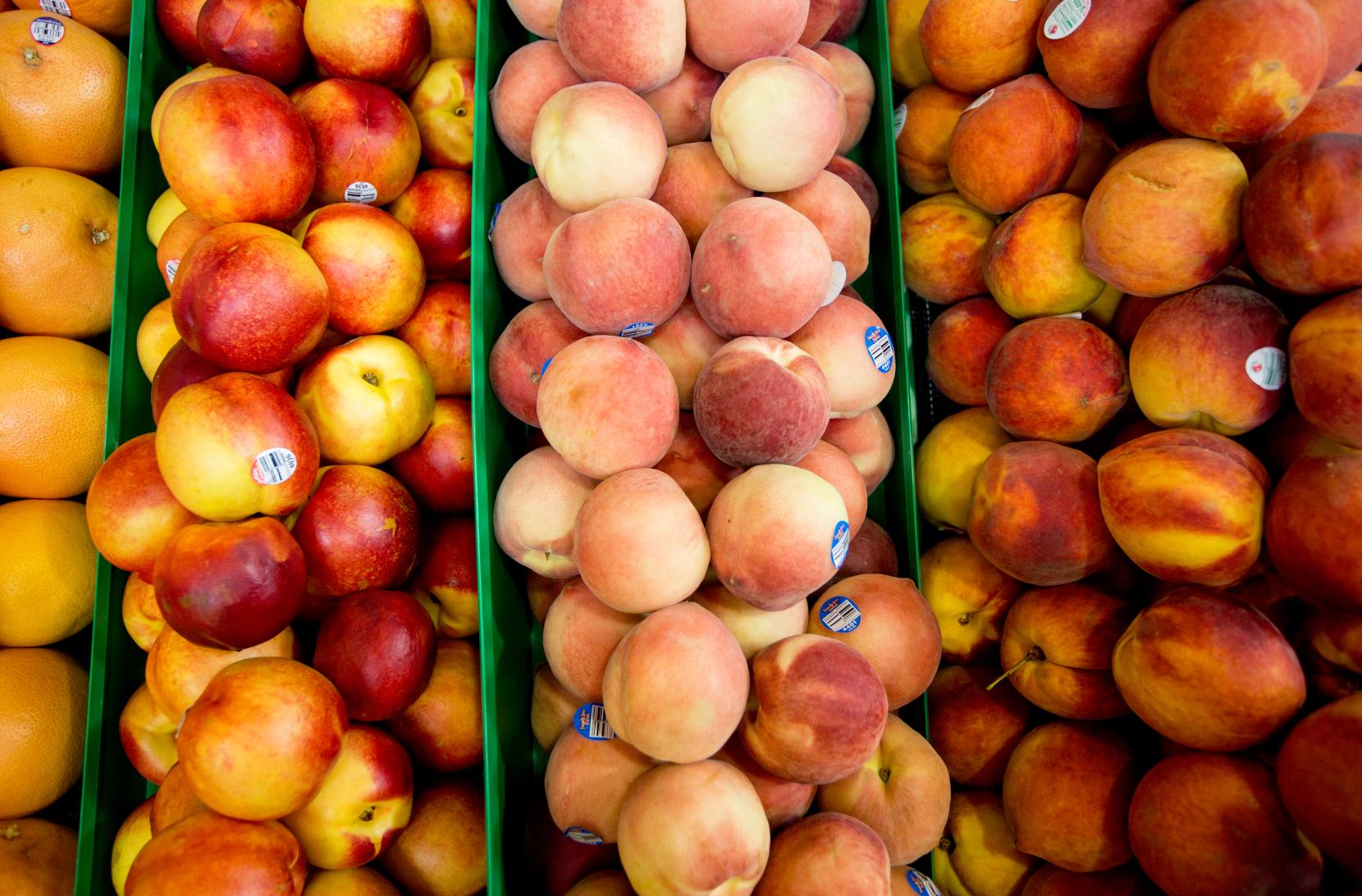 Peaches at The Market at DelVal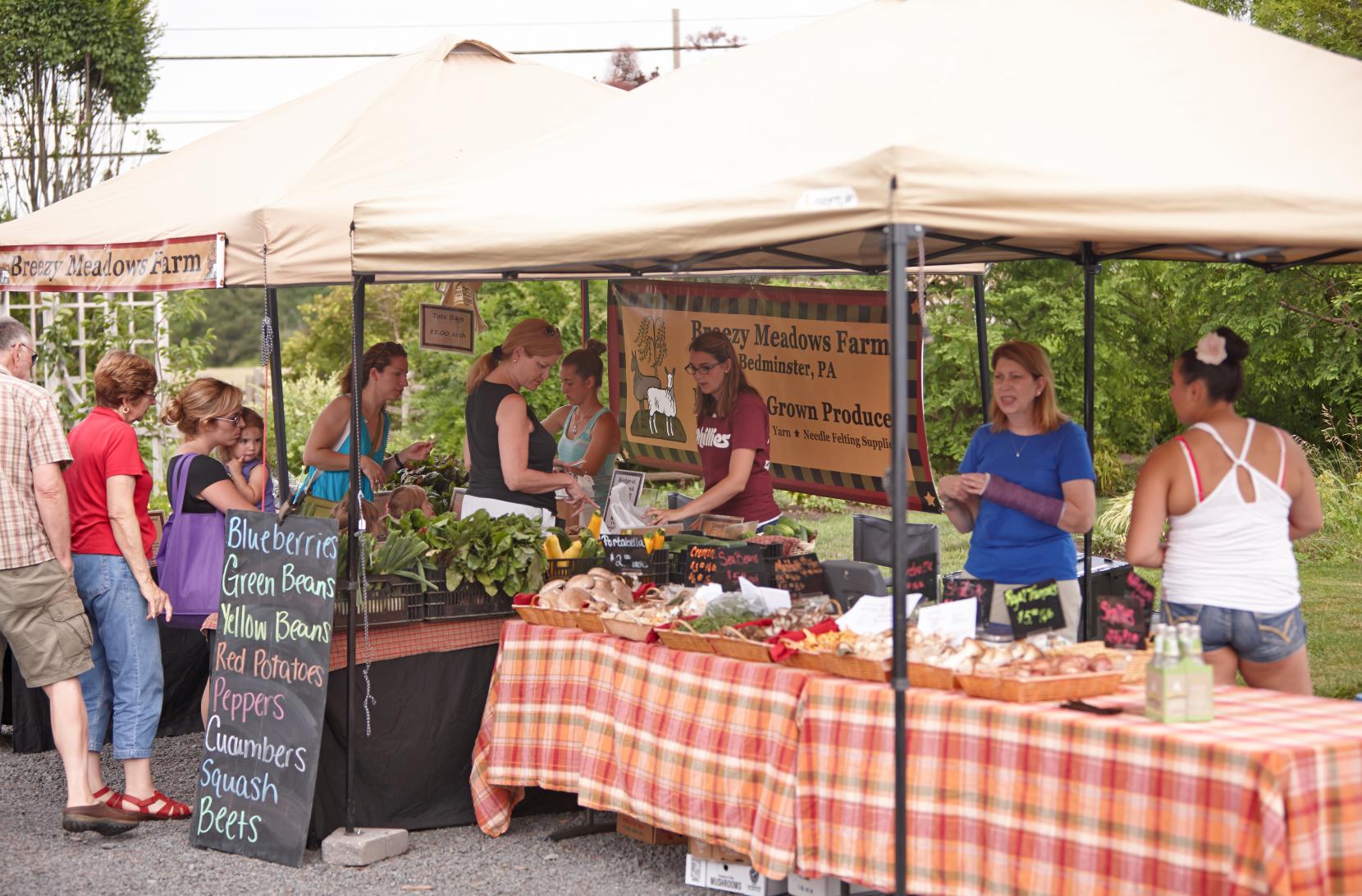 Farm Market in Quakertown
CENTRAL BUCKS CO.
FROEHLICH'S FARM & GARDEN CENTER, Furlong
🌽🚜🎃
Roast a s'more, grab a beer and enjoy food truck grub at Froehlich's this Fall! Take the family to participate in all the Fall fun, like face-painting and the monster slide. Then in the winter, stop over for hot cocoa and cookies with Santa. Pick up some delicious home baked goods from the shop while visiting.

HELLERICK'S FAMILY FARM, Doylestown
🍓🌽🚜🎃
Hellerick's is famous for their Aerial Adventure Park, but they also host a Fall Harvest Festival. Truck through the farm on their scenic hayride, pick a pumpkin in the patch, and let the kids slide down the 100-foot corn chute slides or play in the corn box. Cap off the night with a bonfire and s'mores. In the spring and summer, come pick strawberries, blueberries and sugar snap peas at this farm's Strawberry Festival, starting in June! The U-Pick Strawberries field is open from 10 a.m. – 2 p.m. and admission is free for the kids to have fun in the Junior Farm area.
MANOFF MARKET GARDENS, New Hope
🍑
Check manoffmarketgardens.com for seasonal pick your own offerings.
NONE SUCH FARM & FARM MARKET, Buckingham
🌽🚜🎃
Pick up produce and order from the full-service meat shop and deli at this quaint farmer's market. Fresh baked pies, breads, sandwiches, maple syrup, Buckingham Valley Honey, and wine from Buckingham Valley Vineyards is all here! None Such is also known for their fresh red fruits, so be sure to pick your strawberries beginning in late May and ending mid-June. They sell quick, so plan to eat 'em up fast!
SOLEBURY ORCHARDS, New Hope
🍎
Solebury is the perfect place to pick something red and delicious, while also indulging in the to-die-for apple cider donuts here in New Hope. Bulk up on other local fruits and veggies inside their market, as well as their homemade jars of apple sauce, apple cider and fruit bitters!
SOLLY'S FARM, Ivyland
🍓 🍉🍑 🍐 🍈
Preserving the tradition of fresh and locally grown produce for the community has been a promise made by the Solly Brothers when they began the farm. Pick fruits such as honeydew, cantaloupe, blackberries, pears and many more this summer!
WINDING BROOK FARM, Warrington
🌽🚜🎃
Don't miss out on their autumn "agritainment!" Besides pumpkin picking, experience suspense in the haunted hay maze, corn walk of horror and haunted hayride. Listen to live music in the evenings while you dig into a caramel apple, funnel cake and hotdog.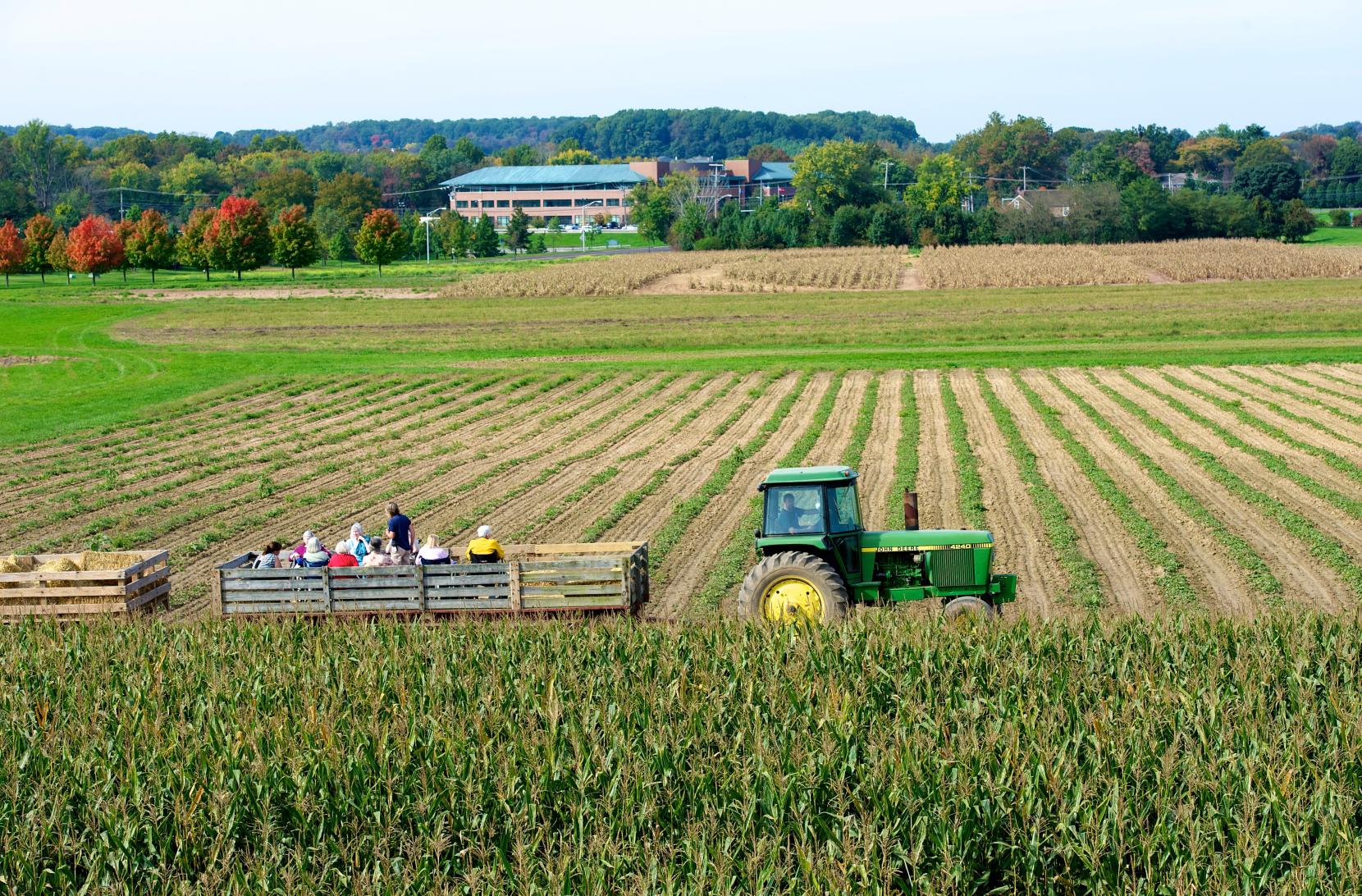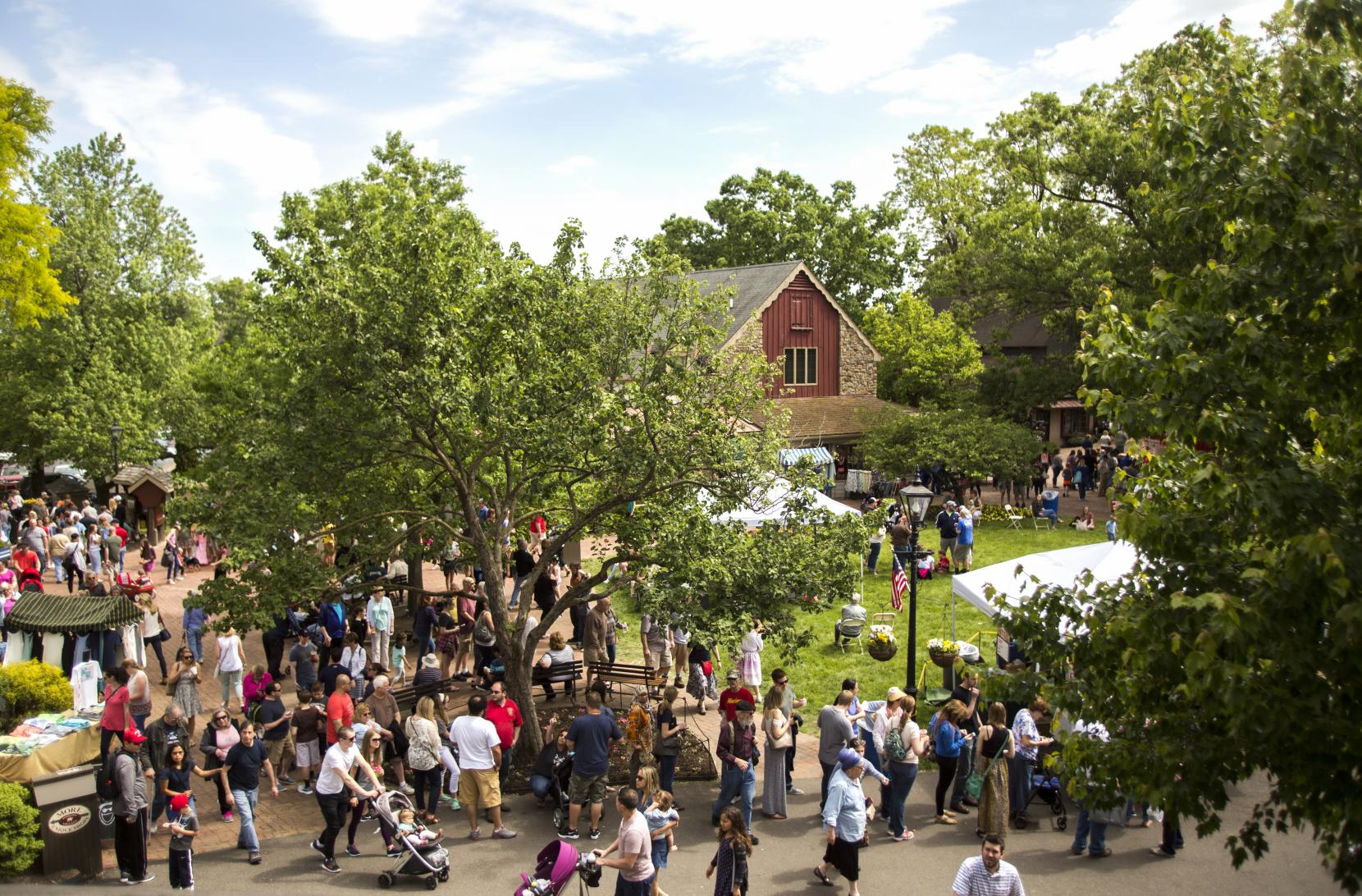 Peddler's Village Strawberry Festival
LOWER BUCKS CO.
ACTIVE ACRES FARM, Newtown
🌽 🚜🎃🎄
During the day, pick veggies and enjoy family-fun attractions like inflatables and farm animals. Then, enjoy an evening of live music and spooks. There is a band nearly every Friday and Saturday night in the Fall. Active Acres in Newtown is famous for their scary attractions: the 'Sleepy Hollow Hayride,' 'Field of Fright' and 'Haunted House in the Hollow.'
SHADY BROOK FARM, Yardley
🍎🌽🚜🎃🎄 🍓🍑
In the fall, get lost in their three-acre themed corn maze, or, enjoy a hayride before you head to the pumpkin patch right here in Yardley. Find fresh produce and delicious dairy desserts, like pumpkin-flavored ice cream by Uncle Dave's Homemade Ice Cream, at the farmers market. On HorrorFest nights, reap the terror of the harvest at several thrilling attractions: Hayride of Horror, Barn of Horror Alien 3D Encounter and Carnage. In the summer, join in on the fun with their Fruit Festivals and wagon rides! Ride the wagon down to the strawberry, blueberry and peach fields.
SNIPES FARM & EDUCATION CENTER, Morrisville
🌽🚜🎃
Don't miss their Fall Weekends activities! Check out the Farm Museum, Cider Barn, hayride and bonfire. Their Food for Thought Café serves up picks-on-a-stick. Head in with the crowds or call ahead to plan your own private picnic and hayride!
STYER ORCHARD & STYER ORCHARD FARM MARKET, Langhorne
🍎🌽🚜🎃
Styer Orchard in Langhorne is the place to be for apple picking, pumpkin picking, and everything in between. Hop on the tractor that takes you to different areas of the full-fledged farm. Then, head across the way to the Styer Orchard Farm Market. Three words: apple cider donuts. Locals and visitors alike flock here to pick up their cinnamon sugar, chocolate frosted and white frosted flavors!