TOP 10 WAYS TO VIEW FALL FOLIAGE
Partake in the season of leaf-peeping as summer fades out and fall bursts in! As one of the most picturesque seasons to visit, Bucks County welcomes its colorful foliage of vibrant reds, oranges, and yellows throughout our countryside.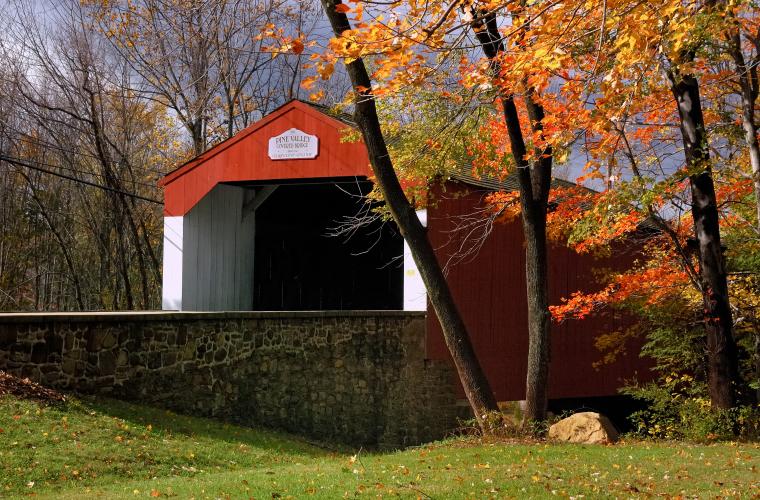 Pine Valley Covered Bridge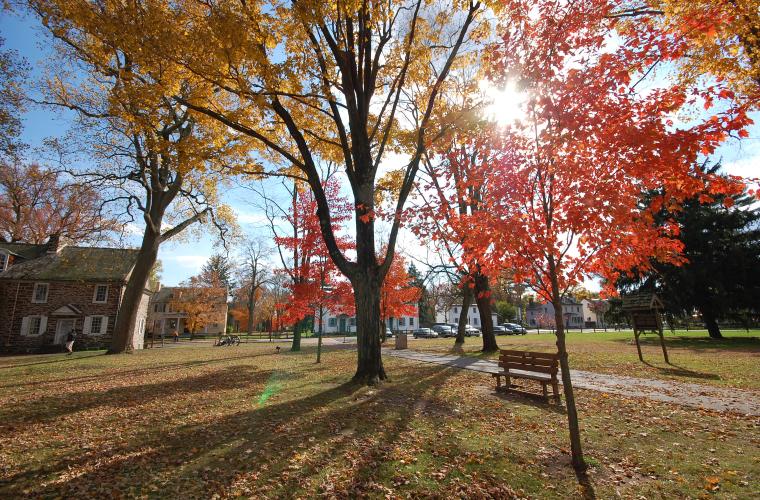 Washington Crossing Historic Park
1) Embark on a charming and historic adventure of the Bucks County Covered Bridge Driving Tour. Peppered throughout our country back roads, view the beautiful covered bridges and marvel at their incredible authenticity and rich surrounding beauty. 
2) Experience Bucks County's fall foliage at new heights with the US Hot Air Balloon Team! Drift above miles of breathtaking landscapes as you soar on a picturesque adventure.
3) View the gorgeous fall foliage at ground level with a scenic drive along River Road/Route 32. Stop by the eclectic bunch of restaurants and shops sprinkled along the way and enjoy the afternoon taking in the crisp autumn air with wading sounds of the Delaware River in the background.
4) Board the New Hope and Ivyland Railroad for their annual Fall Foliage Excursion Train. All aboard their 1920s vintage passenger coach for a two and a half hour journey through the picturesque country side. 
5) Natural beauty surrounds as you stroll the cobblestone walkways at the 42-acre, 18th-century-style shopping destination, Peddler's Village. The annual Apple Festival November 4-5 is the perfect time to view the fall colors on the ground while enjoying a nice glass of apple cider or a slice of homemade apple pie. Peddler's Village also plays host to the annual Scarecrow Competition and Display. Held September 10 through October 28, the celebration of fall invites guests to check out the impressive scarecrow designs while enjoying the scenic fall colors around the village. 
6) Spend a leisurely fall afternoon strolling through Washington Crossing Historic Park. Learn about the rich history of the park and witness events from the past.
7) For a bird's-eye view of the county, climb to the top of Bowman's Hill Tower. Located on the grounds of Washington Crossing Historic Park, the tower provides visitors with breathtaking views across 14 miles of pristine countryside.
8) Spend an afternoon biking along the scenic towpath in Delaware Canal State Park. The 60-mile tree-lined towpath provides some of the best foliage viewing in all of Bucks County. Pack a picnic and take in picture-perfect views while enjoying lunch along the canal.
9) Embark on a crisp fall hiking adventure at High Rocks in Ralph Stover Park. Spend the day admiring the views from the hiking trail or rock climb to its scenic sights. 
10) Head to Bristol's waterfront for unique riverside views. The pier, complete with two large floating docks, 32 boat slips and a fishing area is the perfect place for boaters.