I needed to get a bird's eye view of landmarks and points of interest in Bucks County. This is possible with technology using unmanned aerial vehicles, a.k.a., drones, but I wanted to show a different view of Bucks County by getting high in the sky while taking video, 360 Virtual Reality panoramas and photos of locations in Bucks County. Since some areas are no-fly zones for drones, the only solution to capture these images was to take them from a helicopter. So, I worked with Vertivue to get some amazing views of Bucks County.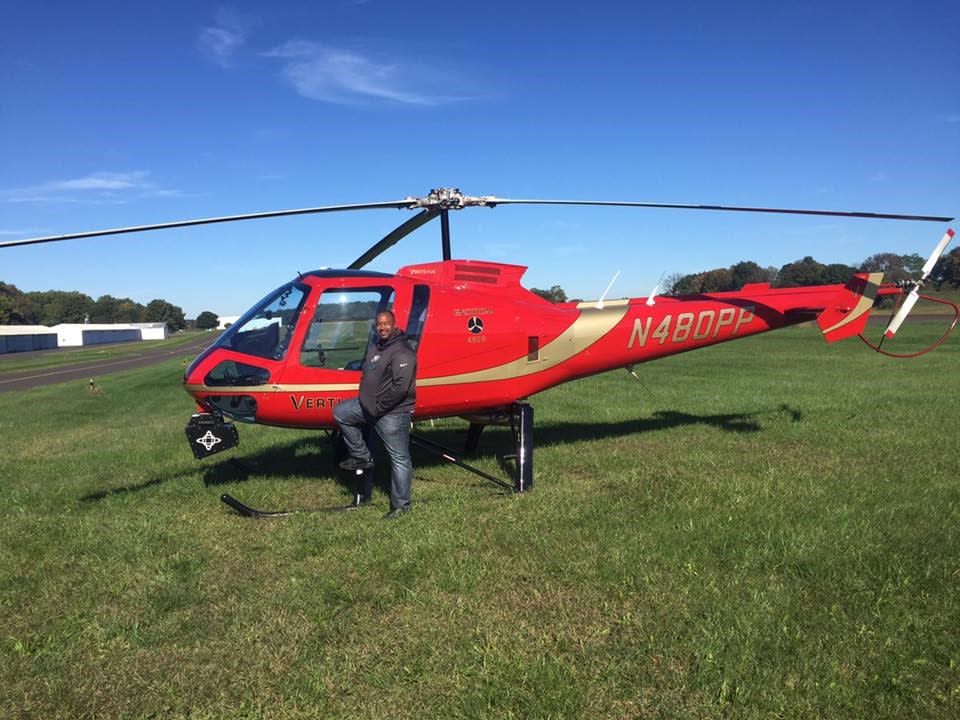 I was excited to capture footage from a helicopter because I've had a fondness for helicopters since I was a young boy. My goal is to actually get a pilot's license. It's been a while since I've flown in a helicopter, so I was a little nervous, especially knowing the door would open. We started on a brisk, but beautiful, early fall morning. We departed in a pretty red turbine driven helicopter, one of the safest and most stable, from the airport in Allentown. There was a camera mounted on the front, which both the pilot and I could control, and I used a stabilized camera from the open side door. The ride was smooth as we swayed up and down, passing over highways and early morning work traffic. 
Our first location was Doylestown where we filmed around Moravian Pottery and Fonthill Castle. We flew pretty low for only a few minutes, but it was enough that I saw people coming out to take a look at the buzzing sound above the building. From there, we flew to the Mercer Museum and all around Bucks County.
Some of the best footage was us flying low down the Delaware River towards Downtown New Hope. There we got shots of the Bucks County Playhouse and New Hope & Ivyland Railroad.
Not too far from New Hope was Bowman's Hill Tower. This has to be one of the most scenic areas in Bucks County as the Delaware River wraps around the landscape creating a beautiful S-curve that can be seen from both sides.
We captured some great footage as we rose above the landscape and over the tower to reveal the picturesque scenery. While flying to other locations, we kept entering different airspaces so we had to ask for permission when we entered and let them know when left. There was a lot of communication with airport control towers and pilots around us so everyone knew our location and what we were doing.  We always knew where other air traffic was.
We visited about nine locations on our eight-hour day. We finished our flight by capturing footage of Peddler's Village, Core Creek Park, Nockamixon Park, Sesame Place, Washington Crossing and Ringing Rocks Park.
I used the helicopter footage captured as the opening shots of my aerial videos with the main footage captured by my drone. The helicopter was a great tool, but I had more control with the drone to get more creative shots.