Trail/Towpath Recommendation: Delaware Canal Towpath
Recommended Bicycle Type: Mountain Bike/Gravel Bike
Route Distances:
42 Miles Round Trip (Full Route from Washington Crossing to Tinicum Park/Covered Bridge)
27 Miles Round Trip (Washington Crossing to Lumberville, PA)
20 Miles Round Trip (Washington Crossing to Centre Bridge, PA)
14 Miles Round Trip (Washington Crossing to New Hope, PA)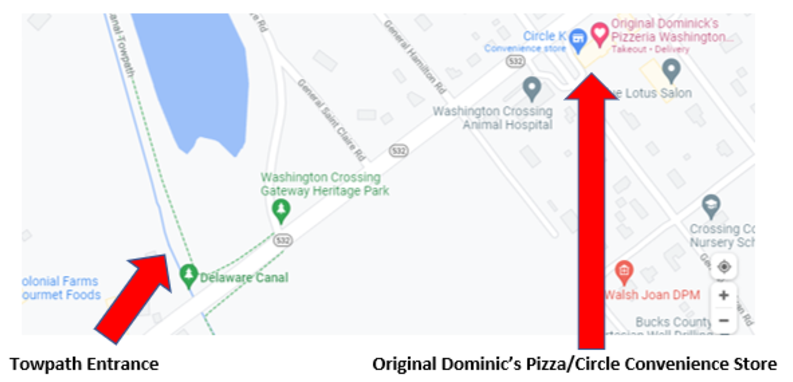 Getting There:
NOTE: You can enter the Delaware Canal Towpath from many different areas within Bucks County, the area shown in the Google Map above is just one location (Washington Crossing, PA).
There are several different parking lots around the Washington Crossing Historic Park where you can park and get on your bike. Here's a picture of one below: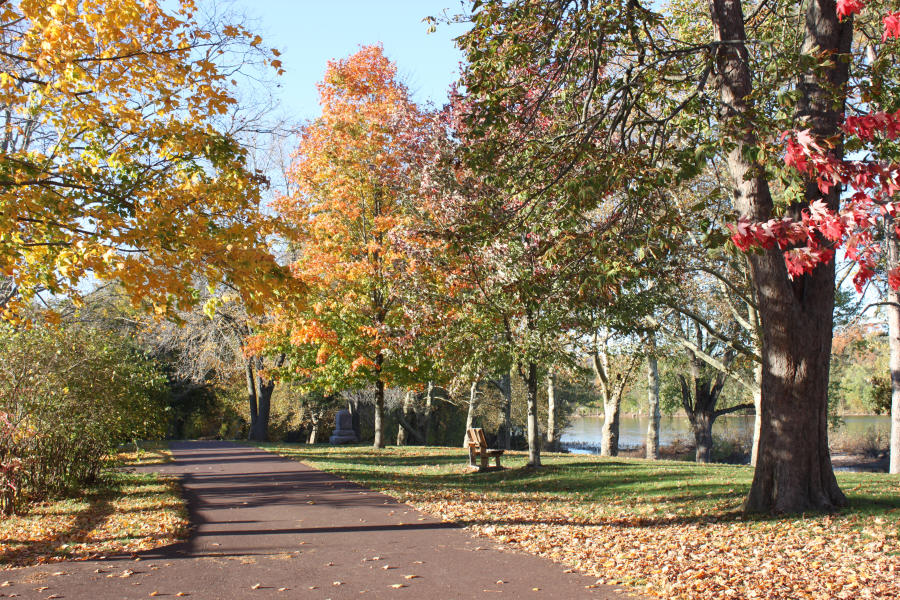 You can get on the towpath just south of Washington Crossing Historic Park, and start heading north (towards New Hope). The path is generally pretty flat, although there are a few slopes and the path does narrow as you go further north.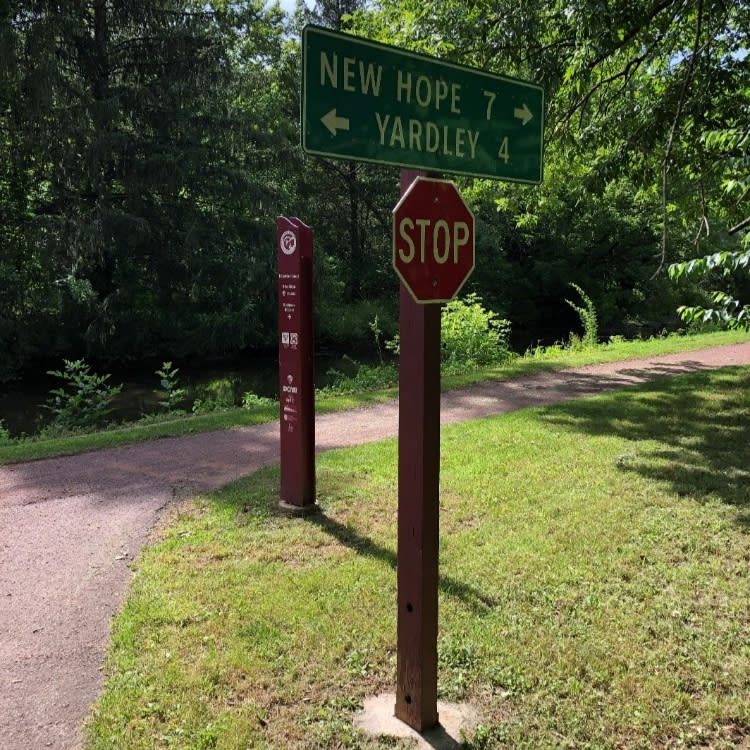 Entrance to Towpath (just south of Washington Crossing Park, PA)
Places to Stop/Sights to See:
Once you are on the trail, and heading north, a great first stopping point is New Hope. New Hope is about 7 miles north of Washington Crossing, and has a great Main Street with lots of unique shops, restaurants, and views of the Delaware River.
The Lambertville-New Hope bridge is also very scenic and is great to walk your bike across on an afternoon/evening with nice weather.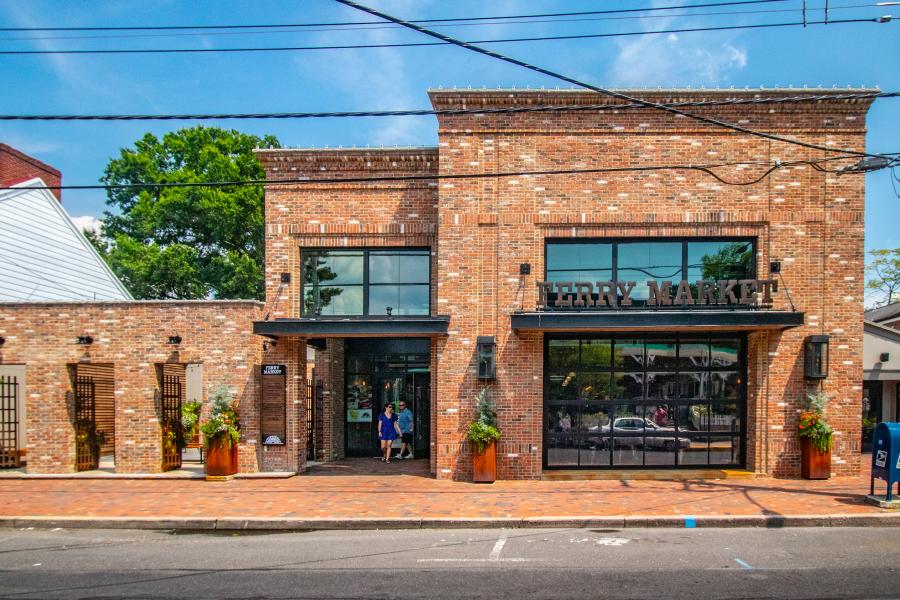 A few New Hope recommendations (both along Main Street):
New Hope Ferry Market: A large indoor market with a coffee shop, food stands with various types of international cuisine, and a brewery.  The market also has a nice bike parking area where you can lock your bike in the rear parking lot facing the river, as well as water fountains and public restrooms inside. 
 
Farley's Books: This is an independent bookstore with a huge selection of different books, and a convenient location right on Main Street. A great place to stop and pick up a book to read while you are taking a break from your ride.
If you continue north on the towpath from New Hope, about 3 miles further is the Centre Bridge between Bucks County, PA and Stockton, NJ.
Near the bridge, on the Bucks County, PA side is Dilly's Corner at Centre Bridge, a great food stand with hot dogs, burgers, milkshakes and ice cream.
Continuing north on the towpath from the Centre Bridge, in about 3.5 miles, you will reach another Delaware River Bridge Crossing between Lumberville, PA and Bulls Island State Recreation Area, NJ.
A great breakfast or lunch spot (depending on when you decide to stop), is the Lumberville General Store.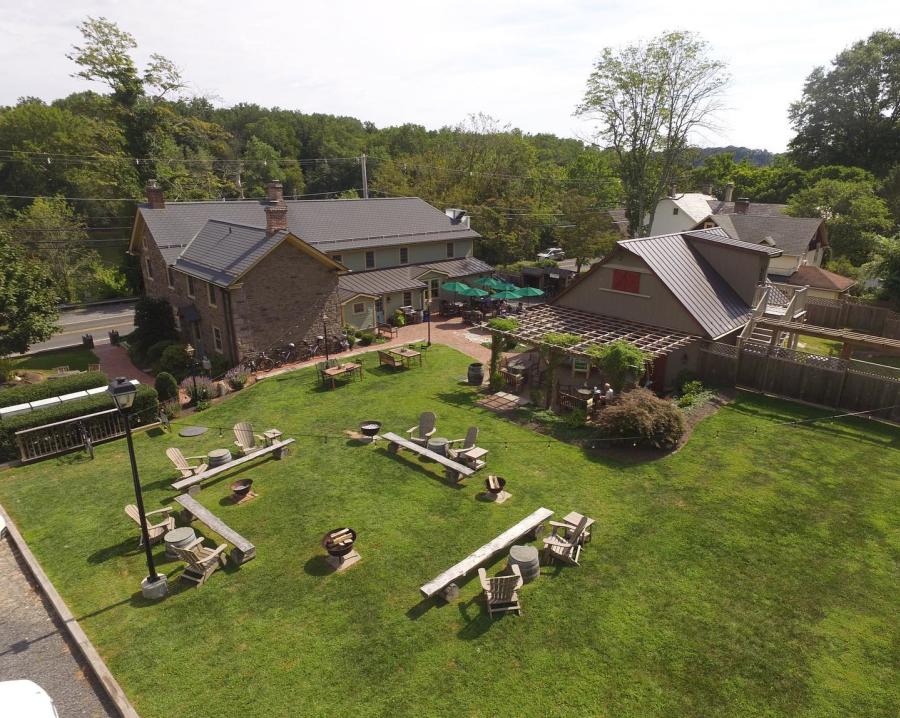 The general store has a great outdoor seating area, a convenient bike rack to park/lock your bike, and a gorgeous outdoor seating area for food and drink.
My favorite items on the menu are the breakfast burrito, and the Cuban Sandwich, although there are plenty of other high quality options, as well as homemade ice cream, and a coffee/tea bar.
If you are planning on a longer ride or spending the rest of the day on the towpath, the general store also has a nice selection of snacks, bottled water and other beverages that you can take along with you (a good idea since there are not that many water fountains in the area unfortunately).
The last stop on the full route is Tinicum Park in Erwinna, PA.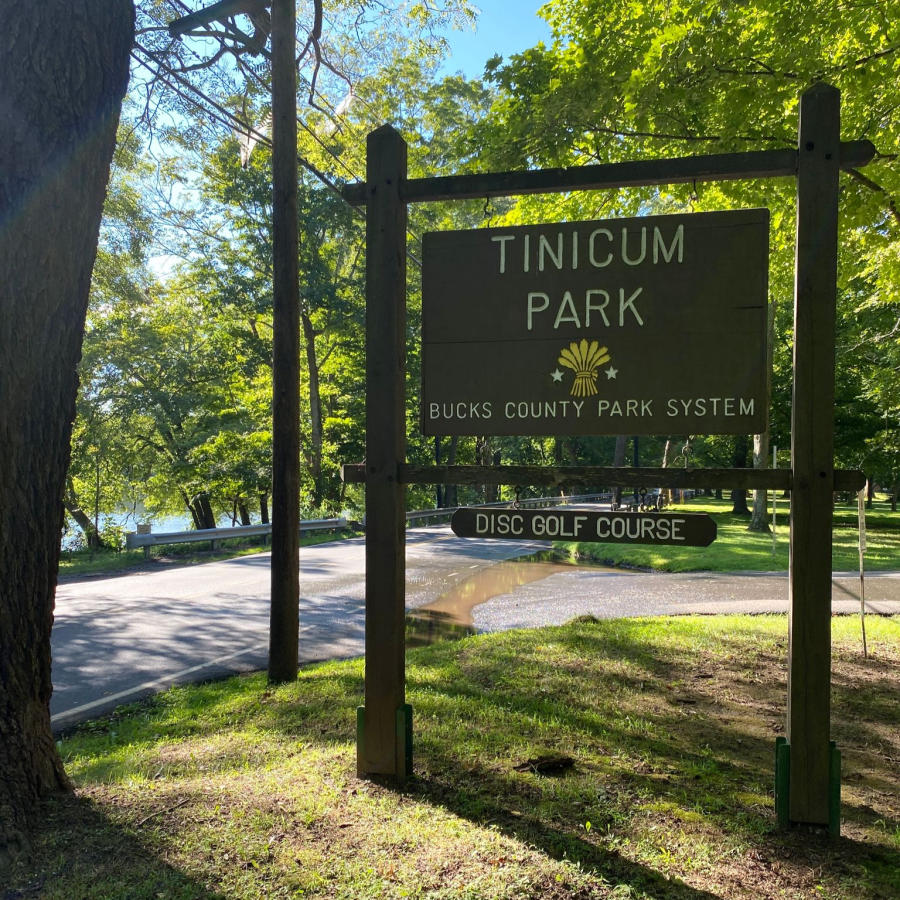 Located about 8 miles north of the Lumberville General Store, Tinicum Park is a great stopping/rest/turnaround point, with a shaded pavilion area and picnic tables for taking a break and/or stretching.
If you are interested in seeing a Covered Bridge (there are a few in Bucks County), the Uhlerstown Covered Bridge is about 2 miles north of Tinicum Park, right next to the towpath.
For those interested in an even longer ride, the towpath continues from here north to Easton, Northampton County, PA (another 20 miles north).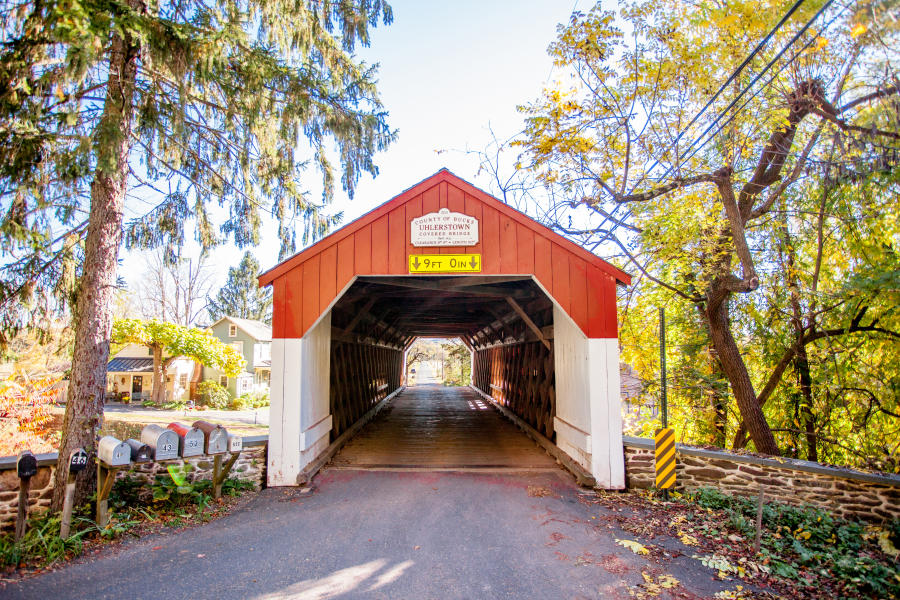 Post/After Ride Recommendations:
Original Dominick's Pizza | Washington Crossing, PA: Great local pizza shop with a large menu and a bar inside. They have a large menu, great pizza by the slice options, as well as takeout beer and a nice selection of specialty/craft sodas and ice cream.
 
Circle K Convenience Store (right next to Original Dominick's): A convenience store right where you can stop by for some cold water, sports drinks, chocolate milk, or a snack after your ride and/or for the drive back home.
 
If you would like to eat, stretch, or relax after your ride at the park, there are several picnic benches and tables near the parking lots at Washington Crossing Historic Park with plenty of shade.