I don't know about you, but back-to-school season always makes me want to return to a favorite subject. So, what better time to spend a weekend along the Bucks County Genius Belt?
A term used in the first half of the 20th century to describe the area's wealth of artists, craftspeople, authors, and playwrights, it's fair to say Bucks County's cultural legacy is at the very heart of our region's history. That said, there are many ways to interact with that history, so consider this a jumping off point rather than an all-encompassing itinerary.
Sneakers are on, backpack is packed. Two days of culture with a kid in tow – let's go!

One of the best parts of town is the Delaware River. There's something magical about living along the shores of a winding waterway, watching its levels rise and fall, seeing boats go downriver and imagining the paintings it's inspired. And then there are the ducks.
Oh, does Howie love the ducks. And the gorgeous new Riverwalk right by the iconic Bucks County Playhouse is the perfect spot for duck watching. We brought frozen peas from home, but there's also a duck food dispenser (yes, really) at Ferry Landing Park for those so inclined.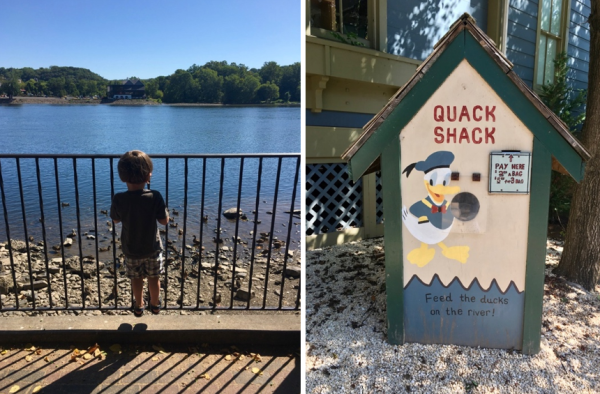 From there we popped onto the towpath and hiked toward Phillips Mill. I love this walk. It's about 3 miles round trip and a great reminder of New Hope's history as an active art colony. On this path, you'll pass the New Hope Railroad which used to run trains all the way into Philadelphia and New York City. It made country life, with its inspiring landscapes and enviable quiet, accessible to academy-trained artists.
The towpath winds past the former homes and studios of Pennsylvania Impressionist painters M. Elizabeth Price, Rae Sloan Bredin, Morgan Colt and others (now private residences). The Phillips Mill is a favorite example of this artist-on-the-river lifestyle. Home to William Lathrop and others, plus many visitors, the site was central to the Pennsylvania Impressionist group.
The Phillips Mill Community Association remains active and holds exhibitions, plays, and other activities throughout the year. Notably, their Annual Art Exhibition this fall is in its 90th year!



Then it's off to New Hope Arts to see their exhibitions. It's a great space with an ever-changing program. After spending time in the footsteps of town's historic artists it's a treat to see what contemporary painters and sculptors are making.

Our last stop before dinner – the Free Library of New Hope & Solebury. Besides providing our regular dose of books, movies, and board games, they also lend out museum passes! With that in hand, we're homeward bound and ready for tomorrow.
Pulling into the Doylestown Cultural District is one of those experiences I try not to take for granted. Where else can you find a castle, jail-turned-museum, library, and the Boy Scouts on one street?
First, the Doylestown Library for a few picture books. It was such a nice day, we decided to take story-time outside. The James A. Michener Art Museum's sculpture garden wraps around the library and into the Museum courtyard. Howie's favorites change regularly, but today he wanted to read next to Steve Tobin's Romeo and Juliet. When you have time to go inside, the Museum offers a wonderful selection of works by regional artists both historic and contemporary.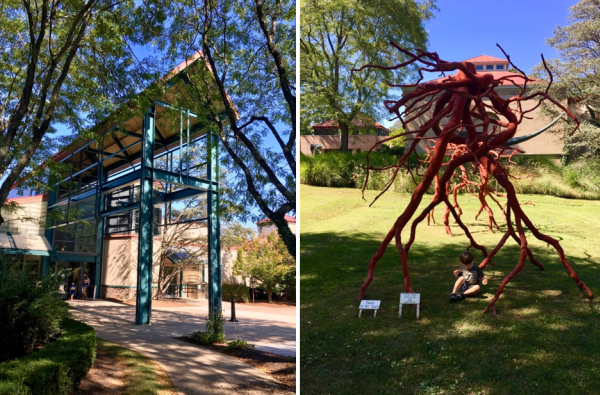 Next, we walked through the Michener's sallyport to the Mercer Museum. We took the elevator to the top tower and worked our way down. That way, the amazing views from historian-archaeologist Henry Mercer's former office came first. Then, we followed dozens of passageways to the castle's first floor and looked up at the wild array of objects from boats to baskets, that cover every available surface. It's simply something you have to experience (and if you want more Mercer, check out Fonthill Castle and the Moravian Pottery & Tileworks across town).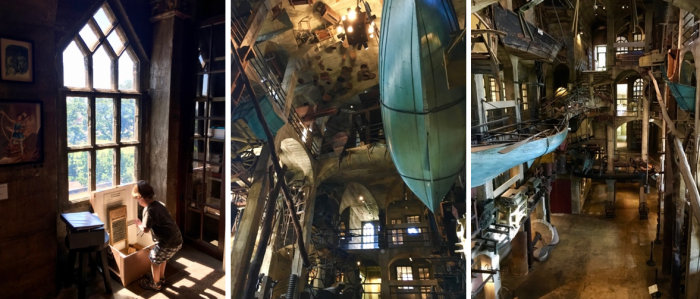 After a picnic lunch, we drove to Perkasie. Using our library passes, we entered Pearl S. Buck International. The site is devoted to Buck's legacy as an author and humanitarian, and contains exhibits that foster appreciation of global cultures as well as her home and gravesite. In addition to serving as a testimony to Buck's life and impact, the grounds are spectacular. A wonderful way to end our day.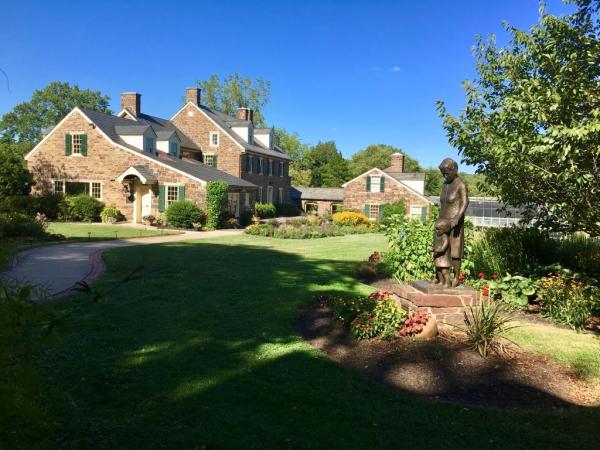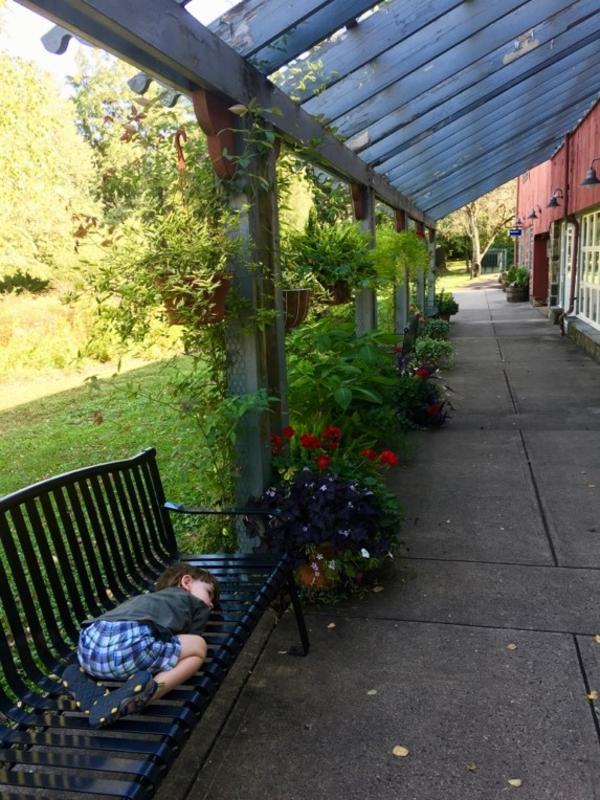 …and Howie was well and truly done. Until next time, Genius Belt!