Not sure what to do this weekend? Don't worry – we've got ya covered! Check out a comedy show, explore Bucks County's 12 covered bridges or relax with yoga and mimosas.
Check out our guide below for details on this weekend's must-see events around the County. Stay up-to-date on what's coming up next week with our Upcoming Events Calendar.
FRIDAY, JULY 23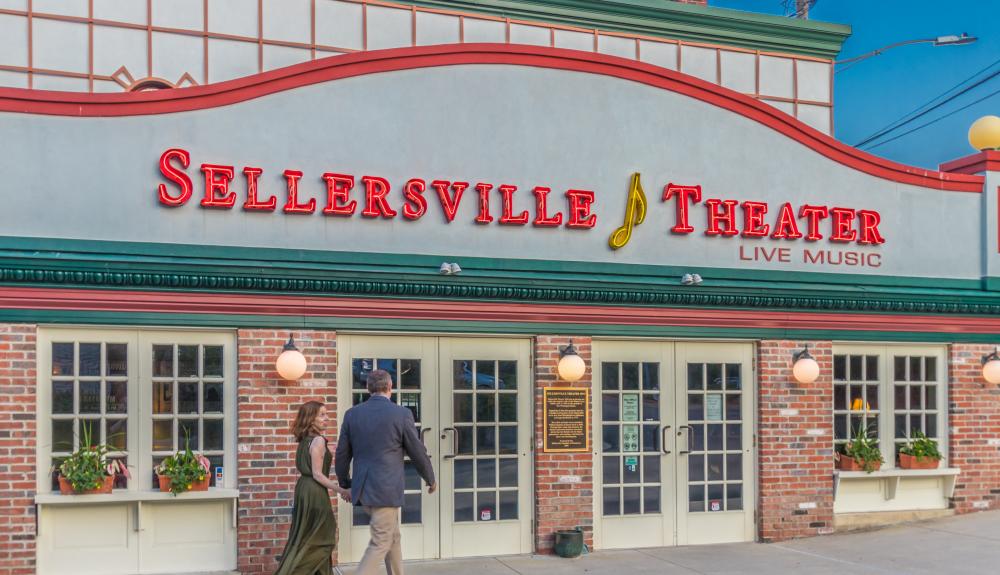 Don your flamingo costume and come visit "Pine View Heights" in Sellersville with Antsy McClain & The Trailer Park Troubadours! He's celebrating his 25th year as a performer by performing past and present material with a full band and special guests! 
When: July 23, 6:00PM and 9:00PM
Where: Sellersville Theater
Cost: $21.5 to $30
BCP's 2021 Youth Company presents, Dream Awake, a high energy 75-minute show featuring songs, dances, stories, and scenes, created by our cast and a variety of artists. Come celebrate these young performers and experience a creative exploration of past, present, and future dreams and the exhilarating discoveries to be made when finally awake.  
 When: July 22 through July 25
Where: Bucks County Playhouse
Cost: Prices Vary
Discover the art of creating pigments and dyes out of nature's bounty during this tie-dye party! First, take a walk to identify plants that can be used for dye baths and learn a little about the history and importance of Black Walnuts as paint, dye, and war paint! Then create Black Walnut dye baths to design your own botanically tie-dyed t-shirts. 100% cotton shirts will be provided to all registrants.
 When: July 23, 6:30PM to 8:00PM
Where: Bucks County Audubon Society
Cost: $25 per person or $70 per family
Hilarity, failed dishes, and food fights ensue during this live "broadcast" of a public access cable cooking show hosted by two larger-than-life Italian sisters, Delphine and Carmela Calamari. The sisters sing and dance to such beloved Italian favorites as "Volare," "Come On A My House," "Botcha Me," "Que Sera Sera," "That's Amore," and of course, "Mambo Italiano!" as they try to make it through their final broadcast together in one piece.
When: July 23, 2:00PM
Where: Delaware Valley University
Cost: $49
Visit Bishop Estate Vineyard and Winery this weekend and enjoy a variety of food trucks, wine and live music! Each day of the weekend will have a different musical group performing and a new food truck to try.
When: Weekends in July, 11:00AM to 9:00PM
Where: Bishop Estate Vineyard and Winery
Cost: Prices Vary
The party's at Shady Brook Farm all summer long and you're invited! Enjoy live music by amazing bands in the Festival Field every Friday evening. Bring the whole family…there will be lots of activities for the kiddos, lawn games, food, drinks & fun! This Friday: catch a special firework show!
When: Recurring weekly on Friday
Where: Shady Brook Farm
Cost: Admission varies
Wrap up your day with an easy, guided ride along the D&L Trail from Yardley to Washington Crossing Park and back. Ride is easy, flat and lasts about 35 minutes each way depending on the group's pace. No riders will be left behind.
When: Fridays, 6:00PM to 7:30PM
Where: D&L Trail Parking Lot
Cost: $45 for bike and helmet, $25 to bring your own
Come out to the Trolley Barn on Fridays to enjoy music from amazing performers. End your week the right way by listening to music and connecting with others.
When: Fridays through August, 6:00PM to 10:00PM
Where: The Trolley Barn Public Market
Cost: Prices Vary
SATURDAY, JULY 24

It's Blueberry Month at Peddler's Village! Every day, restaurants and eateries will offer special blueberry-themed food and drinks along with live entertainment on the weekends. On Saturdays and Sundays, you can also enjoy made-to-order sandwiches and burgers at the Water Wheel Food Tent.
 When: Weekends in July
Where: Peddler's Village
Cost: Free
Stop by this weekend and relax with a "Crossing Cocktail," a frosty craft beer, or wine by the glass or bottle. Enjoy live music from local artists. A great way to "un-wined" after a busy work week.
When: July 24 and July 25
Where: Crossing Vineyards and Winery
Cost: Free to attend
William Penn Bank Summer Music Fest - Totally Awesome 80's 
Get your big hair and acid-washed jeans ready for a totally awesome time. This July, we're going back to the decade that brought us Madonna, Billy Joel, and Foreigner (just to name a few). Join us for an excellent outdoor concert filled with hits from the 1980s!
When: July 24, 8:00PM
Where: 2501 Bath Rd., Bristol 
Cost: Ticket prices vary 
Dendrology is the study of trees. Come and join the park naturalist for a leisurely walk around the main park area while learning how to identify native tree species of Pennsylvania!
When: July 24, 11:00AM to 12:00PM
Where: Washington Crossing Historic Park
Cost: Free
Bucks County Audubon Society is having a butterfly count! Head out onto our property to search our gardens, meadows, and fields for various local butterfly species for the count. Please dress accordingly and bring water! 
 When: July 24, 12:00PM
Where: Bucks County Audubon Society
Cost: $3
Featuring bands and artists from around the world Sol Splash brings art and music together in the spirit of love and creativity. This is an all ages, family friendly event with live art, painting for children, food and much more.
 When: July 24, 2:00PM to 11:00PM
Where: Snipes Farm & Education Center
Cost: Prices vary
Kricket Comedy is back at Blue Bar on Saturday! Come out for some laughs, drinks and food. Comedians: Blake Wexler, Randon Mitchell and Frank Neblett with host: Matt Faison. Laugh til your BLUE in the face!
When: July 24, 8:00PM to 11:00PM
Where: Blue Bar Co.
Cost: $25
 For the first time ever, Sesame Place will light up with summer fireworks! Don't miss this magical display hosted by Abby Cadabby, Elmo, Cookie Monster, and Count von Count as Sesame Street music fills the air and the sky glows with bursts of color. 
When: Saturdays and Sundays through September 5, 8:30PM 
Where: Sesame Place Philadelphia 
Cost: Ticket prices vary 
"Sinatra" the Musical Starring Tony Sands
You'll never get a chance to see Frank Sinatra, or even Frank Sinatra Jr., perform in concert, but some people say that Tony Sands is the next best thing. This show is a must-see for any Sinatra fan! A multimedia extravaganza for the eyes and ears! 
When: July 24, 2:00PM 
Where: Newtown Theatre 
Cost: $30 
Having written down everything her loving and outspoken grandmother ever uttered, Candice slips in and out of family characters as she cooks up an hilarious show of growing up East Coast style. Italian Bred features several Virtual Celebrity Cameos by Steve Schirripa (Blue Bloods and Sopranos), Mario Cantone (Sex and the City & The View), Emmy Winner Leslie Jordan, and more!
When: July 24, 8:00PM
Where: Sellersville Theater
Cost: $29.5 to $45
Join New Hope Winery every Saturday and Sunday for free live music performed by the greatest local talent in Bucks County. Performances are outdoors as weather permits, with a family and pet friendly experience!
When: Weekends through October 24 
Where: The Pour House at The New House Winery 
Cost: Free to attend 
C'est la mort this summer, under the protective canopy of the new event tent at Peddler's Village, enjoy the fresh evening air, seasonal beverages, and a fun-filled show that is designed to provide plenty of kicks! 
 When: Saturdays through August 28
Where: Peddler's Village
Cost: $65 for a table of two
Free House Tours
Tour highlights include newly-discovered research about the Grundy family's domestic staff, details about our extensive interior restorations, and collection items never exhibited before. Required reservations can be made online through TicketLeap
When: Saturdays through November 
Where: Margaret R. Grundy Memorial Museum 
Cost: Free to attend, reservation required 
SUNDAY, JULY 25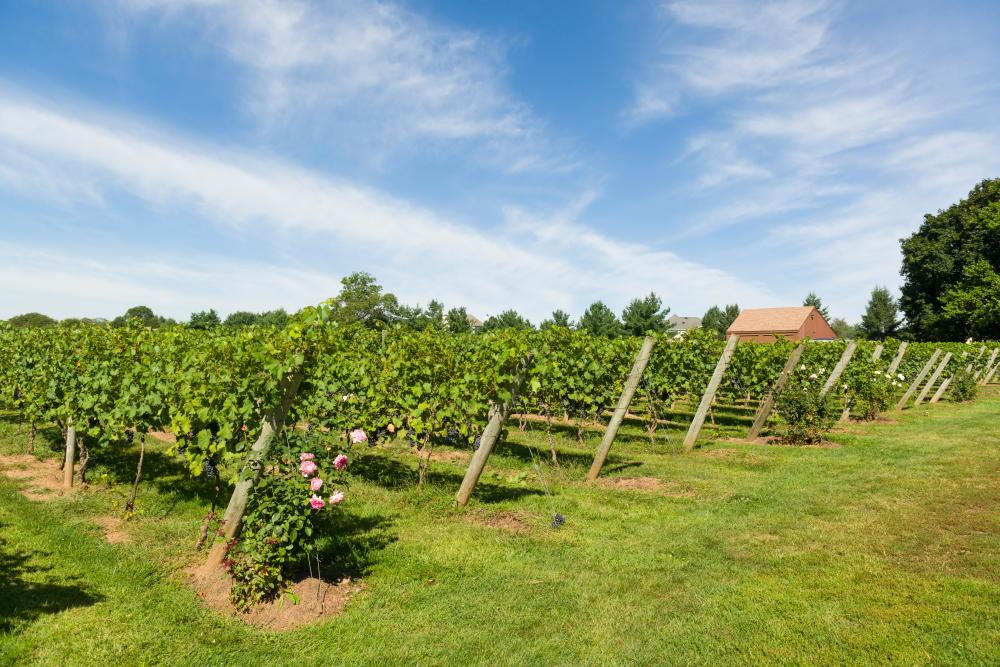 Relax and find your inner calm with a 45-minute yoga session overlooking the vineyard, followed by a continental breakfast plate & mimosa. Top off the experience with a wine tasting led by one of Crossing's knowledgeable presenters. Includes a logo glass to keep!
When: July 25, 9:30AM to 12:00PM
Where: Crossing Vineyards and Winery
Cost: $50
Craft beer, live music and a surf & turf food truck – what could be better? Aristaeus Craft Brewing Co. knows how to have a Sunday Funday. Check out this new brewery and have some fun!
When: July 25, 12:00PM to 6:00PM
Where: Aristaeus Craft Brewing Co.
Cost: Prices vary
All aboard! On the Buckingham Valley Excursion, passengers will enjoy a 2-hour round-trip train ride through scenic Bucks County on the "New Hope Branch" route, originally the North-East Pennsylvania Railroad and later part of the Reading Railroad.
When: Now through September 25
Where: New Hope Railroad 
Cost: Prices vary
Bristol Lions 2021 Summer Concert Series 
The Bristol Borough Lions Club is sponsoring free concerts this summer. This weekend, enjoy Bristol's own Finster right on the waterfront. 
When: July 25, 6:00PM
Where: Lions Park on the Delaware River 
Cost: Free to attend 
Come on out with your friends for a cornhole tournament at Blue Bar Co! Beer, cocktails and some friendly competition!
When: July 25, 11:00AM to 4:00PM
Where: Blue Bar Co.
Cost: $40 per team
Supergroup P.A.K.T. is made up of guitarists Alex Skolnick and Tim Motzer, fretless bass guitar icon Percy Jones and drummer Kenny Grohowski. All members have extensive experience in the world of music, bringing their talents together for a one-of-a-kind performance.
When: July 25, 8:00PM
Where: Sellersville Theater
Cost: $35 to $59.5
Shady Brook Farm offers many pick-your-own crops throughout the summer season. Summer crops include strawberries, blueberries, flowers, blackberries, raspberries, sunflowers & peaches. With plenty of fresh air and wide-open space, there is lots of room for guests to select and harvest their crops directly from the fields.
When: Summer weekends
Where: Shady Brook Farm
Cost: Prices vary
Measurement Rules is a family-friendly, interactive exhibit created by the Children's Museum of Pittsburgh. This exhibit explores the meaning of size, height, length, weight and volume through a variety of hands-on activities like giant tape measures, treadmill odometers, balance scales and more! Magnificent Measures! The Hausman–Hill Collection of Calculating Instruments, is an exhibit featuring rare examples of historical measuring instruments drawn from the private collection of Bucks County residents Kathryn Hausman and Jim Hill. Explore both exhibits this weekend! 
 When: Now through September 5
Where: Mercer Museum
Cost: Included in museum admission