RAINY DAY GUIDE
Visiting on a rainy weekend? No worries! Bucks County is full of indoor fun for the young and young at heart. Spend a day dry and inside with the arts or exploring kid-friendly fun at all of the indoor opportunities!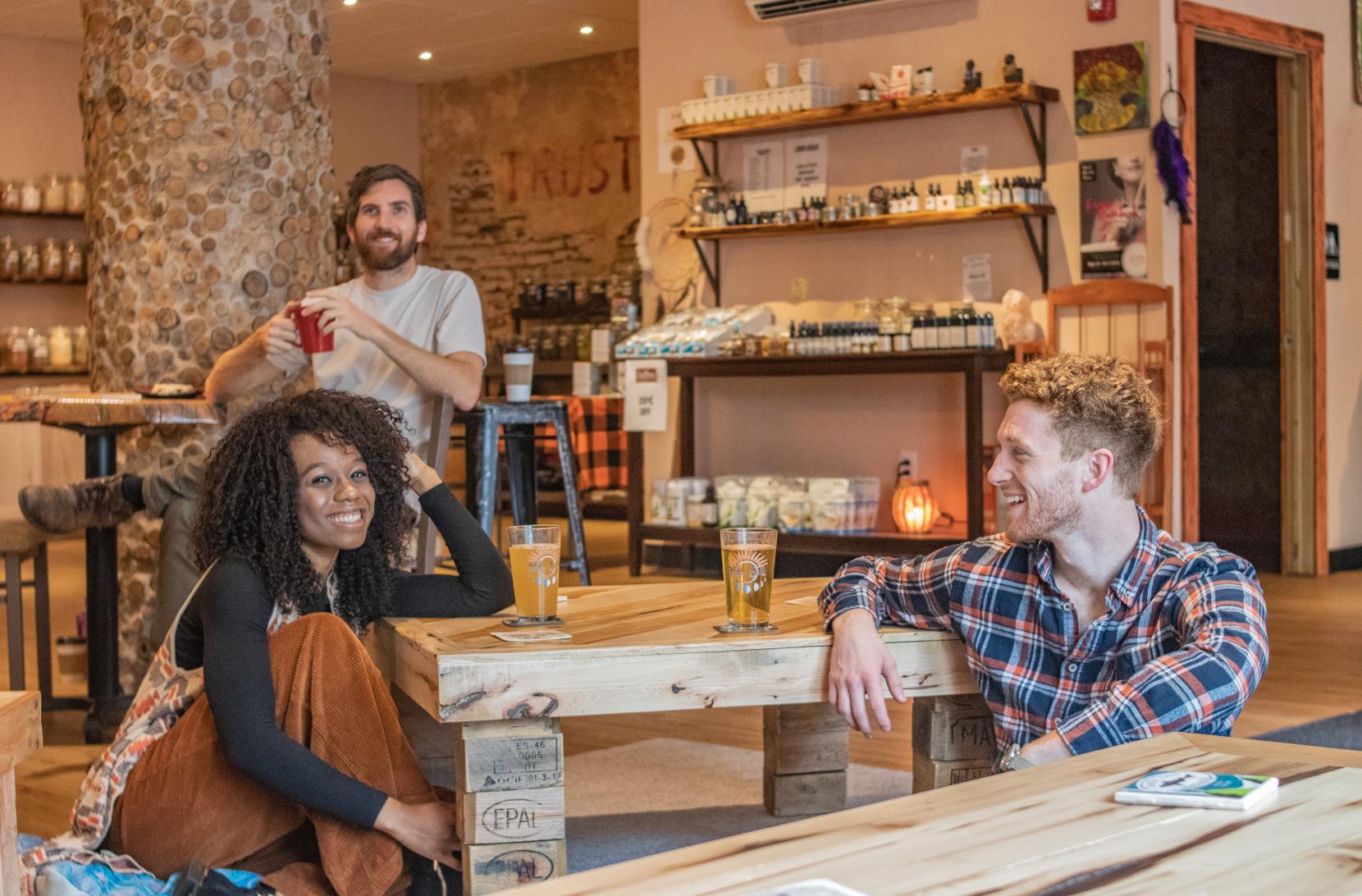 DAY 1
MORNING
The Coffee Room
Perk up! And start your day at one of Bucks County's best coffeeshops, like this fan favorite in Newtown. Grab a mocha latte, cappuccino or even a hot chocolate. Bring your laptop or a book and cozy up in the corner while the raindrops fall outside.
AFTERNOON
The Tileworks
Explore the Mercer Mile in Doylestown! View where Henry Mercer created his famous decorative tiles at The Tileworks. Artisans at this living history museum still produce tiles and mosaics in the style of Mercer's original designs.
Fonthill Castle
Next door you can tour Fonthill Castle, Mercer's 44-room concrete castle that houses his personal collection of tiles and prints.
Mercer Museum
Then head to the Mercer Museum, housing Mercer's extensive collection of Americana artifacts. More than 50,000 pieces are displayed from floor to ceiling in this one-of-a-kind destination. 
EVENING
County Theater
Finally, catch a movie at County Theater, a 75-year-old art deco theater specializing in independent, art and foreign films
DAY 2
MORNING
Aldie Mansion
This historic English-country estate, surrounded by 10 beautifully maintained acres, is situated near the cultural epicenter of Doylestown. This stately 1927 gothic mansion that is connected to the Mercer family is open for guided tours!
AFTERNOON
Bucks County Children's Museum.  
Sometimes a break from the outdoors can be educational! Let the little ones explore and learn at the Bucks County Children's Museum. Kids can build their own race car, climb High Rocks "ride" in a hot air balloon or dig for buried treasure. 
Pineville Tavern
Rainy days call for a warm bowl of sizzling soups and stews! This cozy tavern was built in 1742, its front porch once a central gathering place for selling land and livestock. Today, locals love to stop in and slurp up their famous Snapper Soup that has been taste tested by Guy Fieri on Diners, Drive-Ins and Dives!
Bowlero
Nearly everyone's favorite rainy day activity? Bowling! Bowlero in Feasterville offers 48 bowling lanes, six billiards tables and the Lazer Zone Arena where everyone can feel young at heart.
EVENING
Bucks County Playhouse
For a relaxing end to the day, catch a performance at the Bucks County Playhouse, a historic landmark in the theater community that features a lot of famous talent! Afterwards, grab a night cap at The Deck Restaurant & Bar, which is both and indoor and outdoor establishment for when rain occurs!
DAY 3
MORNING
Michener Art Museum
Spend the morning strolling the indoor art museum dedicated to Impressionist paintings from many national and Pennsylvania artists. Relax and mediate inside the Nakashima Room, a zen den filled with wooden art crafted by the late Bucks County resident George Nakashima.
AFTERNOON
Doylestown Rock Gym & Adventure Center
Gear up for more than 12,000 square feet of adventure at Doylestown Rock Gym & Adventure Center, the only indoor rock climbing facility in Bucks County! Suitable for rock climbers of all ages and abilities, the Doylestown Rock Gym includes overhangs, boulders, aretes, chimneys, cave and cracks and lead walls. 
EVENING
PARX Casino®
Make it a night at Parx. This adult playground in Bensalem has more than 3,500 slot machines, 120 table games, 60 poker tables and a sports betting room. Grab dinner at one of the casino's seven restaurants, like the Liberty Bell Gastropub.